Ham, Mallon key pair of softball wins
The Franklin County Lady Seahawks got off to an electrifying start at home Feb. 21 with a dramatic come-from-behind 11-10 win against Tallahassee Class 6A softball powerhouse, Chiles High School.
Down to what could have been the last pitch thrown in their defeat, Franklin County was facing a 10-8 deficit, with bases loaded, two outs and junior Taylor Mallon keeping her eye on a 2-2 pitch headed her way.
Mallon blasted the ball to right center for a three-run triple and a walk-off win.
The Lady Seahawks had opened up a 3-1 lead in the first inning when sophomore Sarah Ham knocked a three-run homer in her first at-bat against Chiles. The Timberwolves would go on to open a 6-5 lead in the fourth, and then a 10-8 lead by the bottom of the sixth.
In all, the Lady Seahawks would scatter 17 hits, led by sophomore Ryan Brown going 4 for 5; freshman Alexis Webb and Ham each 3 for 4; and seventh grader Addison Mallon and sophomore Michalyn O'Neal, and Taylor Mallon each 2 for 4. Sixth grader Shasta Butler added a single, and she and Brown each stole a base.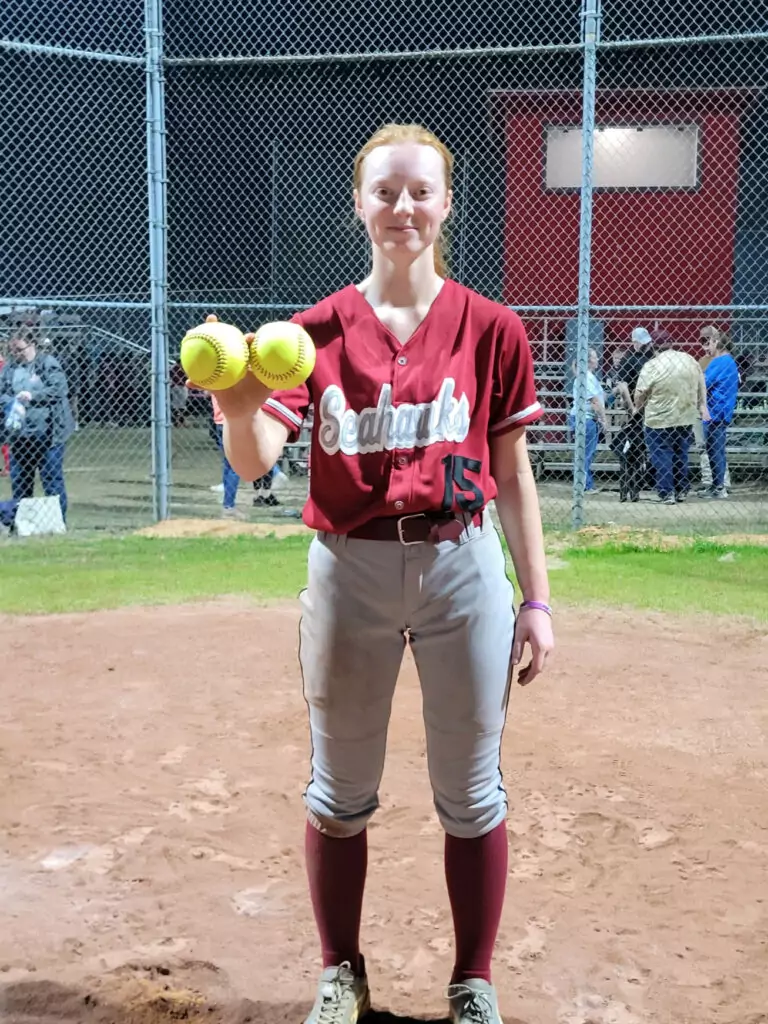 Ham struck out nine over seven innings, walking six as she gave up nine earned runs on 13 hits.
On Feb. 23, the Lady Seahawks team traveled to Blountstown and defeated the Lady Tigers 10-0.
Ham struck out eight and walked one as she gave up just two hits and no earned runs over seven innings. In addition to her pair of complete game wins, she hit three homers with 11 RBI for the week.
Franklin County opened with a three-run first inning and never looked back as they pounded out eight runs while committing no errors.
Brown went 3 for 4, while Webb, Ham and Taylor Mallon each had a pair of hits. Eighth grader Lilah Millender had a two-run triple, Butler a two-run single, and Addison Mallon a hit.
Sixth grader Whitney Polous and freshman Averie Johnson each stole a base.
The team played at Taylor County Monday night and hosted district rival Wewa on Tuesday night. The team travels to Panama City Friday and Saturday for a four game tournament.
"We are playing well and off to a good start," said coach Scott Collins. "We are in for some tough challenges this week."