Frustrated oystermen confront FWC researchers
A little more than two years since the state ordered a five-year closure of Apalachicola Bay to wild-caught oyster harvesting, the watermen who work the reefs are getting tired of it.
The anger was palpable Feb. 28, in a large room at the Apalachicola National Estuarine Research Reserve, as about 20 members of the Seafood Work and Watermen's Association confronted staffers with the Florida Fish and Wildlife Conservation.
"Can we put the oystermen to work?" asked Wayne Williams, president of the non-profit trade group that represents the rank-and-file of seafood industry workers, mainly but not exclusively oystermen.
"There are people ready to work. We can put material out there," he said. "We've got no help whatsoever. We've been done very wrong and we're sick of it."
The oystermen voiced their outrage after listening respectfully to a presentation by Devin Resko, the FWC's fishery disaster relief coordinator, along with Ryan Gandy, who oversees the St. Petersburg's Fish and Wildlife Research Institute's lab in Eastpoint.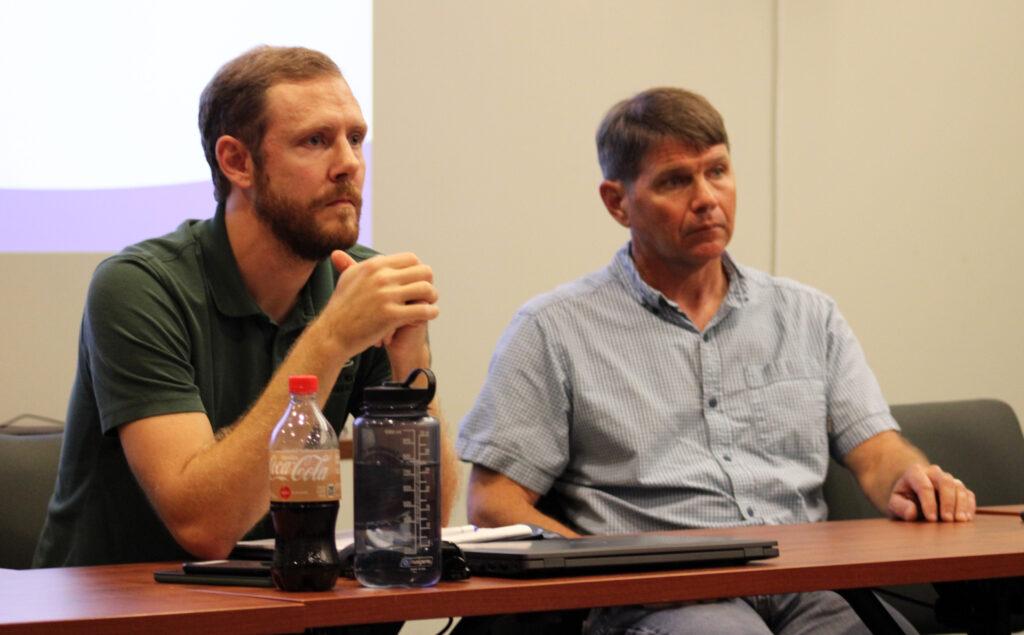 Both men have been instrumental in structuring an upcoming $6.9 million pilot study, the second stage of $20 million in monies from the National Fish and Wildlife Federation. The first stage spent $3.3 million for baseline data collection, a mapping of the bay, creating and facilitating stakeholder working groups and other preliminary work.
Resko pointed to a more than three-decade-long history of Franklin County fisher data that showed an erosion of what had been "the cornerstone of statewide oyster landings." He said the decline picked up in 2012, and that demand for oysters has shifted to neighboring states.
In enacting the closure, from Dec. 2020 through 2025, FWC established a 400-bag per acre threshold before it would consider reopening portions of the bay, and that has yet to be met.
"There was a little uptick in 2020-21," said Resko. "We know there are some good spots out there. But out of 2,000 acres, only 56 acres are showing positive oyster results.
"These reefs are shrinking," he said. We're trying to wake up a wet campfire, a dead campfire. It's going to take time. "
Most areas are degraded, and just adding cultch (oyster shells) won't support a rebound, he said, stressing opening the bay to harvesting now would delay rejuvenation measures, and possibly undo their potential success.
"If you pick up and start moving these oysters, you're losing a chunk of your spawning stock. You need that spawning stock to continue to push these oysters out," Resko said.
Resko said the pilot study will be done in six one-square acre sections within 25 acres in the east side of the bay, in the vicinity of the Cat Point Spur and North Platform reefs (See map). The precise locations are not set in stone, he said, with the primary considerations being that they do not pose a navigation hazard and are adjacent to existing reefs. Reef heights would be one or two feet, and the size of the material – limestone, not fossilized rock – would be either eight- or 12-inches. The study plans to use a deployment contractor, hired through a competitive state bid, to build the reefs utilizing an excavator barge.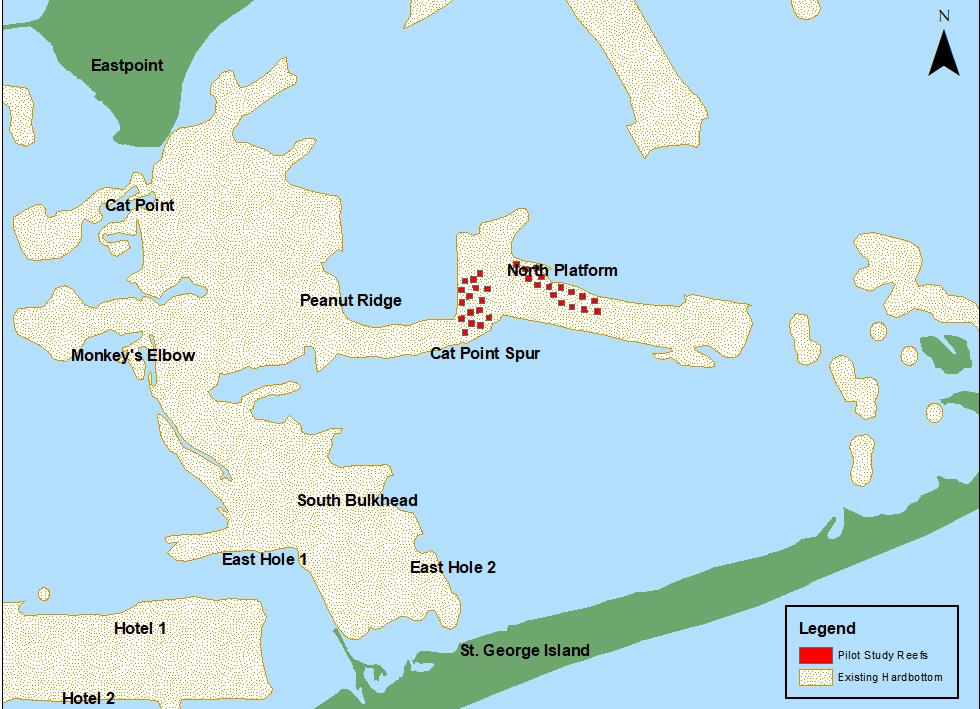 FWC researchers want to gather 12 to 18 months' worth of data from the reefs to shape a blueprint on how the remaining $10 million in NFWF money will be spent trying to resuscitate a bay depleted of harvestable oysters.
Williams had concerns about the pilot study sites, questioning whether it would provide an accurate picture of growth possibilities. "That area has never been productive on a regular basis," he said.
Williams also questioned whether FWC was relying on the most updated data, and Resko disagreed that they were relying on outdated numbers. "We're not trying to hide all the good stuff, and show only the bad stuff," he said.
Other watermen expressed frustration that they have been excluded from the millions flowing into the county for research, without recourse to help with shelling. "Only a few of you all are making money. The rest of us are out of work," said Gary Hunnings.
"You're going to stay at the 3-yard-line. I can't score any touchdowns if you won't give me the ball," said Bruce Rotella.
"There's not a bunch of us, and 18 months is a long damn time," said Matt Polous.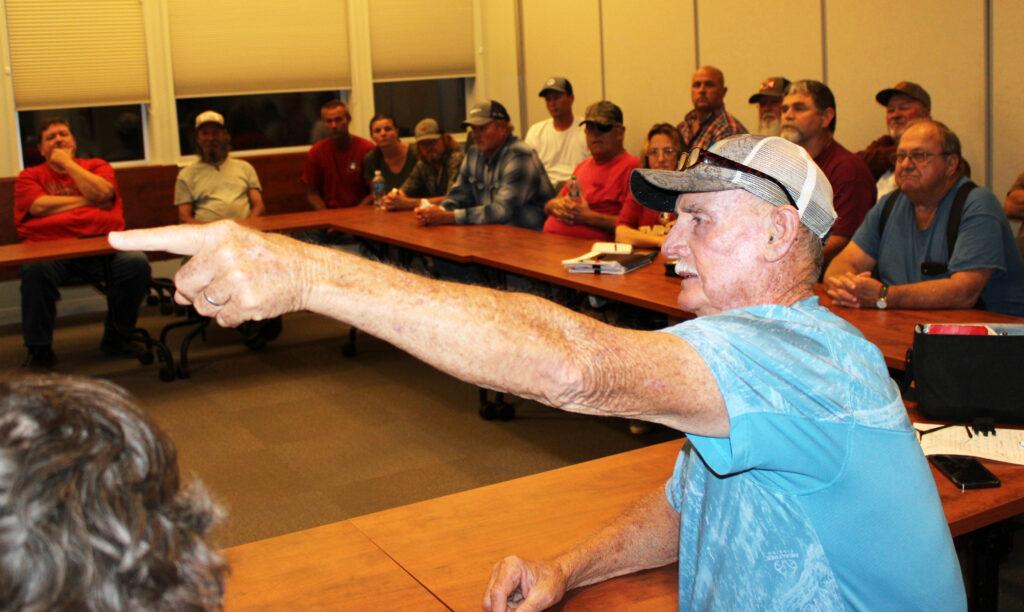 Williams pressed the FWC leaders, who included Regional Director Jon Creamer, on coming up with ways that the oystermen might be put to work, perhaps with shelling. They stressed they were duty-bound to go through the state's competitive procurement process.
Williams also asked about possible changes that could include "a trial run of a very low bag limit," or other special licensure options. "We can tell you how the bay is doing because we fish it," he said.
Ronnie Segree, a former oysterman who left to pursue a career in law enforcement, expressed concern about the long-term future of the industry, even in the event the bay does recover.
"Most of us are too old to oyster," he said, "There's not very many younger ones coming up. And who are we going to sell them (oysters) to? There's not going to be any more oyster houses left."