Tragedy on the river as boats collide
Two people are dead following a collision early Saturday afternoon between two charter boats in Scipio Creek.
According to a report from the Florida Fish and Wildlife Conservation Commission, the accident took place Saturday just minutes before noon, between a 23-foot Parker vessel piloted by Austin Finch, 23, of Apalachicola, and a 21-foot K2 Marine, piloted by James Maxwell, 49, of Apalachicola.
Aboard Maxwell's boat was Dorsey Metts, 56, from Georgia, who died following the accident. The FWC said Ruth Diaz, 69, was transferred by ambulance in critical condition to Bay Medical Center in Panama City. A spokesman for the family said that after being on life support, she passed away earlier this week.
Diaz's sister said that she had been an organ donor, and was both a Vietnam veteran and a nurse for nearly 30 years. "She touched so many lives with her kindness, compassion and generosity," she wrote. "She will be missed by so many people."
The report said another of the passengers aboard Maxwell's boat, Jennifer Davis, 34, was listed as injured. A family member said she had underwent surgery in Tallahassee earlier this week.
A fourth passenger, James Davis, 37, who was transported to Weems Memorial Hospital, was uninjured in the crash.
The report said Finch's boat, which had no passengers aboard, struck Maxwell's boat on the starboard side just aft of the bow, and continued over the top of the vessel, knocking the center console and the T-top off its mounts.
The report, by investigator Eric Johnston, said the collision was not alcohol-related. It said Finch was not injured, but that Maxwell sustained injury.
The collision, which took place in state waters, caused the sinking of Maxwell's boat, while Finch's boat, damaged but still floating, was taken back to the docks.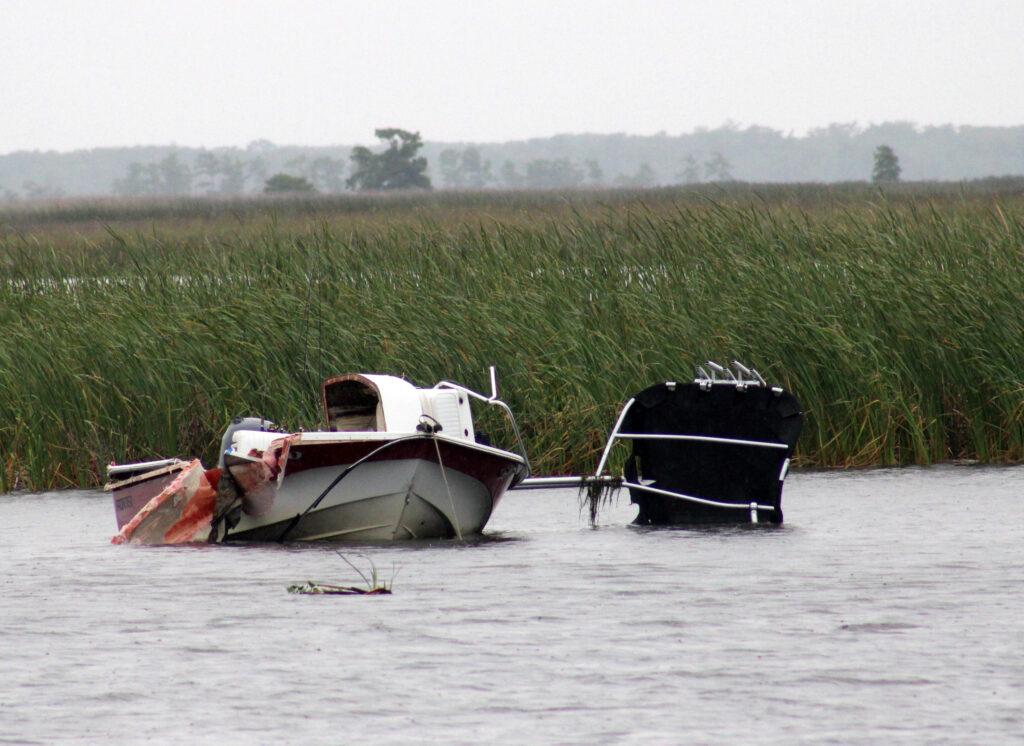 Sheriff A.J. Smith said he rushed to the scene immediately upon learning from dispatch about the accident. After arriving at the Scipio Creek Marina, he jumped aboard a boat along with Trey Ross and Bert Carpenter to the scene.
Onlookers said that the collision took place on a flat the boats were crossing in between Scipio Creek and the Apalachicola River, in front of the houseboats and the Up the Creek restaurant area.
The triage by first responders was set up across from the Apalachicola Ice Company at 247 Water Street, where the remains of Maxwell's boat were several hundred yards offshore.
"When we got there, someone was pulling one of the males out of the water," Smith said. "There was one female lying out on the side on board.
"They were trying to get people triaged on the dock," he said. "You could tell it was very serious."
The sheriff said Finch assisted with the rescue of the three passengers and pilot who had been on Maxwell's boat. "They were going through a cut-through, where it was very shallow," he said.
Officers from FWC, the Apalachicola Police Department and Franklin County Sheriff's Office responded to the scene, as well as first responders and ambulances from Weems.
"There are a lot of curves in there," said Apalachicola Police Chief Bobby Varnes.
Varnes said Finch and Maxwell had not sustained life-threatening injuries. "Both were talking and standing," he said.
The sheriff said speed can be a factor in these accidents. "Boats are like cars, they run fast and you have to be very aware all the time," he said.
"Nobody hardly abides by the 'no wake zone,' " Smith said, adding that he would like to see the area better marked by signage.
"This is a very unfortunate vessel incident," said Major Fred Rondeau, FWC
northwest regional commander. "We ask that the community keep the family
of the victims in their thoughts, and hope for a speedy recovery for those injured."
RULES REGARDING RECKLESS OPERATION OF BOATS
The FHP report said the state attorney's office has been notified of the accident.
According to Florida statute, a person can be charged with a misdemeanor of the first degree if they operate a vessel in "a reckless manner in willful or wanton disregard for the safety of persons or property at a speed or in a manner as to endanger, or likely to endanger, life or limb, or damage the property of, or injure a person."
Those operators must pilot a boat "in a reasonable and prudent manner, having regard for other waterborne traffic, posted speed and wake restrictions, and all other attendant circumstances so as not to endanger the life, limb, or property of another person outside the vessel.
"Vessel wake and shoreline wash resulting from the reasonable and prudent operation of a vessel, absent negligence, does not constitute damage or endangerment to property," it continues.
In the event a person violates navigation rules and it leads to an accident causing serious bodily injury or death, but does not constitute reckless operation, can be subject to a second degree a misdemeanor of the second degree.