Secret Lives of Words: Firefighting in Franklin County and ancient Rome
Reading the Times' recent front-page article (See April 13 Times "Alligator Point to get new firehouse") on the groundbreaking for Alligator Point's new firehouse reminded me how fortunate we are in the U.S. to have fire departments that are funded and operated, not by corporate entities concerned with CEO salaries and share-holder profits, but by municipalities or in areas like Franklin County, by volunteers who are our friends and neighbors. The Alligator Point department, founded in 1970, has 33 members on its roster, six of them women, including firefighters and medical responders.
Franklin County has upwards of a dozen fire stations, and the women and men who operate them labor strenuously, sometimes perilously, to help protect our homes and property from the ravages of fire. We owe them all a huge debt of gratitude: and these departments desperately need volunteers, so think about that!
America's earliest firemen and firewomen were volunteers too. When a fire broke out, folks would form a "bucket brigade" with two lines, one to pass pails of water from the closest water source, the other to pass the emptied buckets back. Early fire "engines" were portable receptacles with pumps and a hose, and the brigade of volunteers or paid workers kept busy pumping and filling the tub.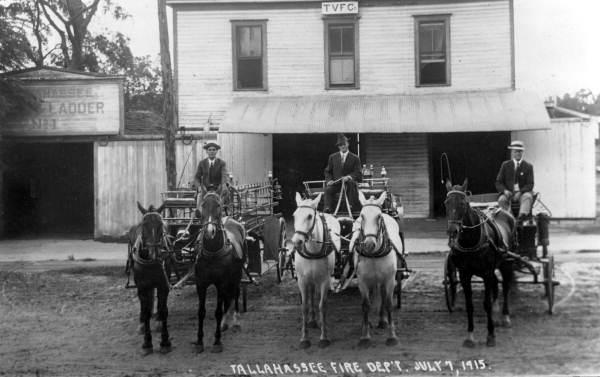 The first publicly funded fire department in America was established in Boston in 1679. Fire insurance, based on a British model, was established in South Carolina in 1739. Around that same time Benjamin Franklin organized an insurance company in Philadelphia and an affiliated Union Fire Company, which was a volunteer fire department, as was another early department in Petersburg, Virginia.
While one of the first fire departments in Florida was established in 1885 in Ocala, there was a fire company in existence in Apalachicola at least as far back as 1840. In that year the city acquired a fire engine, probably their first, which was called "Boston No 1". Apalachicola Area Historical Society historian Mark Curenton says no description of the engine has been found, but it was probably a hand pumped mechanism that was probably pulled by hand to the site of the fire.
In December the Apalachicola City Council passed an ordinance authorizing the formation of the fire department, he reports. The Mayor and City Council were authorized to appoint five fire engineers who would be responsible for supervising the city's fire equipment, reporting twice a year to the City Council about the condition of the fire equipment and directing firefighting activities at all fires
in the city.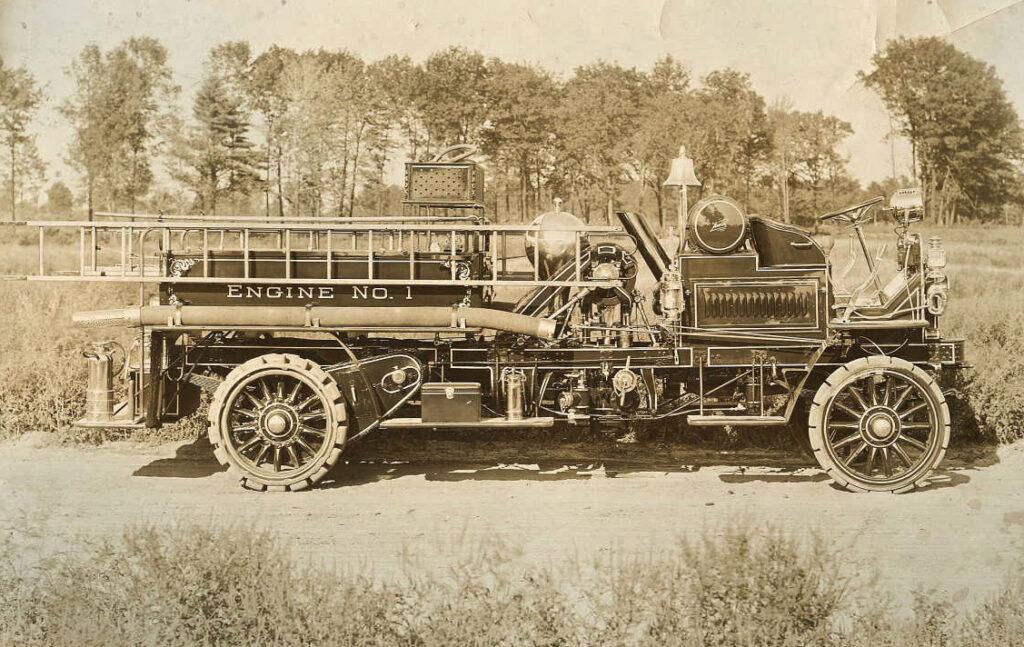 The ordinance also authorized the formation of a company of citizen volunteer
firefighters of not more than 60 men who would be called "Engine Company Number 1". They would have charge of and be responsible for caring for Boston No. 1. The company could elect their own officers, but they were under the authority of the city's appointed fire engineers.
On Dec. 22, 1840, the city tried out their new fire engine in an experiment. The
results were "entirely satisfactory." The Florida Journal, a newspaper published in Apalachicola stated that the engine "throws well – is admirably organized, and we trust will prove efficient in case of fire." The reporter's high expectations seem to have been realized. In an article about an April 1844 fire that consumed a pair of buildings on Water Street between Panton Street and Avenue C, "the intrepid exertions of our firemen" was praised. The fire engine was in action
almost as soon as the alarm was sounded.
Earlier that year the City Council had tweaked the ordinance creating the fire department, adding new requirements for buildings and prohibiting unpermitted fires on the wharves, in the streets and in open areas of the city. The City Council continued to make changes to the ordinance over the years, and the fire department continued to fight fires that periodically broke
out in the city, according to Curenton.
Carrabelle's was set up soon after its incorporation in 1893. The Apalachicola operation was pretty bare-bones for a long while, according to Fire Chief George Watkins, whose grandfather, Neuman Marshall (1906-1998) was a fireman in the town for 75 years, 50 of them as chief.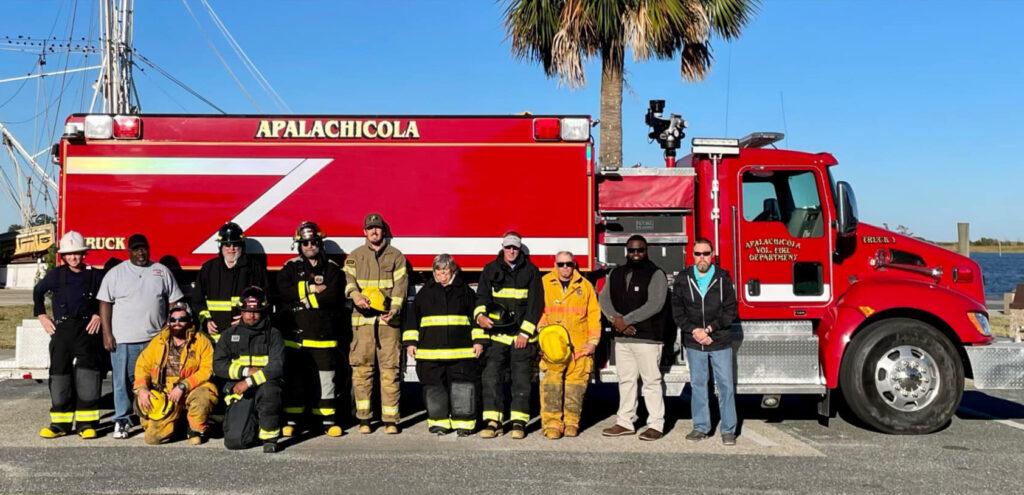 There were no trucks, of course, as Watkins points out. Instead, they had a hose reel that attached to a simple hydrant system. If the fire was on the outskirts of town, the only recourse was to bucket brigades. The Cypress Lumber mill at Scipio Creek had a powerful system for washing lumber, Watkins said, which the VFD could occasionally tap into.
As firefighting became more organized across the U.S., hooks and ladders were added, firemen were provided protective helmets, and hoses and pumps were improved. The first actual motorized fire truck was manufactured in Massachusetts in 1906, and technologies have been advancing ever since.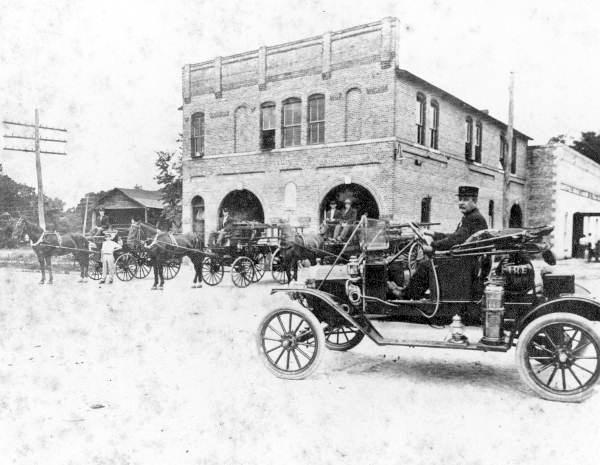 Even the ancients were much concerned with fighting fires. In the 3rd century B.C. the Greek scientist Ctesibius living in Alexandria researched the physics of compressed air and developed a pump used in extinguishing fires. A fellow Alexandrian Greek, Hero, improved upon that technology and his forced air piston pump was widely employed for firefighting in the Roman Empire.
In 23 B.C. the emperor Augustus established Rome's first public fire department, known as the Vigiles Urbani (as in VIGILant and URBAN), the "city watchmen." Functioning also as night police, the force had seven stations around the city manned eventually by as many as 7,000 slaves, later freedmen. No fees were charged for their services.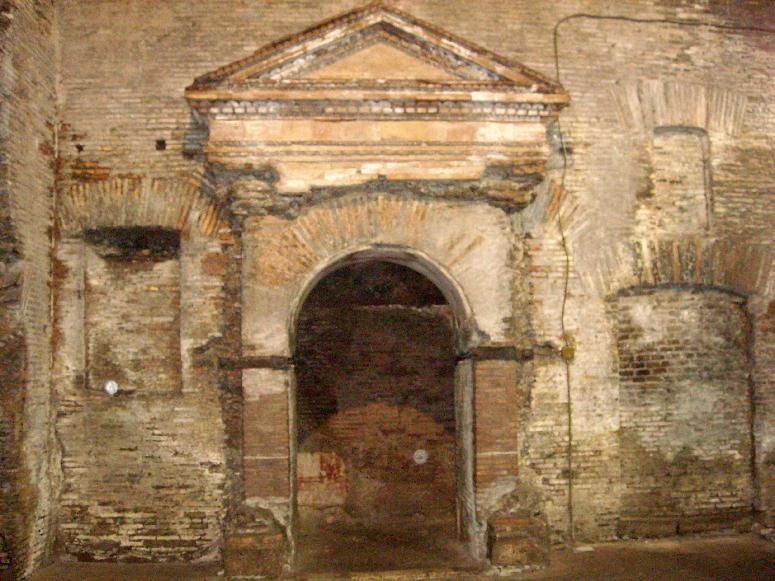 By contrast a generation earlier Marcus Licinius Crassus, one of Rome's wealthiest men and a political ally of Julius Caesar and Pompey the Great, had organized a for-profit brigade of some 500 firefighters. Crassus' cohort would race to the scene of a fire and offer to buy the property, for a price well below market value, and extinguish the fire. If the offer was refused, his men would simply let the structure burn to the ground.
Now there's a case for not privatizing fire departments, and another reason for thanking our Franklin VFD neighbors and friends for their VIGILance, dedication, and hard work.
Rick LaFleur is retired from 40 years of teaching Latin and Classics at the University of Georgia; his latest books are The Secret Lives of Words, a collection of his widely distributed newspaper columns, and Ubi Fera Sunt, a lively translation into classical Latin of Maurice Sendak's children's classic, Where the Wild Things Are. He and wife Alice live part of the year in Apalachicola, under the careful watch of their French bulldog Ipsa.