Cool rain blesses the Sizzler
Rain and cooler weather is usually not desirable on summer vacation spots like St. George Island, but it ushered in perfect weather for the annual St. George Island Sizzler 5K & One Mile Fun Run Saturday afternoon.
A "Chill Room" trailer set up and manned by the first responders from the island's volunteer fire department didn't go without being used, after all it still was a hot afternoon and the runners had exerted themselves. But there was by no means a line.
"We ended up with a breeze, and for the people there that were running, it felt very good," said Bonnie Kellogg, president of the Elder Care Community Council, the non-profit organization that oversaw this 26th annual edition of the popular race.
The ECCC, and the meals they provide for seniors each day at the Holy Family Senior Center, will be the recipient of the receipts for the race, and Kellogg said those totals, as well as from the online auction that ended Tuesday, are still being tallied.
With turnout to running events down throughout the country since the arrival of COVID 19, the Sizzler drew signups of 110, with 15 of those running the Fun Run that preceded the big race.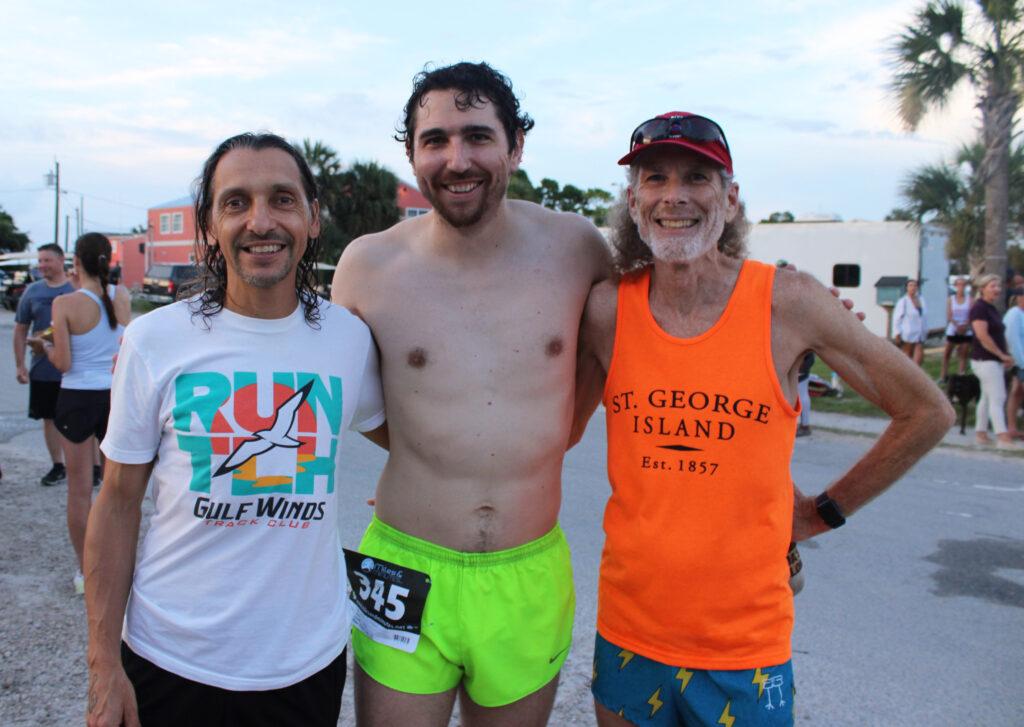 In the end 80 runners ran and finished the Sizzler, and they were led by blistering performance by 44-year-old Argentinian Leonardo Canete, a Tallahassean who ran a 17:33.4 to finish nearly a minute ahead of Ryan Truchelut, 37, a Florida State University-trained meteorologist who works with the WeatherTiger consulting firm.
"I knew I wasn't going to beat him so I didn't try," said Truchelut, who instead challenged Brad Busboom, 35, for the runner-up spot, and ended up finishing six seconds ahead of 18:29.3 third-place time.
As expected, Truchelut monitored the weather carefully, noting that the unusual 82 degree dew point made for some touch conditions.
It didn't bother Canete, who takes part in the racing circuit boasting not of university track accomplishments but of a workingman's dedication to hoofing it ever since he was 14.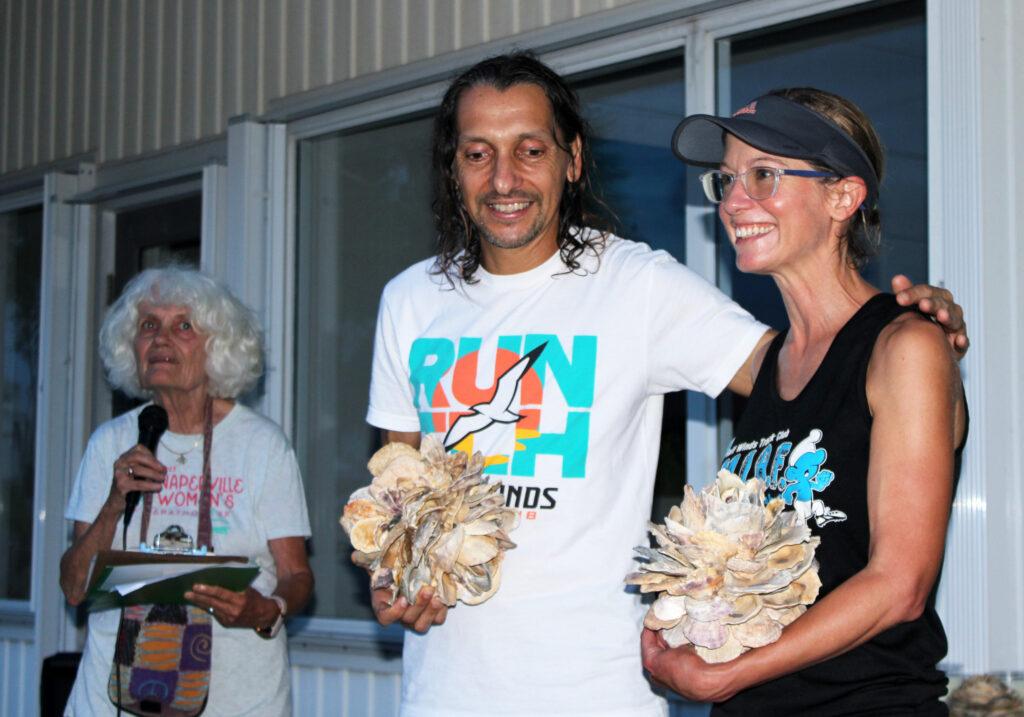 Canete, who works in retail at Home Goods, runs every weekend and has taken home a number of the top prizes recently. "I run every Saturday because I have Saturdays off," he said.
He has a personal best of 16:05, about about a minute faster than the 17-minute times that Tim Unger used to post in the late 1990s, when he won the first and third of the Sizzlers, which at the time was held in early June.
This past Saturday, Unger, now 63, ran the Sizzler again, and posted a 23:42.9 time, good enough to finish 12th.
He was just behind the top female finisher Laura McDermott, 43, who ran a 23:21.2 to finish 12th overall.
A brush with history was part of the experience for 37-year-old Karen Roach, who ran 31st with a time of 28:19.2.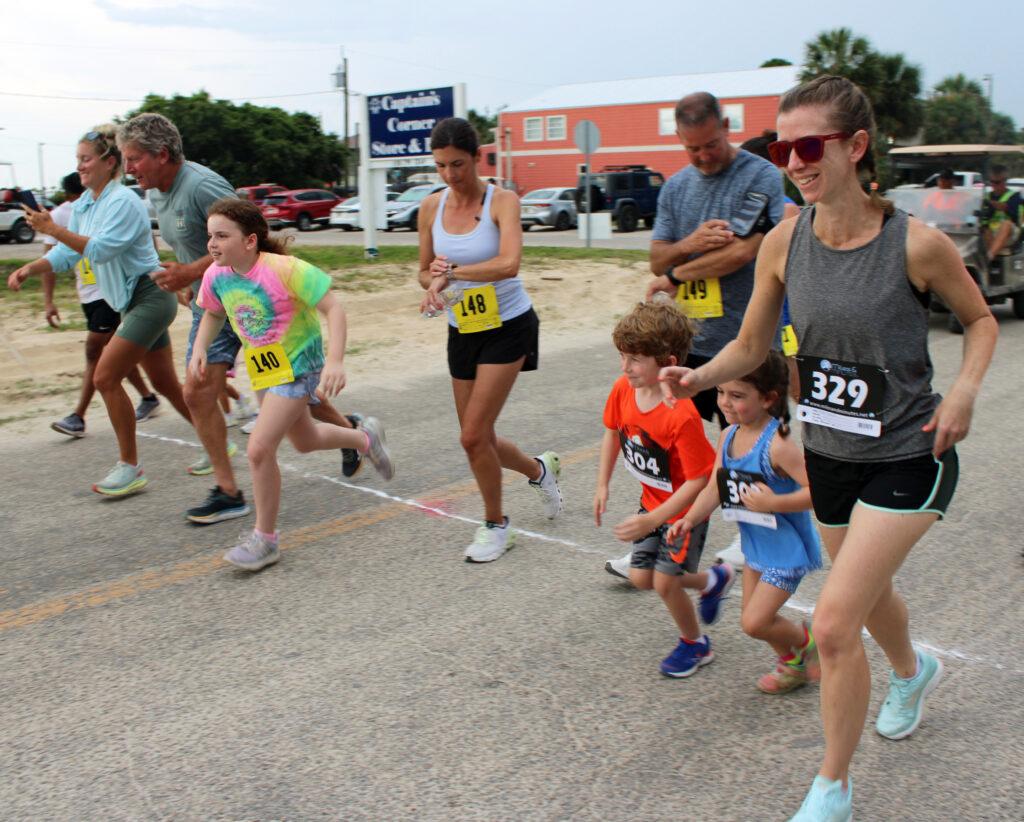 Husband Matt Roach, who ran a 31:03.7, had proposed to his wife-to-be years ago at the Cape St. George lighthouse, and this time they were back with their family, son Marshall, 6, and daughter Leah, 5.
Karen ran with the kids in the Fun Run, as Matt cheered them on.
It was a similar family experience for 10–year-old Abby Garcia, who helped record the times for the Fun Run. Her mom and stepdad, Jessica and Alex Matthews, from Phenix, City, Alabama, ran with her little sister Audrey, 2, on the Fun Run.
Dad finished first among the adults, and then doubled back, and much to the amusement of Abby, carried Audrey over the finish line after she tired about halfway into the race with her mom.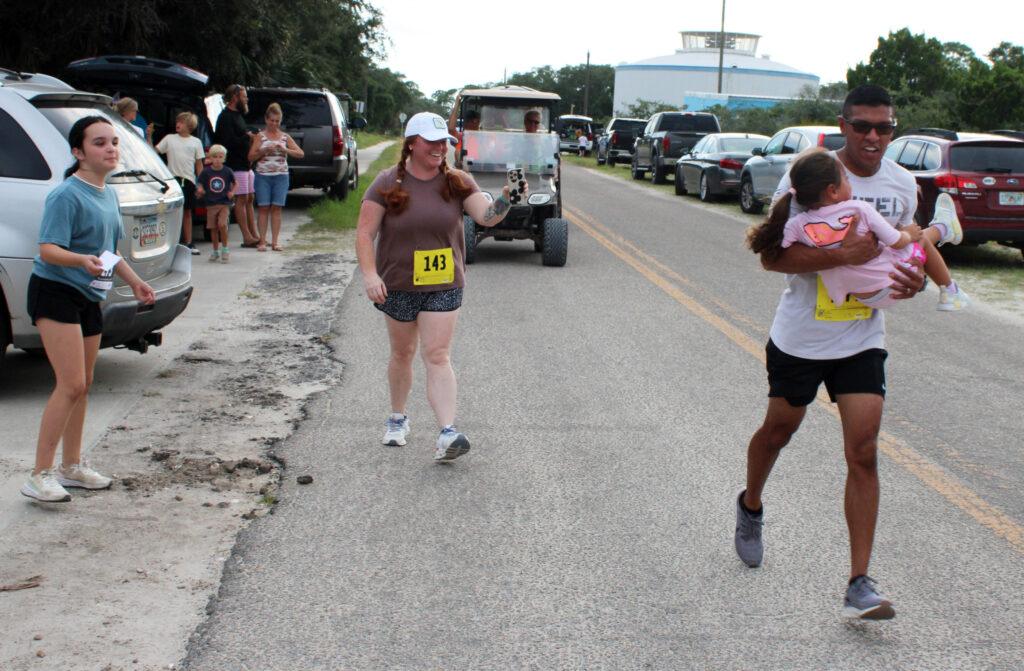 Among the children, third grader Robert Mathes took the title, with an 8:08 time.
Among the other top finishers were Stephanie Liles-Weyant, 51, who was the top female Master with a 24:29.8 time; Nancy Proctor, 62, who was the top female Grand Master with a 24:59.9 time; and Debbie Peters, 62, who ran a 29:27.9 pace to finish as the top[ female Senior Master. Elizabeth Roffey, 74 , ran a 49:16.1 time to complete the race as the oldest female finisher.
Among the males, Duane Evans, who ran seventh overall, was the Master champ at age 56 with a 20:50.6 time.
Nico Wienders, 52, posted a 26:01.7 time to become top Grand Master, while Michael Cipriano, 65, ran a 24:21.8 race to become top Senior Master. Gary Oliver, 44, was the oldest male finisher with a time of 45:28.2.
How they finished
The list below shows the runners' order of finish, their ages and their times in Saturday's Sizzler 5K.
Leonardo Canete, 44, 17:33.4
Ryan Truchelut, 37, 18:23.3
Brad Busboom, 35, 18:29.3
Elliot Butler, 32, 19:26.5
Walker Kessell , 17, 19:52.3
Sam Hitchcock Howard, 29, 20:31.1
Duane Evans, 56, 20:50.6
Joshua Hammond, 16, 21:11.6
Cameron Sims, 28, 21:51.3
Michael Weyant, 57, 22:41.5
Laura McDermott, 43, 23:21.2
Tim Unger, 63, 23:42.9
Addyson Paul, 13, 24:04.5
Barney Ray, 60, 24:13.2
Isabella Polous, 13, 24:19.7
Michael Cipriano, 65, 24:21.8
Stephanie Liles-Weyant, 51, 24:29.8
Christopher Bartels, 46, 24:41.6
Alexis Mayfield, 12, 24:42.7
Nancy Proctor, 62, 24:59.9
Rob Cooper, 45, 25:48.1
Nico Wienders, 52, 26:01.7
Shelton Ansley, 71, 26:05.7
Kelley Coe El-Urfali, 59, 26:13.3
David Mayfield, 46, 26:18.5
Kirsten Kinsley , 51, 26:36.1
Olivia Hitchcock Howard, 28, 26:42.3
Morris Davis, 67, 28:08.1
Ethan Pratts, 18, 28:13.7
Rebekah Mayfield, 39, 28:14.6
Karen Roach, 37, 28:19.2
Joelle Bass, 18, 28:23.5
Richard Lenhart, 64, 28:55.4
Debbie Peters , 62, 29:27.9
Sonya Dudley, 54, 29:56.4
Maja Strasse, 14, 30:00.5
Kaitlin Rush, 34, 30:05.7
Cyndi Cooper, 45, 30:53.5
Matt Roach, 36, 31:03.7
Vania Porro, 41, 31:11.7
Jessa k Strasse, 42, 32:03.1
Ashley Schrock, 33, 33:04.8
Paul Bass, 57, 33:06.3
Jean Griffith, 42, 33:34.4
Kyndal Strohecker, 35 , 34:09.2
Joseph Schrock, 43, 34:23.2
Megan Flack, 39, 34:26.1
Megan Reid, 21, 34:27.1
Wendie Hammond, 39, 34:48.8
Sebastian Saad, 11, 35:10.8
Sky Taylor, 51, 35:23.1
Reed Kessell, 14, 35:36.1
Deborah Ansley, 67, 35:48.4
Bobbi Carey, 60, 35:54.1
Abigail Garcia, 10, 36:44.6
Krissy Stanford, 41, 36:50.0
Pat Dugan, 72, 36:51.4
Andje Louis, 21, 37:18.8
Sarala Hermes, 54, 37:41.8
Rebeccah Lutz, 45, 38:01.9
Michelle Brewer, 46, 38:17.1
Chika Okoro, 43, 39:36.7
Rachel Layerd, 52, 40:38.7
Gracie Shouppe, 17, 40:58.1
Larry Childs, 54, 41:39.5
Jeremy Oliver, 48, 43:48.8
James Kessell , 51, 44:24.9
Gary Oliver, 74, 45:28.2
Glenda Wilson, 65, 46:45.7
Theresa Ballard, 47, 46:45.9
Ken Gustatson, 51, 49:04.8
Elizabeth Roffey, 74, 49:16.1
Lucy Egan, 70, 49:40.4
Tammy Minshew, 53, 50:00.7
Margaret Batten, 64, 50:00.9
Thomas Biance, 42, 53:09.8
Megan Millender, 34, 56:20.5
Robyn Segree, 26, 56:20.9
Molly Seal, 36, 58:17.0
Pam Seal, 70, 58:17.3