Developers eye St. George Island resort and marina
EDITOR'S NOTE — THIS REPORT HAS BEEN UPDATED FROM AN EARLIER VERSION TO REMOVE AN INACCURATE STATEMENT REFERENCING BUSINESS INVOLVEMENTS IN FRANKLIN COUNTY OF AN UNRELATED COMPANY, EDGEWATER GROUP LLC,
A feasibility study for a waterfront resort development on St. George Island, complete with marina, has begun to attract attention around the county, although a consultant connected to the project foresees that plans will likely be scaled back in the months to come.
While it has not been formally proposed to the county's planning and zoning board, details of the Landing at St. George Island project came to light in after Brock Petrak, an engineer for the Edgewater Group out of Pompano Beach, floated details of the project in a March 20 email to County Planner Mark Curenton and Zoning Administrator Cortni Bankston.
In sharing details from a 38-page feasibility study prepared last year by Edgewater, Petrak asked what zoning changes might be needed, such as creating a planned unit development, to develop 26 acres of land owned by George Kirvin Floyd along the bay shore just to the west of Franklin Boulevard.
In 2013, Floyd's firm, HLS Property Management, paid Centennial Bank $1.5 million for the acreage at this marina site, between Franklin Boulevard and Fourth Street West north of Bayshore Drive. This area is often called the old ferry landing because that is where the ferry boat would dock in the era before the building of the bridges to the island.
Edgewater is seeking to accommodate 31 single-family 50-foot by 70-foot lots currently zoned R1, in order to create 60 two-bedroom resort bungalows, at a standard size of 850 square feet. These bungalows would be located along an elevated boardwalk over wetlands in the east parcel, zoned C3.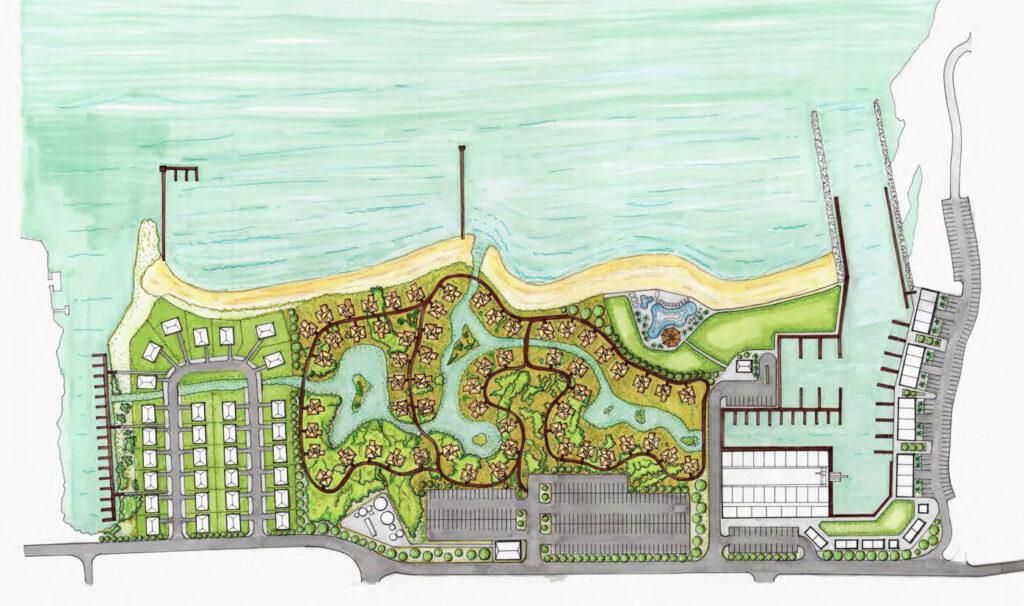 Also in the C3 portion of the property would be a resort pool, spa, and beach club, as well as a wet slip and dry stack marina with the capacity to serve 250-plus boats.
Preliminary plans call for eight units in a pair of multi-family condominium buildings along the marina boardwalk, each one with four mixed-use retail spaces below.
Seven retail units, such as a ship-store and marina office, each with a standard footprint of 845 square feet, would be along the exterior of the dry stack building. An event lawn and "City Centre," would cover roughly half an acre along the marina boardwalk.
Curenton raised "immediate concerns" in his March 23 reply, noting the variation between the portion of the property east of Third Street West, which is zoned C-3 commercial recreation, and the portion to the west, zoned R-1 single family residential.
"Most of the property falls within a VE Elevation 12-foot flood zone, although some of the property along the causeway is in a VE Elevation 14-foot flood zone, and the portion of the property adjacent to West Bayshore Drive is in an AE Elevation 12-foot flood zone," he wrote.
Curenton said a survey could determine the exact location of the SLOSH (Sea, Lake, and Overland Surges from Hurricanes) line, which is used to define the Coastal High Hazard Area, which is the area below the elevation of this Category 1 storm surge line.
"There are limitations on the density in the Coastal High Hazard Area," he wrote, noting that policy dictates a density in this area of no more than one dwelling unit per acre.
"I do not have a survey to tell me exactly how much residential land is in this proposal, but I estimate it is about seven acres," he wrote. "I do not see how the county can even consider 31 residential units on seven acres."
Curenton went on to estimate the residential and retail units proposed in the commercial portion of the property would require approximately 412 parking spaces.
"I cannot calculate an exact number because there are no sizes listed for all the commercial units, and the county's zoning code does not have a standard for parking spaces at a marina, (but) vehicular parking is required," he wrote. "I doubt there is room on the property for this many parking spaces. Parking is an issue already on the island, and we do not want to make it worse."
Curenton told Petrak the marina could be "problematic" because no marina expansion or construction is allowed if it results in any loss of waters classified for the harvest of shellfish.
"In the past the state of Florida has told me that if there are more than 10 wet slips, they would automatically shut down a certain radius around the marina to shellfish harvesting," he wrote. "This has been a sticking point for a marina at this location in the past."
Curenton closed his email by noting that "resort bungalows built over the wetlands is another item that I do not think the county will ever approve."
Petrak noted in his reply that depending on Curenton's recommendation, the developers would ask for either a PUD (planned unit development), a variance or a special exception to create a mix-use site that incorporates the existing parcels into one development.
"The west end of the property would still contain single family residences – as it is currently zoned – however smaller lots are pursued," he wrote. "The east end of the site requires zoning that allows for condos to be included with the marina/resort/retail."
"The entire property is to be serviced by a state-of-the art membrane bioreactor wastewater treatment plant that is not addressed in any current ordinances."
In response to a telephone call and email from the Times, Petrak wrote that "the developers are not ready to make a public statement at this time. It is understood that there is some inaccurate information floating around on social media currently, but when the development team is ready, there will be a public press release."
Garlick says project to be 'substantially revised'
In an interview Monday afternoon, Dan Garlick, president and CEO of Garlick Environmental Associates, says his Apalachicola-based environmental consulting firm has been put in place as project manager and is working with the potential buyer of the site, Gen Land Corp., out of Quincy, as well as with Edgewater.
Principles of Gen Land include Brent Moore and Clint West, while Edgewater, with offices in Pompano Beach as well as Wisconsin and Michigan, is headed by Ronald Schults, its principal and chairman.
Founded in 2008, Edgewater describes itself as "a boutique multidisciplinary real estate firm that provides advisory, management, and value-add investment services. Edgewater's unique focus is on the micro and middle market segments in secondary and tertiary locations in the United States."
Garlick said his firm, along with Gen Land and Edgewater, had "a positive meeting" last week with representatives of the Florida Department of Environmental Protection.
He said he expects a proposal to the county will be submitted by the end of the year, and that he does not foresee the development will lead to the closure of any shellfish harvesting areas or to the presence of any RVs on the site.
In its feasibility study, Edgewater wrote that there could be as many as 50 marina rentable wet slips, with another 49 slips for broadside dockage and dry stack storage for 160 boats.
Garlick said the final number of wet slips will be "substantially less. This is going to be substantially revised from that feasibility study."
He said issues related to wetlands impact, stormwater discharge management, wastewater treatment, the mixing of commercial and residential and parking will all have to be addressed.
"We still have a ways to go," Garlick said.