A good week despite Jay loss
Despite a loss Friday night following a long road trip to face Jay, Seahawks Coach John Cooper saw last week as a good one.
That's because it was marked by an announcement that two Franklin County underclassmen – one a freshman the other an eighth grader – are looking at offers to eventually play football for Florida A & M University.
Plus the Seahawk middle school football team defeated the Port St. Joe Tiger Sharks at home 22-8, always an inspiring result between the intercounty rivals.
Cooper's optimism also was strengthened by the fact that his full roster of varsity players, now at 36, didn't roll over Friday when the Jay Royals put up 20 points in the first quarter, and 21 in the second, as they coasted to a 41-18 win.
An undefeated, top-rated team in the Seahawks' Class 1A ranks, the Royals jumped out strong against the Seahawks with two rushing touchdowns, and an aerial one in the first quarter.
"Credit to Jay, they did what they had to do to get us off balance," said Cooper. "We were a little frazzled at the beginning of the game. Then we settled down a little, trying to get back into it.
"I'm proud of the kids, they kept fighting, they kept scrapping," he said. "They could have rolled over and took it. We went over there to get better, to a great Jay team."
In the end, the Seahawks would actually tally more yards, 305, than Jay's 272.
Freshman quarterback Sadiq Jones, one of the two players now on FAMU's list of recruiting targets, was stellar, completing 10 of 13 passes for 185 yards, and rushing five times for 81 yards. He threw for a touchdown, a 10-yarder to junior Ajaylen McNair, as did senior quarterback Alex Sterling, who completed a 23-yard aerial score to senior Ethan Kembro.
Freshman Kyle Gilbert rushed for a 3-yard touchdown as well.
Kembro is one of the Seahawks who is being weighed for a college offer. "He's going to have football options coming up soon," Cooper said, noting that a Division 2 school out of West Virginia has plans to meet him later this month.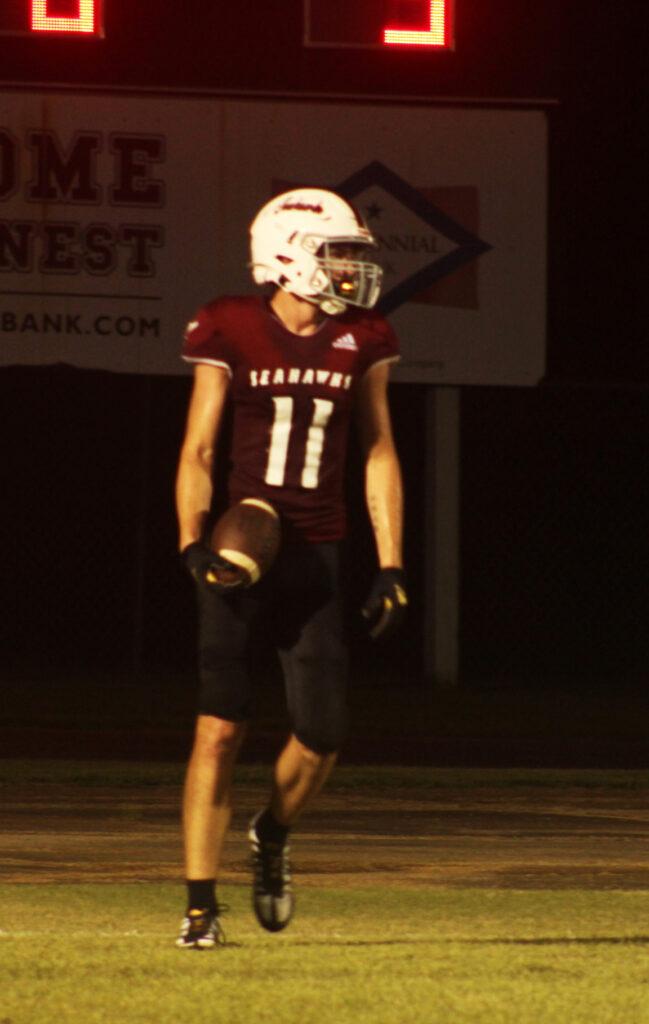 "It's up to coaches to get them exposure out there," he said. "If they have great grades and can bring it on the field, we're going to find them a place to play.
"The myth is now over," that Franklin County doesn't get its players into college football programs, Cooper said.
The coach said more and more college football programs are focusing on the freshmen and sophomore classes as they plot their recruiting strategies. "They pretty much have these guys scouted out," he said.
FAMU is also intent on snaring eighth grader Dre North, who now stands 6-feet 2-inches, who is primarily a defensive back with some receiving duties. While he doesn't have the playing stats like Jones, who already has posted 244 passing yards and 169 on the ground in the first three games, North is seen as having physical potential of playing college ball.
Cooper is taking a long view when it comes to building the football program, especially with the younger players. "We're putting a lot of stock in those middle schoolers," he said. "Your young varsity kids are going to be really special. We have a really great young core coming up."
The coach said "everybody's healthy, everybody's ready to go" at home against Liberty County this Friday night, with coaches working on ways to accommodate some weaknesses and capitalize on strengths.
"Right now being a young team we are limited in some areas trying to stretch the field," he said, with running up the middle a problem.
Outside of Jones scrambling for 81 yards, the Seahawks picked up just 16 yards on five carries.
The receiving game was stronger, as Kembro grabbed 6 passes for 95 yards, McNair 4 for 85 yards, and junior Garyson Millender 2 for 23 yards.
"We've had some success with the perimeter passing game," said Cooper. "We need to be getting it outside to the flats, beyond the hashes."
Defensively, the team was once again led by sophomore Eric Smith, who posted 13 tackles with 8 solos. Senior Cody Abercombie had 8 tackles, 3 of them solos.