Rocky Bayou thwarts Seahawks homecoming
If football is a game of inches, than the Franklin County High School varsity football team gained a yard at last Friday's homecoming.
The game against Rocky Bayou Christian Christian was a far cry from last year's 42-7 shellacking, as the Seahawks executed well all night, keeping it close all night before succumbing to a 26-16 defeat.
"Our first drive was executed just like in practice," said coach John Cooper, of the drive down the length of the field that would culminate in senior Logan Bentley's short burst into the end zone, followed by sophomore Eric Smith's two-point conversion.
"They were bigger than us, but it was the time all year we felt we could physically match up, and ate away between the tackles," said Cooper. "Our kids didn't back down."
The team would gain 230 yards on 49 carries, and score a pair of touchdowns, with senior Cody Abercrombie's coming late in the third quarter from five yards out, followed by two extra points from junior Garyson Millender.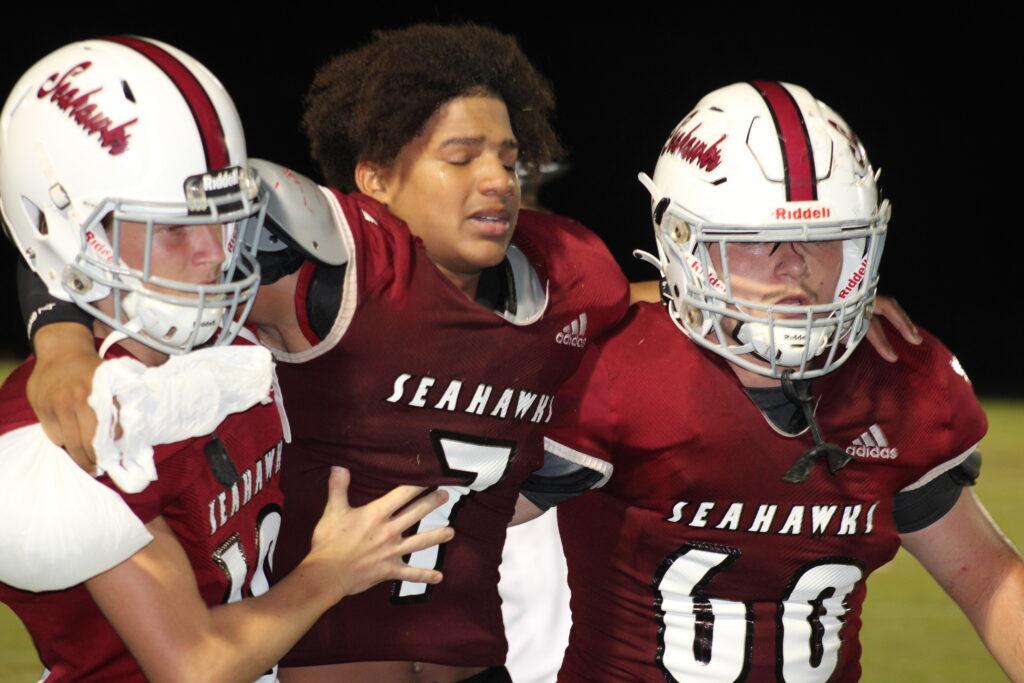 But in between those two 8-point drives would come four touchdowns by the Knights, including a pair of 70-yard runs from scrimmage that would put in sword in the Seahawks' efforts.
But those thrusts were not the only things that led to the Seahawks' undoing, as costly turnovers and penalties were a problem all night long.
"We're growing as a team but sometimes we keep getting in our way," said Cooper. "We've cost ourselves two games because we got in our own way.
"I thought we went out and executed what we wanted to do," he said. "But we did a poor job fundamentally tackling. Tackling and penalties are our worst enemies and it was on us."
A taunting penalty nullified a crucial quarterback sack by sophomore Ashton Gilbert, and midway through the final quarter, the Seahawks were unable to capitalize on a blocked punt by Sheldon James.
The Seahawks carried the ball 49 times for 230 yards on the ground, led by Bentley with 96 yards on 17 carries, and Abercrombie with 57 yards on 13 carries. Smith, who left with an injury midway through the game, rushed four times for 26 yards.
"We're waiting for word on Eric," said Cooper. "We spent all Saturday in the emergency room getting him checked.
"He's an absolute warrior," said the coach, noting that he is the team's leading tackler.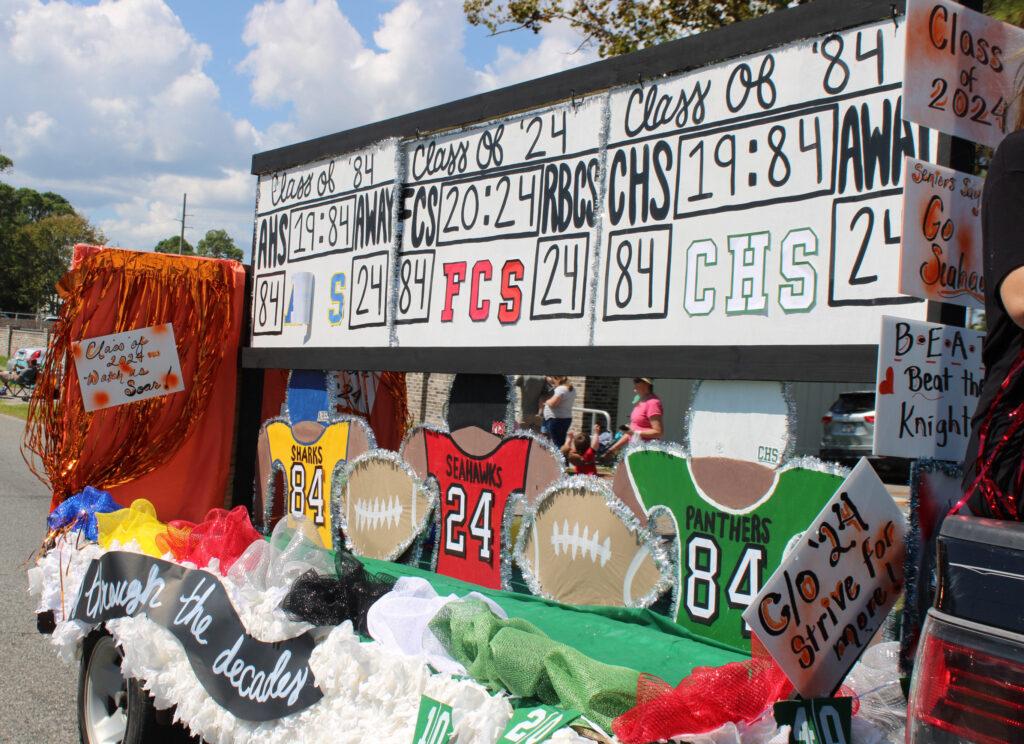 Junior Ajaylen McNair rushed six times for 31 yards, and caught a 15-yard pass from Freshman Sadiq Jones.. Millender rushed eight times for 20 yards. Senior Ethan Kembro caught one aerial, as the team completed just two of nine passes for 16 yards and one interception, thrown by senior Alex Sterling.
In addition to Smith, both sophomore Colby Blackburn and Millender sustained some form of injury, but both are expected to play Friday, when the team travels to Monticello to face undefeated Aucilla Christian.
"Slowly and surely it's coming," said Cooper. "We have had a brutal schedule so far but we've preserved the roster.
"We're going to keep working no matter what," he said. "Once it clicks one time and we're learning how to win, we're going to be on a roll."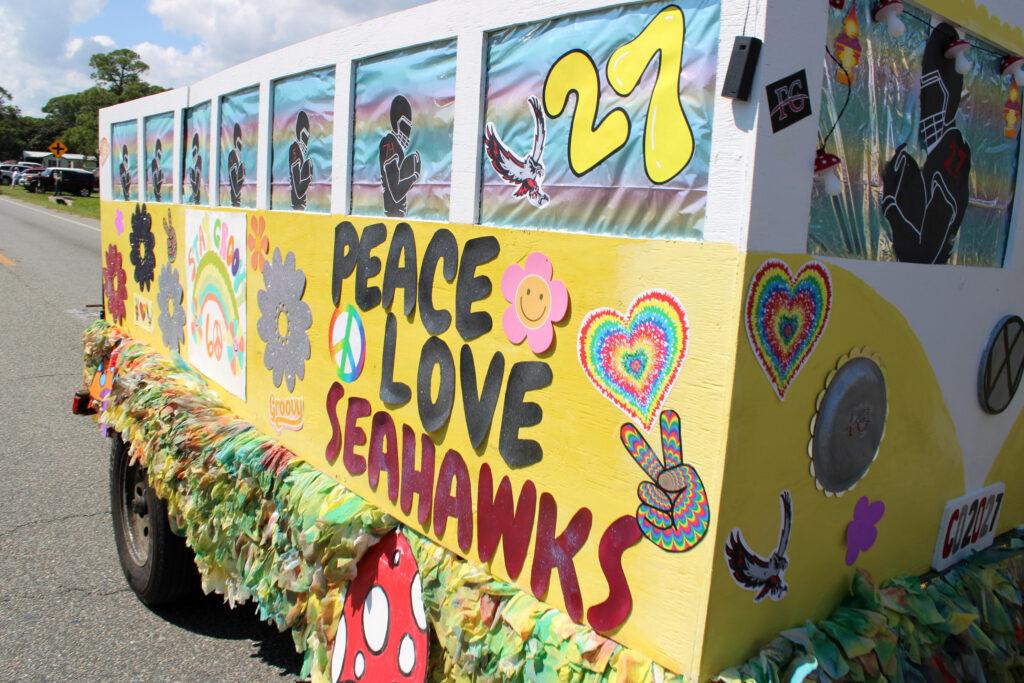 A huge parade took place Friday afternoon through Eastpoint, led by Parade Marshall Linda McQuagge, a retired teacher.
At halftime, senior Andrea Cruz was named Homecoming Queen and senior Gideon Dively as King. "The water girl became the queen," joked Cruz, who works the games as the carrier of water along the sidelines.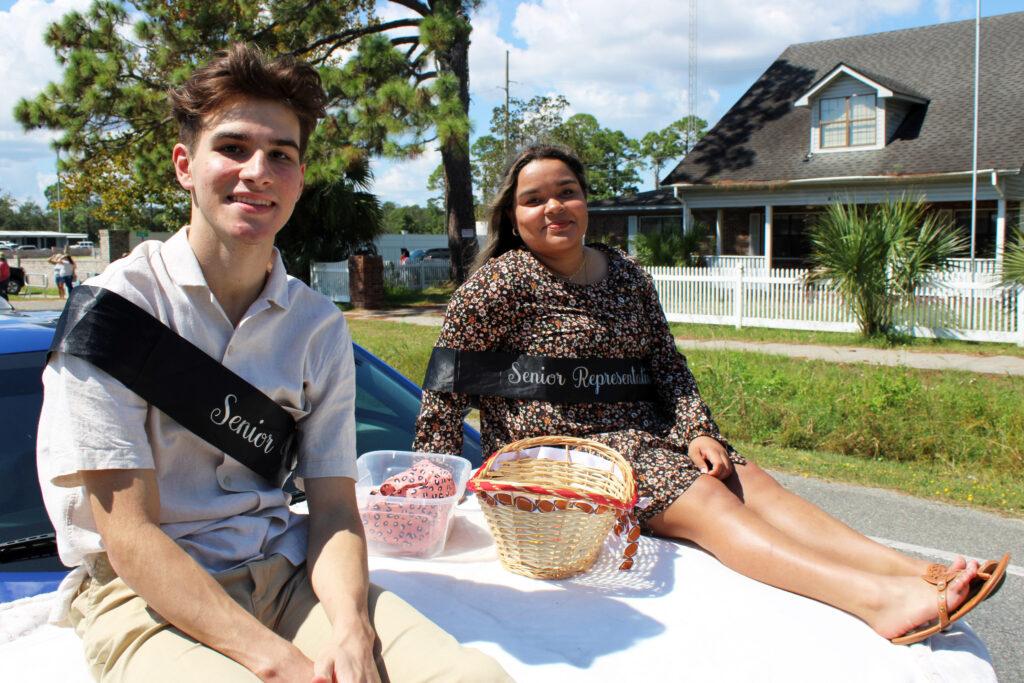 Other senior representatives include Dezmonae Sanders and Corbin Pritchard, Kylie Sapp and Brayden McCall, Ansley Savage and Alex Sterling, and Jostyn Tipton and Logan Bentley.
The junior representatives were Jadyn Lively and Preston Butler, Madison Millender and Garyson Millender, and Micahlyn O'Neal and Ajaylen McNair.
The sophomore representatives were Alexis Webb and Owen Juno, and Makynna Whitten and Nehemiah Robinson. The freshman representatives were Gregeyuna Griffin and Sadiq Jones.