Seahawks fall short in state semis
It was an exciting couple of days for Seahawk basketball fans, as the varsity basketball team made a journey to Lakeland for a berth in the Class 1A Final Four, its first trip since 2019 and only the third time in school history.
School was called off Wednesday and Thursday as fans traveled to Lakeland for the big game Wednesday evening against Williston.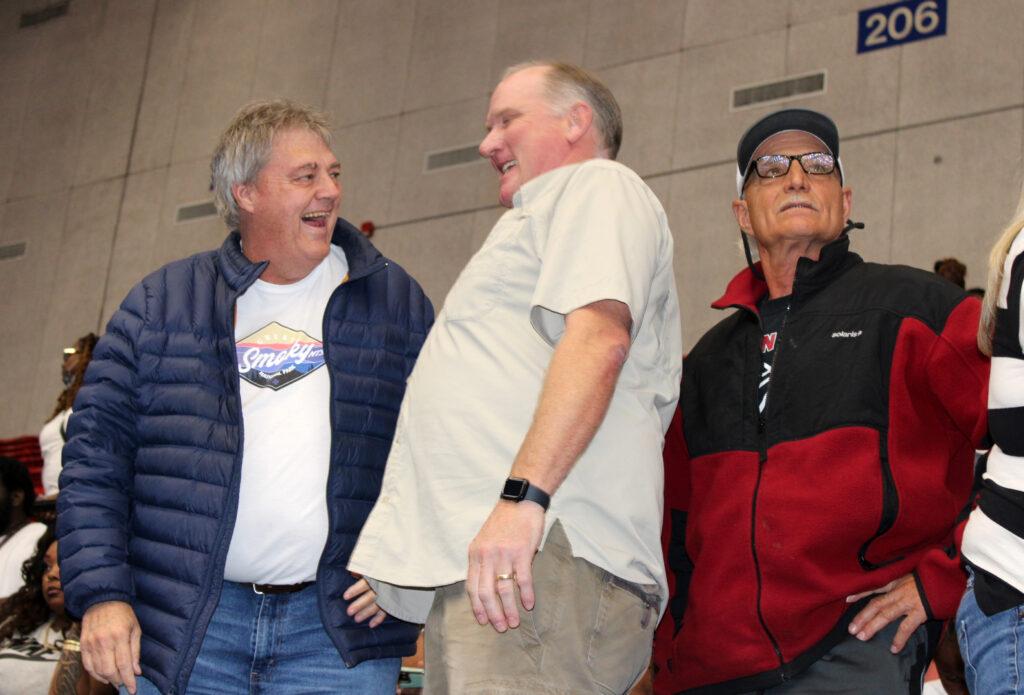 School board member Fonda Davis arranged to charter a spirit bus for young and old alike.
As it turned out, the Seahawks were outmatched by the Red Devils, succumbing 54-37 to a team that would go on to defeat Chipley 58-49 two days later for the Class 1A title.
Senior Owen Poloronis, who would finish with 18 points on the night, hit a trey to open the game, and eighth grader Sadiq Jones would follow soon after with one of his own. But Williston soon established an 11-6 lead after the first quarter, and led the rest of the way.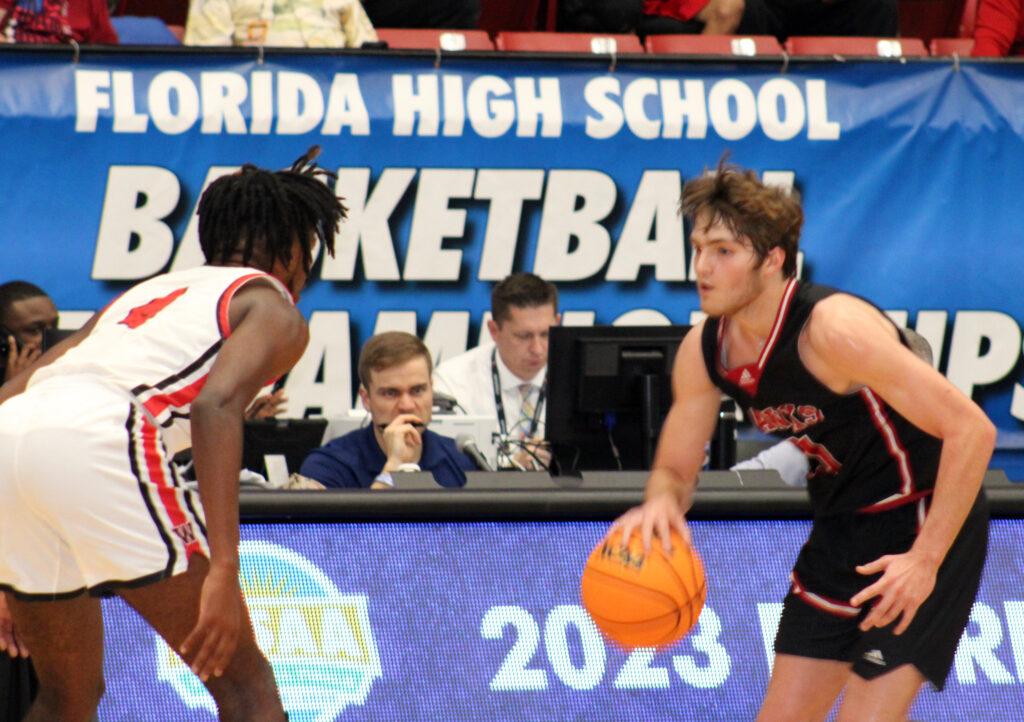 After establishing a 19-11 lead at the half, the Red Devils widened it to 36-24 after three quarters before going on to win by 17 points.
"It was a tough loss," said coach Ray Bailey. "It's not the outcome we wanted. It felt like we was in there for a minute.
"I think their length and size bothered us a little bit and it's tough to go out this way but we had a heckuva season."
Senior Ta'shawn Jones, who had a scoreless night with just two rebounds, racked up his third foul before the half.
"He got in a bit of foul trouble early on but it's a next-man-up mentality," said Bailey. "We're not going to use that as an excuse for nothing.
"Somebody else had to step up," he said. "We had a couple guys who unfortunately didn't step up tonight and it kind of put us in a hole but we live and learn from these mistakes and we'll be better."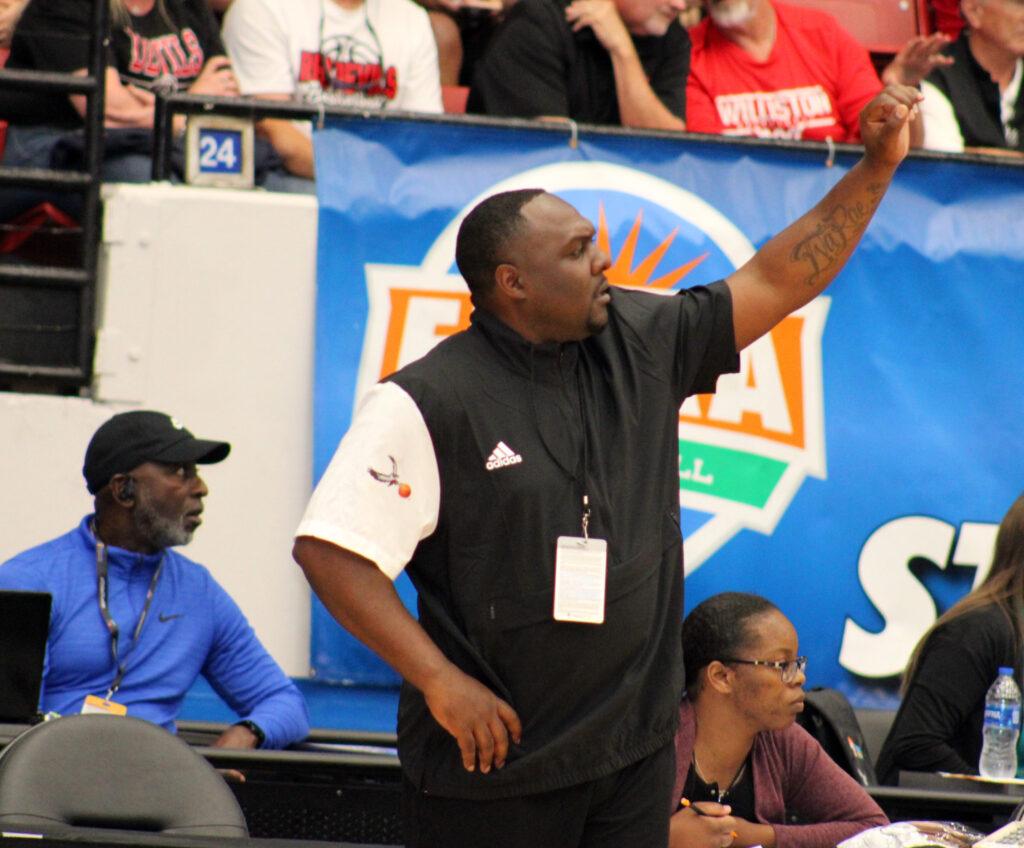 Sadiq Jones finished the game with seven points and five rebounds, while senior Jaidyn Rhodes had four points and five rebounds, and junior Ethan Kembro four points and four rebounds and three blocked shots. Junior Lonnie O'Neal and sophomore Ajaylen McNair each tallied two points.
The team hit 11 of 13 free throws, and was 38 percent from the field, but just 17 percent from outside the arc.
In the postgame press conference, Bailey appeared with Poloronis and Sadiq Jones, and praised the work of the team all year long.
"Twenty wins, eight losses, I'm proud of them, they left it all on the court," said Bailey. "It was a combination of a lot of things that helped us get here. We knew we was going to have a rough start. Then we figured halfway through the year, as they were getting better and better, we realized we had a chance."
The coach praised the dedication shown by Poloronis, who heads off next fall to play college basketball.
"He's been great, the work he's put in the last couple summers you can see the difference in his game," said Bailey. "I hate to see him go out like this, he had a great season, a great career, a thousand-point scorer, and now he'll have a chance to go on to the next level and play basketball. I can't be more proud."
Poloronis, who finished the year with a nearly 18 points per game average, was characteristically modest in his remarks. "I've seen how much the work paid off," he said. "I'll work real hard over the break and then play college basketball and whatever i feel is a great degree for me, I'll finish college and play basketball."
The coach also cited the work of Jones, who finished the year with a better than seven points per game average and a reputation of hard-hitting defense.
"The future is bright," said Bailey. "He wears his heart on his sleeve. A lot of the kids back at the school they follow him, the future's bright."
Jones said he was a little nervous before the game but settled in after warmups.
"I really had fun here," he said. "I didn't expect to make it this far based on the team last year and I'm proud to be here. It's one I'll remember for sure. I plan to come back in a couple years.
"I really had fun with these guys," Jones said. "It's sad we went out like this. It's taught me to leave it all on the court, to be mature and just focus in practice and work harder than anyone else."
Bailey said he's optimistic the team will be strong next year, despite the loss of Poloronis, Ta'shawn Jones and Rhodes. "We have to replace some pieces but I think we can," he said.