Seahawks knock off defending state champs
The Seahawk varsity baseball team had a strong week, downing both Liberty County and Holmes County, the defending Class 1A state champs. 
The only down note in the busy week was a 2-1 loss to Port St. Joe.
The week opened at home Feb. 28, as Coach Kevin Cox's squad downed Liberty County 8-2 behind a strong showing on the mound.
"This was a game where we used multiple pitchers to get the job done," said Cox.
Senior Chase Crum got the start and was very solid in his outing, as the righthander went three-and-one-third innings, allowing two runs on five hits and striking out six. He was followed up by senior Evan Stanley, who did not give up a run.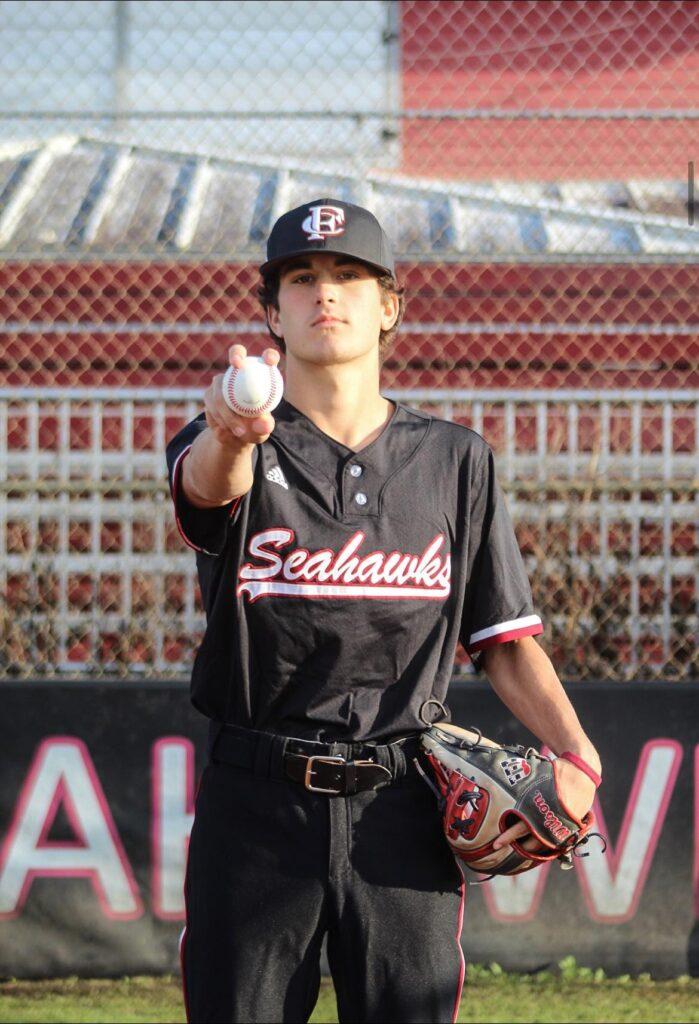 "When he got into a little bit of a jam in the sixth we turned it over to junior Cody Abercrombie who closed it out," said Cox. "We wanted to rotate pitchers in this game as we had two big games at the end of the week."
The team only had four hits, a double by Crum, and singles by seniors Wyatt Abercrombie and Dane Mallon, and junior Chase Millender.
"We did not swing the bat particularly well, but got timely hits and capitalized on a couple of Liberty mistakes to get a little bit of a cushion."
Mallon hit into a fielder's choice in the first inning, to score a run, after three runs in the third, the team put up four runs in the fourth inning to seal the deal. Senior Logan Bentley, junior Will Luberto, and Wyatt Abercrombie each had RBIs in the frame.
On Friday March 3, the team sustained a 2-1 loss to Port St. Joe, as they outhit the Tiger Sharks 5-2 but committed three errors.
"As timely as the hitting was against Liberty, it was the exact opposite in this game," said Cox. "We wasted an outstanding pitching performance by Cody Abercrombie as he pitched six innings, only giving up two runs, both unearned, and striking out 10.
"We did not get the timely hits needed to win a tight game. And the couple errors we made cost us," said Cox.
Bentley led the way at the plate with three hits. "I loved the energy and intensity we played with and that is expected in a rivalry game like St. Joe," said Cox. "They played a cleaner game than we did and deserved the win. This was two good teams going at
it and I look forward to playing them again in a few weeks."
At home Saturday against the Holmes County Blue Devils, Bentley knocked a 3-2 pitch in the bottom of the seventh for a game-inning walk off victory.
"What an opportunity we had," said Cox. "Less than 24 hours after losing a one-run ball game, we had Holmes County coming to town, the defending state champs. I challenged my guys that when they went to bed that night to forget about the St. Joe game as there is no time to feel sorry for yourself. Relish the opportunity you have to play a team that just won the state title."
The game turned into a classic with two good teams going at it. "Mallon pitched another gem when we needed it the most, throwing a seven-inning complete game and only giving up four runs on five hits, striking out eight and walking one."
Bentley was hot at the plate again with two hits. Luberto drove in the first run of the game in the second, and in the third, Bentley smacked a two-run single.
"After we tacked on the fourth run in the bottom of the sixth on a single by Millender to score Wyatt Abercrombe, all thought we were safe," Cox said. "Holmes County showed why they were state champs though."
Down to their last out and last strike, the Blue Devils notched a base-loaded double to tie the game up at 4-all headed to the bottom of the seventh.
"What I like best is how we responded," said Cox.
A Crum walk started the seventh, followed by a Cody Abercrombie single to left, and a bunt single by Mallon to set the stage for Bentley's heroics.
"What a range of emotions in 24 hours," said Cox. "I loved the fight we showed, not only coming back after a disappointing loss the night before but the adversity that struck in the seventh today. That shows we keep fighting and that's what you want your team to be known for."