The Braxtons mark their anniversary together apart
On Sunday, Buddy Braxton brought flowers for his wife Betty on the occasion of their 66th wedding anniversary.
When she saw him come inside to the St. James Health and Rehabilitation Center, their daughter Amy Cook said her mom "got this big smile and her eyes lit up and she put her arm around daddy."
Those arms have had and held her husband close ever since Buddy, then 20, had traveled up to Donaldson, Georgia with his mother, to meet up with a justice of the peace, who would marry him and Betty Shiver.
She was only 14 years old at the time, two months shy of 15, and Buddy was hooked the first time he saw her, nicely filling out a pair of white culottes. "As soon as he saw her he knew that was going to be the one," Amy said.
Their courtship led to a desire to be together forever, but since she was not pregnant at the time they wanted to tie the knot, the local judge declined to do the honors. So Betty's mom arranged to have a friend, a Miss Garwood, conduct the ceremony in Georgia.
The couple's moms accompanied their kids to the small ceremony. "Somebody else was there as a witness but I didn't know them," said Buddy, relaxing after the anniversary trip Sunday, back at the home on Power Drive in Eastpoint, where the couple has lived for the past 61 years.
It's a house built after five years of marriage, first living with in-laws and later finding a small house to live in. They lost the house they had built on Power Drive 38 years ago to fire, but Buddy built it back up.
On Sunday Amy planned to take her dad with her to church, and when she got to his house to make sure, just like his meticulous wife has always done, that he was properly dressed for the occasion, his shoes on and tied, her dad had backed off. "Time got away from me," he told his daughter. " I think I want to ride on to mama's."
Buddy visits St. James about every other day and so would be going again. Amy went ahead to church but cut it short, and called her dad back.
"Why don't you let me ride with you?" asked Amy. "I knew today was going to be a hard day, it was their first anniversary they've had where they are not together."
On the way they stopped by the dollar store, where he picked out roses, daisies and some other flowers, and got a vase to put them in.
"It made him happy to make sure he gave her something," said Amy. "They had a lot of good, good, years together and these memories are what keeps them together."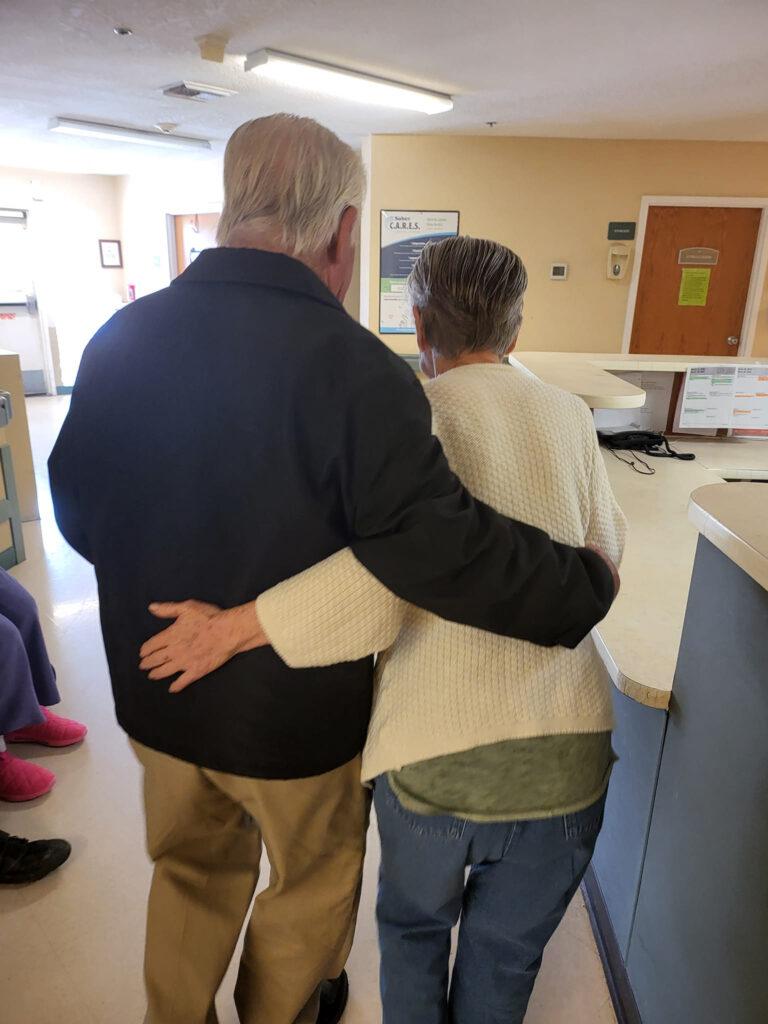 Those memories have not entirely faded from Betty's landscape, but they have blurred considerably with the advent of Alzheimer's that began about nine years ago. Buddy cared for her at home as long as he could, but in time, as she grew to see her loved ones as strangers, and grew uncomfortable with them helping her with tasks they dearly wanted to do, the family had to make the difficult decision that her needs would be better served by trained professionals.
"Daddy took care of her 100 percent of the time," said Amy.
"And I would still if she would let me," Buddy said.
At the anniversary visit, "she reached up and just kissed me," said Amy. ""Every great once in a while there's a spark in her eye. It only lasts for a second but we take those seconds.
"I cry a little bit and we keep going," she said. "We do a lot of crying."
Buddy is now fully retired from a career as an oysterman and later working alongside his wife as an owner of Braxton & Carroll Seafood, Inc., which is now Lynn's Quality Oysters. His health has faced the effects of aging, but he's stayed active despite a heart attack and a couple of strokes. "He does a lot more than what he's supposed to," said Amy.
He's grateful for the contribution of his three daughters, Lisa Logan, who lives in Sumatra, and Tammy Carter and Cook, who both live in Eastpoint. "One does the billing, one does the doctor and one cooks and cleans," he said.
And he cherishes the love of his five grandsons, Marcus, Dakota Jonathan, Chance and David; and his four granddaughters Breanna, Savannah, Tory and Hannah.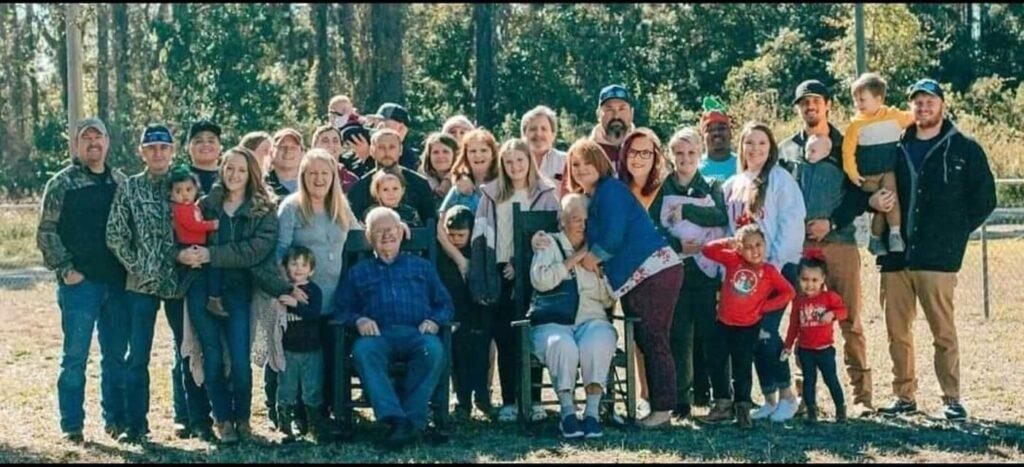 Even though she's non-verbal these days, Betty has left words for her family, in the form of journals the family has uncovered. Amy is convinced that her mom, perhaps sensing she had inherited a genetic tendency for dementia, made sure to put her thoughts down for her husband and her children.
"That's why she started those notebooks, really and truly she was writing us letters and talking to us," she said. "That's what kind of love she had for him.
"Mom for years would write, as a spirit-filled woman, journals after journals after journals," Amy said. "We didn't know about them; she didn't tell us.
"They were about how much she loved us and letters and prayers she wrote for us," she said. "We've only found like two, but someone in our family knows where they are."
There has been one indelible piece of writing that the family can find every day, penned in red deep in their hearts.
"They taught us how to love and to be loved," said Amy. "We knew how a husband should treat a wife because of the way he treated my mama. And still does to this day."