Young runners anchor Seahawk track team
With a young team, bolstered by a wealth of middle school athletes, the Franklin County High School track team is off and running.
"I believe it's the biggest track team we've ever had," said Coach Anna Bull. We're off to a pretty good start."
With three meets so far, the team's schedule changed a bit due to the basketball playoffs and a couple meets hitting capacity.
"We've had a few familiar names – sophomore Josiah Friddle, seventh grader Bella Polous and eighth grader Addyson Paul – do well in distance races, the 1600 meters and 3200 meters," said Bull.
Josh Greer, the team's only returning senior, and sophomore Dex Teat are two returning runners. Greer has been strong in the 200 and 400 meters, and javelin, Bull said, with Teat running the 400 and 800 meters.
Nathaniel Cabrera, a homeschooled eighth grader who has played soccer the last two years, "has been our new standout," said Bull. He won the 800 meters and came in second in the 1600 meters at the March 6 middle school meet at Wakulla.
"He has been knocking time off both his events with each race," said the coach.
Apalachicola Bay Charter School sixth grader Amelia Wolferseder is "a sprinter with a lot of potential," said Bull. "She's been doing the 100, 200, and long jump. She's placed in the middle school meets and holds her own in the high school meets. A few more years and she'll be a strong high school runner."
Bull said eighth grader Kyle Gilbert placed well in the 100, 200 and shot put at the middle school meet. "We have a lot of strong middle school runners, but most of our meets are high school meets so the competition is pretty tough for them," she said.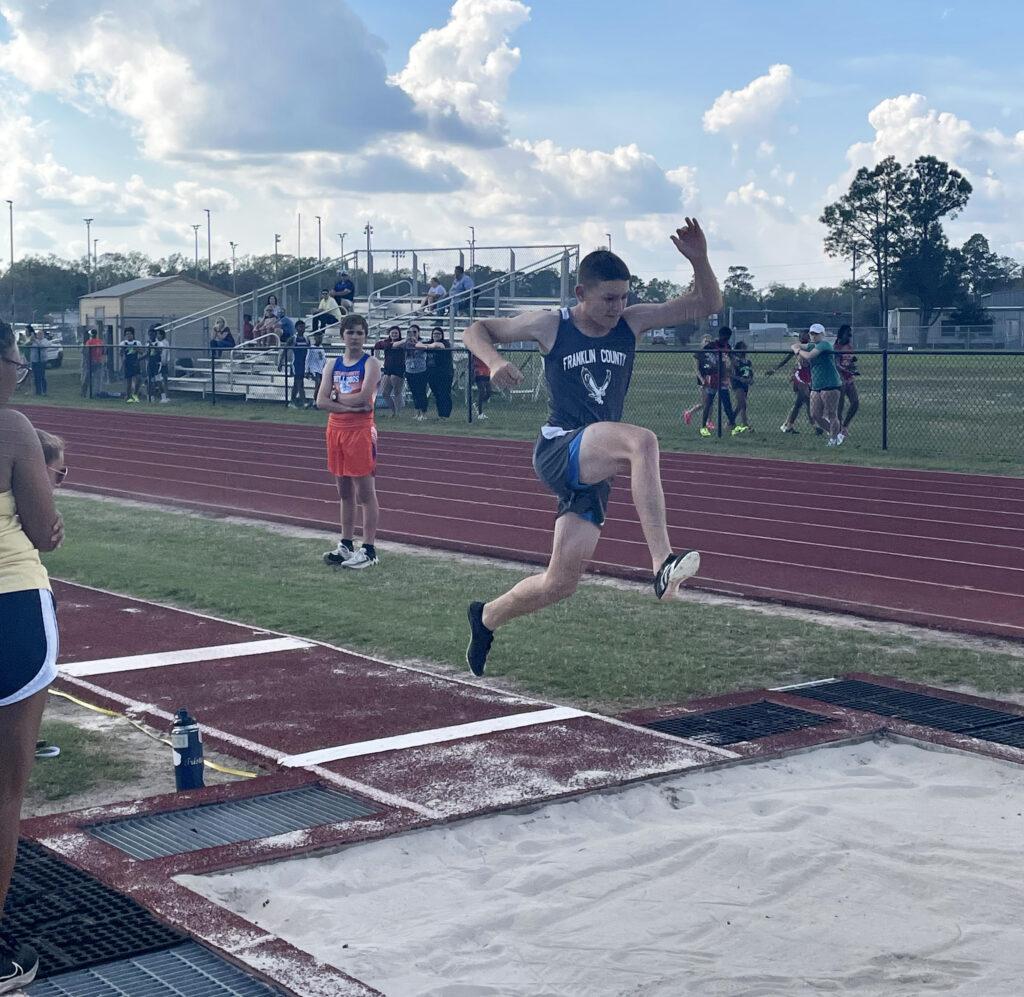 Here are the results of the March 6 middle school meet:
GIRLS
100 METERS: 9th) Wolferseder, 14.50; 23rd) Eighth grader Maddie Lolley, 18.44
200 METER: 15th) Wolferseder, 32.22; 23rd) Eighth grader Kate Ward, 35.69; 29th) Lolley, 39.94
400 METER: 15th) Seventh grader Riley Hollenbeck 1:20.61; 16th) Ward 1:21.02; 23rd) Seventh grader Payton Wood 1:32.33; 25th) Sixth grader Maelynn Wilson, 1:35.14
800 METER: 12th) Seventh grader Baileigh Dasher, 3:31.70; 21st) Wood, 3:49.31
1600 METER: 4th) Paul, 6:46.43 5th) Polous, 6:53.30
4X100 METER RELAY: 6th) 1:02.04
LONG JUMP: 7th) Wolferseder, 3.86 meters; 17th Hollenbeck, 2.89m
DISCUS: 14th) Sixth grader Madison Petty, 12.12m; 15th) Sixth grader Zoe Everett, 11.83m ; 16th) Wilson, 10.49m; 17th) Sixth grader Makenley O'Neal, 9.08m
SHOT PUT: 10th) Petty, 7.36m; 18th) Everett, 5.55m; 19th) O'Neal, 5.4m; 21st) Wilson, 4.58m
BOYS
100 METER: 20th) Eighth grader Kyle Gilbert, 13.66
200 METER: 13th) Gilbert, 27.99; 32nd) Sixth grader Silas Scroggins, 38.67
400 METER: 28th) Eighth grader John Shiver, 1:20.09
800 METER: 1st) Eighth grader Nathaniel Cabrera, 2:27.01; 19th) Shiver, 3:08.20; 28th) Sixth grader Easton Johnson, 3:29.65; 29th) Scroggins, 3:31.26
1600 METER: 2nd) Cabrera, 5:31.07
LONG JUMP: 16th) Gilbert, 4.15m; 30th) Johnson, 2.81m
SHOT PUT: 7th) Gilbert, 9.54m; 24th) Seventh grader Ethan Shiver, 5.26m
Here are the results of the March 9 Bozeman Invitational:
GIRLS
200 METER: 31st) Wolferseder, 31.49; 40th) Ward, 33.09
400 METER: 27th) Hollenbeck, 1:18.38
800 METER: 15th) Dasher, 3:19.14; 25th) Sophomore Jade Lively, 3:28.18; 27th) Wood, 3:32.29
1600 METER: 13th) Paul, 6:57.22; 15th) Polous, 6:58.55
4X800 RELAY: 8th) 13:12.21
LONG JUMP: 31st) Wolferseder, 3.74m; 42nd) Hollenbeck, 3.24m
SHOT PUT: 27th) Petty, 5.76m
BOYS
200 METER: 45th) Gilbert, 28.40; 49th) Sophomore Jayden Gray, 34.74
400 METER: 39th) Senior Joshua Greer, 1:00.67; 34th) Freshman Troy Mckenzie, 1:04.31; 54th) Freshman Seth Thomas, 1:25.40
800 METER: 7th) Cabrera, 2:14.82; 18th) Sophomore Dexton Teat, 2:22.15; 39th) Shiver, 2:56.45
1600 METER: 17th) Cabrera, 5:17.49; 21st) Sophomore Josiah Friddle, 5:23.43
3200 METER: 12th) Friddle, 11:58.06
LONG JUMP: 27th) Teat, 5.26m; 32nd) Greer, 5.08m; 42nd) Gilbert, 3.87m
DISCUS: 43rd) Junior Bentley Braswell, 12.22m
JAVELIN: 25th) Greer, 24.76m
Here are the results of the March 14 Wakulla Home Meet:
GIRLS
100 METER: 14th) Wolferseder , 14.84
200 METER: 11th) Wolferseder, 32.40; 20th) Ward, 35.78
400 METER: 23rd) Ward, 1:28.11
800 METER: 10th) Dasher, 3:31.62; 15th) Eighth grader Mckenna Hathcock, 3:55.29 DISCUS: 15th) Eighth grader Sheyanne Russell, 12.78m
SHOT PUT: 7th) O'Neal, 4.08m
BOYS
100 METER: 37th) Gilbert, 20.23
200 METER: 23rd) Gilbert, 29.60
400 METER: 33rd) Shiver, 1:18.55
800 METER: 7th) Cabrera, 2:31.03; 23rd) Shiver, 3:03.68
1600 METER: 8th) Friddle, 5:30.24; 9th) Cabrera, 5:35.73
3200 METER: 3rd) Friddle, 11:54.37
LONG JUMP: 17th) Gilbert, 4.27m
SHOT PUT: 28th) Shiver, 4.58m