Dialysis services return to the region
It's been two years since the DaVita Kidney Care shuttered its Port St. Joe facility, leaving local patients without nearby options.
Many drove to Tallahassee or Panama City to receive their kidney dialysis treatment three times a week. Others went more frequently than that.
But on Thursday, March 23, at the ribbon cutting for the town's brand new Fresenius Medical Center of North America dialysis facility, local officials, including Franklin County Commission Chair Ricky Jones, and representatives from different healthcare agencies gathered to celebrate what they say is the end to these patients' dilemma.
"Imagine that you have limited money, limited time, you're sick, you're tired, you can't work, you've become used to (having) a kidney dialysis facility 15 minutes from your house for years, and that's keeping you alive. All of a sudden one day, you find out that the clinic is closing and that your only option is to drive to the next county over… it wears you down more and more, the stress on you, your family, your finances, your car. Eventually, that tears you down," said Geoffrey Helms, a social worker from Wewahitchka who works with Fresenius. "This clinic will save lives."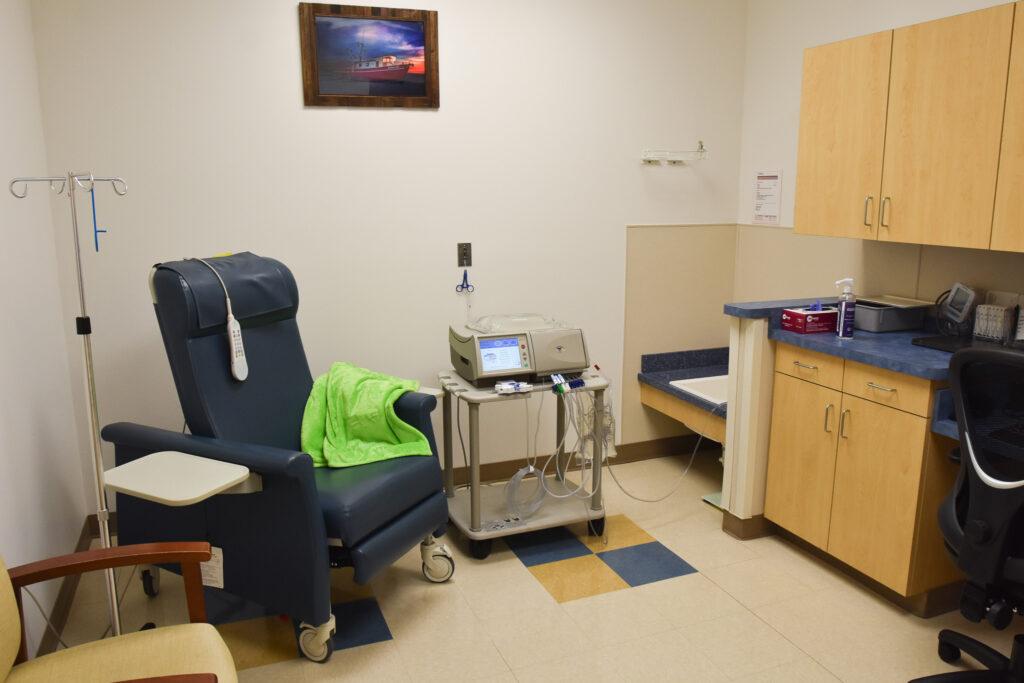 Fresenius began accepting patients at their Gulf County facility on Feb. 6, according to Gulf County Economic Development Director Jim McKnight.
McKnight had been working to secure a dialysis provider since March 2021, when DaVita closed its facility following the loss of the company's contract with Blue Cross/Blue Shield.
The new center resulted from an agreement struck between Fresenius and the county, which specifies the conditions of a $100,000 subsidy that will be paid out by the county to Fresenius annually for the next five years.
According to representatives from Fresenius, this type of agreement is not typical. Without it, they said, it's likely the company would not be able to operate the facility profitably.
"DaVita closed this clinic years ago and just left for financial reasons. I'm not casting aspersions. It's hard to make money in small town America with dialysis," said Bryan Crow, a former marketing director for Fresenius who worked closely with McKnight to see the Gulf County facility opened. "Hospitals are getting squeezed, dialysis facilities are getting squeezed, reimbursements are going down, but the patients still need care."
"…Without the contributions (from the county), I don't know how we would be able to run this clinic profitably in a rural community."
The half-million dollars paid for out of Gulf County's health care trust fund, was allocated to offset start-up costs and other expenses at the facility. This included the lease of space in the building, which is located in the Ascension Sacred Heart complex but is owned by a private entity, separate from Ascension.
Initially, Gulf County commissioners requested that Franklin County assist with its percentage of patients served by the center, with a ceiling of $25,000 of this $100,000 annual commitment.
Franklin County commissioners asked the Weems Memorial Hospital board to provide a recommendation on whether to take Gulf County up on the proposal. The Weems board unanimously voted to recommend against assisting Gulf County with the subsidy, expressing concerns about the legality of spending health care trust funds outside of their county.
Instead board members said that they would attempt to bring in a mobile unit to provide the dialysis services. After turning to a consultant to advise them on the proposal, Weems has yet to implement dialysis.
Jones said that despite resulting tensions between the two counties, he was glad to see the facility up and running.
"This is a big day. I'm glad that Gulf County with their commissioners were able to get something like this in our area," he said. "If nothing else, we had to be here to support it and show that we support it with our presence.
"I was always very supportive of us also financially helping this project," he said. "It didn't go the way I wanted it to but as a commissioner I have to follow what the will of the board is. But I've always been very supportive of this; I think it's a great asset to this community and to our area.
"What we discussed, which we didn't do, was actually supporting this monetarily," Jones said. "I think it was a five-year and during that five years we could be working on our own, giving us time."
Jones said he believes by seeing Franklin County patients, the facility could be an enormous benefit to those who have had to endure long travel times.
"If you live in either one of these counties, and let's say you need to dialyze five times a week, you have to travel that kind of distance that they were having to travel before this facility," he said. "You don't want anyone to make an economical decision that affects their health care and it has in the past. So it's going to be very very vital not just for Gulf County but I'm sure Franklin County residents will utilize it as well.
"I think there might still be potentially an insurance issue, but that's something that people will have to work out," Jones said.
McKnight said that while the immediate economic impacts of the center might be limited, returning dialysis services to the area greatly impacted the quality of life for citizens in Gulf, Franklin and surrounding counties.
"One phone call I got during the process of this being worked on is when a lady called me and said 'look, I live on the Cape. If you can't get that dialysis facility, send hospice out here, because I'm done.'" he told those gathered shortly before the ribbon cutting.
The facility offers both in-center and at home care options and continues to accept new patients at this time.
"I'm glad we can return that quality of life to this area, and when people move here down the line, I know this is one of the things they'll be looking for too," McKnight said.