Choral society celebrates 'Sounds of the Season'
On the weekend that ushers in Holy Week, the Bay Area Choral Society blended a repertoire of Christian hymns and upbeat, joyous songs from theater and film to create a pair of "Sounds of the Season' concerts last weekend.
On Friday evening, the concert was at First United Methodist Church of Port St. Joe, and then on Saturday, society performed at Trinity Episcopal Church in Apalachicola, in front of an audience that filled most every pew.
Paul Brown served as conductor, and Dr. Ian Henning as collaborative pianist, with several Florida State University music students adding to the fullness of the sound. They included violinists Lambert Hsieh and Darrian Lee, viola player Hunter Sanchez; cellist Ryan Snapp; trumpeters Jeremy Perkins and Madison Barton; and percussionists Darci Wright and Chris Baird.
The program opened with "Ride On, King Jesus" arranged by Moses Hogan with a solo by baritone Desmond King. It was followed by "The Battle of Jericho" also arranged by Moses Hogan, with a solo by baritone Mike Giere.
"Children, Go Where I Send Thee," was next, arranged by Kevin Philip Johnson, with a solo by alto Dr. Tamara Marsh Flowers. Carly Simon's "Let The River Run" was next on the program, arranged by Craig Hella Johnson.
Flowers and tenor Marilyn Freeman were soloists on "Sister Act," arranged by Mac Huff. Soprano Diane Peevy performed a solo with "Somewhere Over the Rainbow" with soprano Carla May offering a solo on "Sound of Music," arranged by Rodgers and Hammerstein.
A medley of numbers from Rodgers and Hammerstein's "Oklahoma" was next, as the singers sported cowboy hats. Performing solos were Peevy as well as baritone John Nagy and Giere.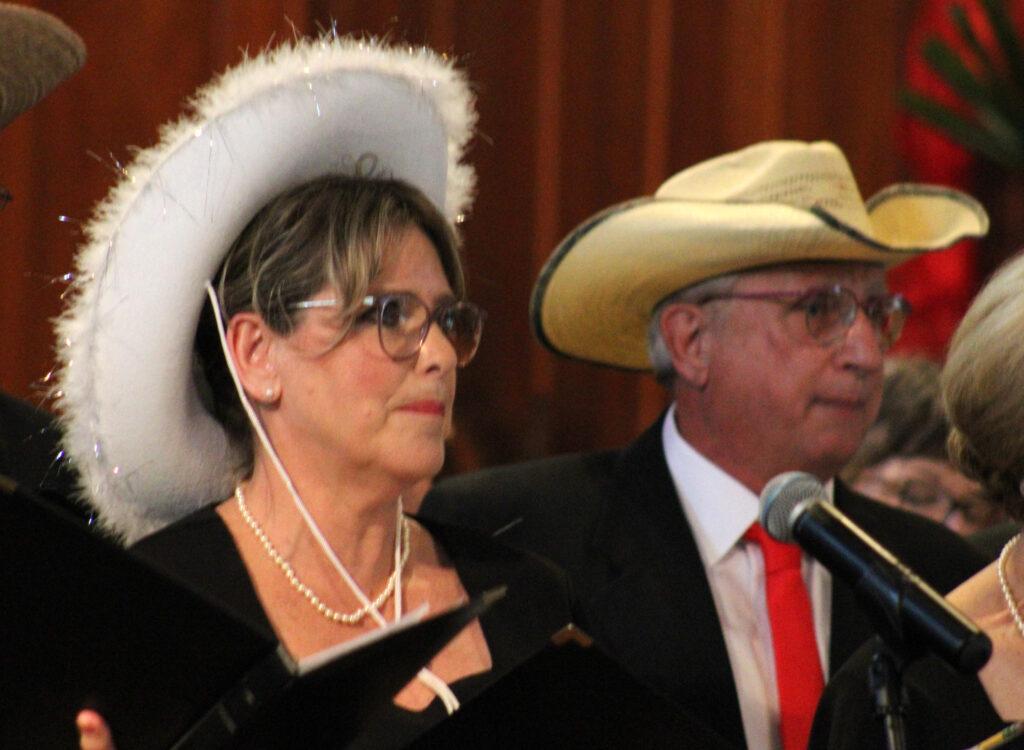 The rousing concert concluded with the song "Do You Hear The People Sing" from the musical "Les Miserables" arranged by Ed Lojeski. Tenor Randy Jones offered a solo.
The Bay Area Choral Society voices were all in fine, enthusiastic form, featuring sopranos Diane Brewer, Judy Burgess, Neldys Crespo, Megan Lamb, Carla May, Martha Milas, Diane Peevy, Joy Lumpkin, Melissa Watson and Carolyn Williams; and altos Jo Branch, Sara Freer, Dana Langford, Shari Mackay, Dr. Tamara Marsh Flowers and Ina Meyer.
Tenors included Carol Barfield, Marilyn Freeman, Fred Genter, Jimmy Harwood, Randy Jones, Sandra McInnis, and Elizabeth Sisung. Basses and baritones were Desmond King, David Davis, Mike Giere, Bill Hamilton and John Nagy.
Audio and lighting was handled by Rick Ott, videography and graphics by Dru Flowers with Royce Rolstad as videographer.