At war and in peace, builders revel in memories
In 1942, not long after graduating high school in Donaldsonville, a small town in southeastern Louisiana along the Mississippi River where it winds south from Baton Rouge through the parishes towards New Orleans, Bertus Robert joined the Navy.
For the next two years, "Bert," the youngest of 11 brothers and sisters, would serve as a radio operator aboard the escort carrier USS Rendova, and the destroyer USS Rednour, as they patrolled the Pacific, eventually resting off Okinawa on the eve of the dropping of the atomic bomb over Japan in August 1945.
The Rednour had been hit by three kamikaze attacks, killing 27 of his fellow sailors, as doctors and medics had been killed. "There was no one to offer first aid," said Robert. "There were lots of ships in the harbor to pick up who was left."
Later, while manning the radio, he received a message that carried the news that the Enola Gay was on its way on an important mission, to drop "Little Boy" over Hiroshima.
"I knew it before it even happened, that night," he said. "I decoded the message."
"At the time I thought it was the right thing," said Robert, as he relaxed at a table in the kitchen of the Davis home at Bay City Lodge, built by the founding family of the Winn-Dixie grocery chain.
"It killed a lot of people and destroyed a lot," he said. "After that the Japanese were ready to call it quits."
Throughout the war Robert kept in touch with his high school sweetheart, Theresa Bossier, and during a furlough, he returned home and got married. She stood by him when he later served during the Korean War, completing nine years of active duty, before he later returned to get a degree in forestry from Louisiana State University.
"It (military service) gave me a college education," he said. "I got a lot of benefits out of it."
For 77 years, the two stayed married, raising two daughters, one of whom he now lives with following the death of his wife two years ago.
From his full head of bright white hair, and the energetic manner in which he conducts himself (he wears a hearing aid but no glasses), you wouldn't know that he's about to turn 100 years old.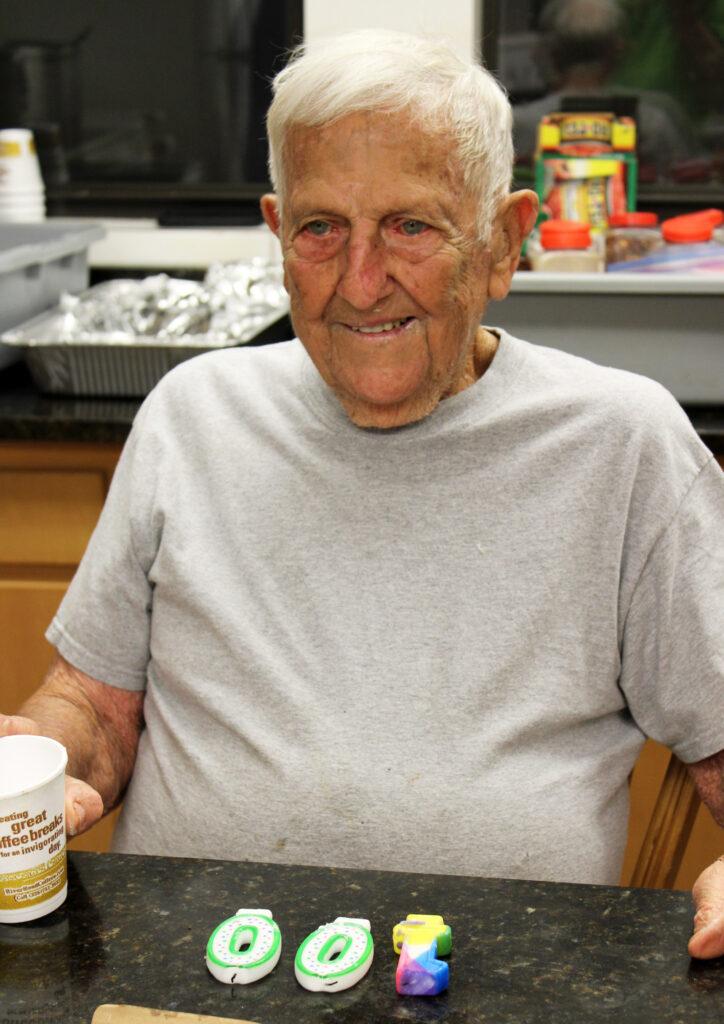 "Hello, I'm a coon-ass from Louisiana," he offered cheerfully upon our introduction, his calloused hand gripping mine firmly.
There were a lot of coon-asses at the gathering of the Southern Builders Association two weekends ago at Bay City Lodge, many sporting LSU shirts and hats and reveling in their crawfish boil, pinching out the succulent meat, and dining on such delicacies as Ferral Monier's Maque Choux, a classic Cajun recipe of corn and peppers sautéed in bacon grease until softened and spiced.
Formed in 1916, the Southern Builders Association at one time was a formal trade group of family-owned businesses, who dealt in concrete and other building materials for the construction of roads, high-rise buildings and even watercraft, in which aggregate, a lighter material fired from clay made for optimal buoyancy in the making of boats for the military.
Where once the SBA would meet each year at luxurious estates such as Pickwick Lake in Tennessee or Point Clear outside Mobile, Alabama, where the gathering was known for celebratory excesses and probably a bit of price-fixing, they now have made Bay City the site of their annual affair.
It's still an all-male affair, but they no longer dress in jackets and ties, and their non-profit status is now kept alive by their holding of an annual meeting chaired by longtime organizer, Joel Hammond, a retired president of Big River Industries, where Robert used to work during his 62-year career with the company, a stint that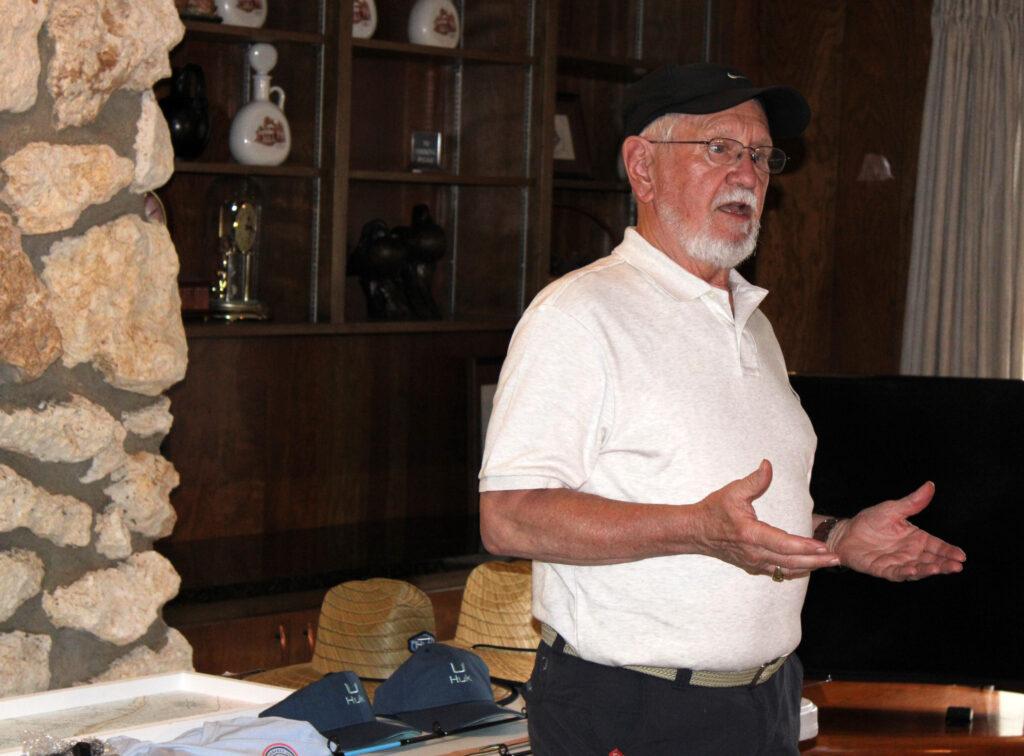 included his regular duties as well as guiding high-profile clients on hunting trips in Texas and being instrumental, as the nicknamed "Cajun Injector," in cooking for the annual meeting.
These days, while the agenda is one of eating and drinking and fishing (one group boasted of a 35-pound red snapper they caught when they went out with guide Jerome Brown), don't think for a minute they haven't devoted time and resources to contributing to the welfare of the community.
On hand to schmooze at the gathering was Apalachicola resident Karen Cox-Dennis, who in the 1990s had championed the creation of what is now the playground at Battery Park.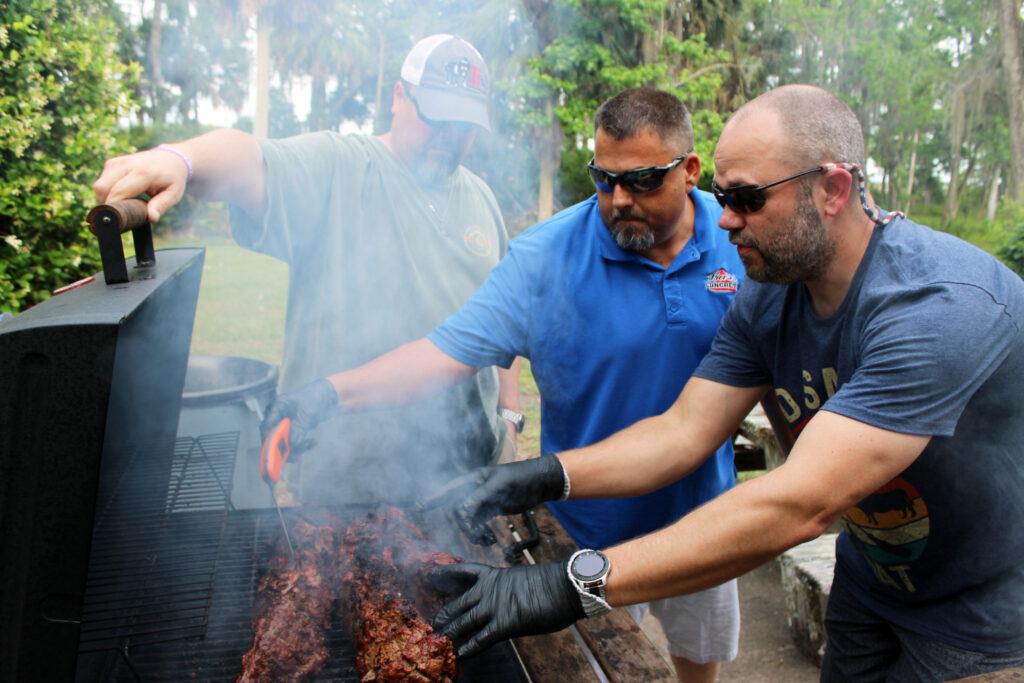 Hammond had a house at the time in Apalachicola, and happened to be in attendance at the city commission meeting where the topic was discussed. He then convinced his fellow SBA colleagues to help fund the project. Plus they were instrumental in having the cannons positioned properly at the intersection of Avenue D and Sixth Street.
But beyond even that, the SBA has been one of the most dedicated backers of the Veterans Memorial Park where the Three Servicemen Statue Detail now sits. With a series of fundraising barbecues and annual donations (the monies raised from a raffle last month will all go to the park), the SBA has been a major benefactor of the project envisioned and created by Jimmy Mosconis, Bay City's owner.
"From the time I started the project they helped me raise money for it," he said. "They supported it from day one. They jumped in and every year they gave me a contribution. They totally supported what I was doing."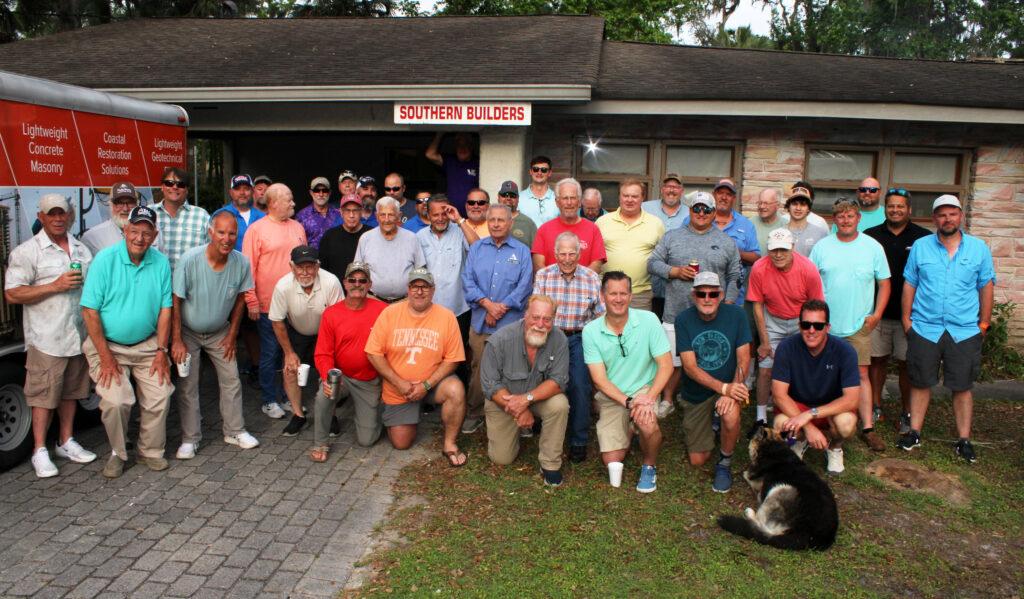 The SBAs most recent contribution has been putting a replica, in the corner of the park of the bronze eagle statue found at Fort Benning in Columbus, Georgia.
At the annual meeting, the group did its duty and elected Paul Altznauer, a technical sales rep with Arcosa Inc as its president. They passed on to him the ceremonial ring worn by the president, with Hammond making sure to urge those in attendance to consider purchasing a brick paver at the Veterans Memorial Plaza in honor of a friend or family member.
At a Friday evening dinner, Cox-Dennis brought a cake to honor Robert's 100th birthday, and he helped cut it, just as he had sliced the succulent tenderloin the Cajun cooks had prepared for the occasion.