Bringing the dead back to life
Unlike those who rest in eternity in the graves beneath him, Jonathan Appell does not seem to ever sleep.
Zooming like a bee through Chestnut Cemetery, alighting on one gravestone to the next, Appell conducted a fascinating workshop Saturday morning for the Apalachicola Area Historical Society's Cemetery Committee, providing a detailed insight into the composition of the materials used to mark the many headstones and obelisks, as well as a hands-on demonstration on the most up-to-date cleaning tools used to restore the original, readable look of the mainly marble and granite markers of the 19th century resting places.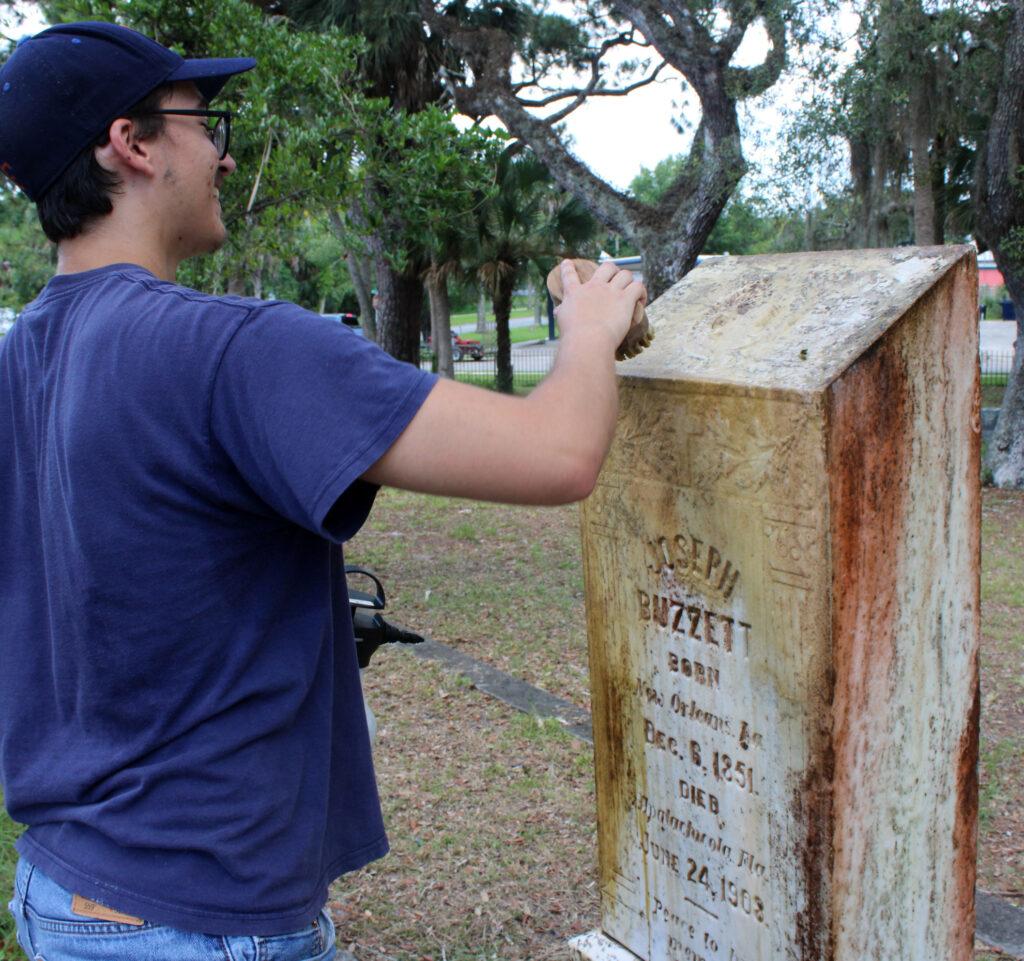 Appell is on a whirlwind 48-state tour of the United States conducting workshops on behalf of his Connecticut-based company Atlas Preservation. Bad weather, flooding and other acts of God have forced a few cancellations, most recently in Mississippi, but he continues to keep up a furious pace.
Appell's knowledge of the subject makes him one of the nation's premier experts on the tasks needed to repair, replace, rehabilitate and restore the oldest cemeteries and graveyards to grace the continental United States.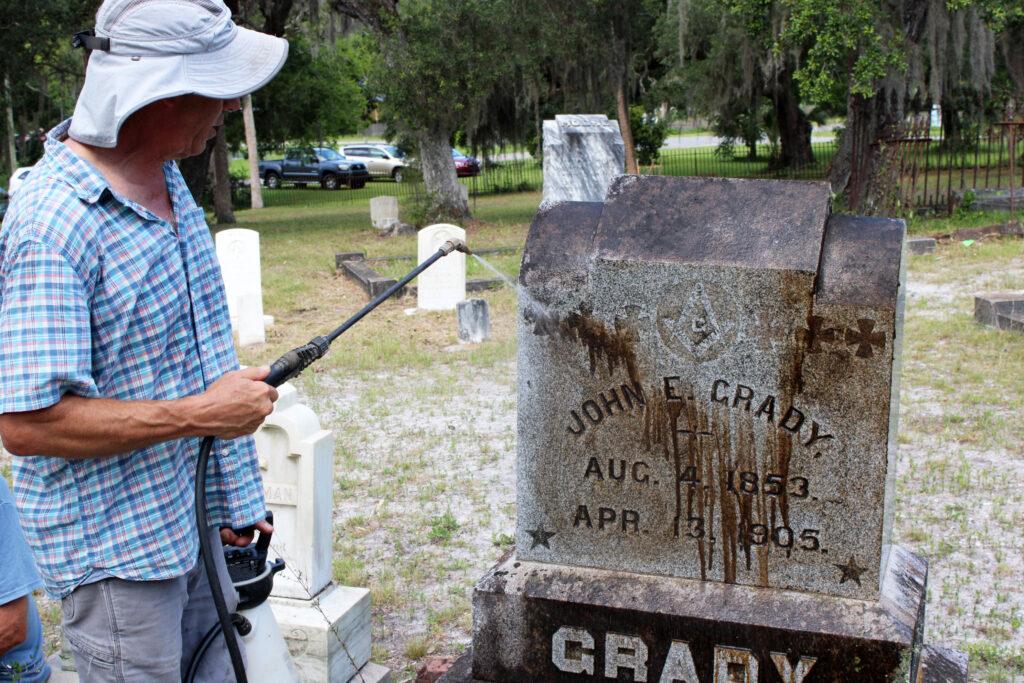 After a brief introduction by Shan Raetzloff, the chairwoman of the cemetery committee, Appell outlined the path his career has taken, from being a working grave digger and gravestone installer to honing his expertise in caring for deteriorating headstones and grave markers to creating a successful family-owned company that has branched out to several other areas of monument and building masonry work.
His children, including a daughter with a postgraduate degree in molecular biology, have since joined Atlas and afforded him a chance to sweep across the country in sharing his know-how to a growing number of enthusiasts at work preserving, and in some cases even unearthing, the nation's oldest burial grounds.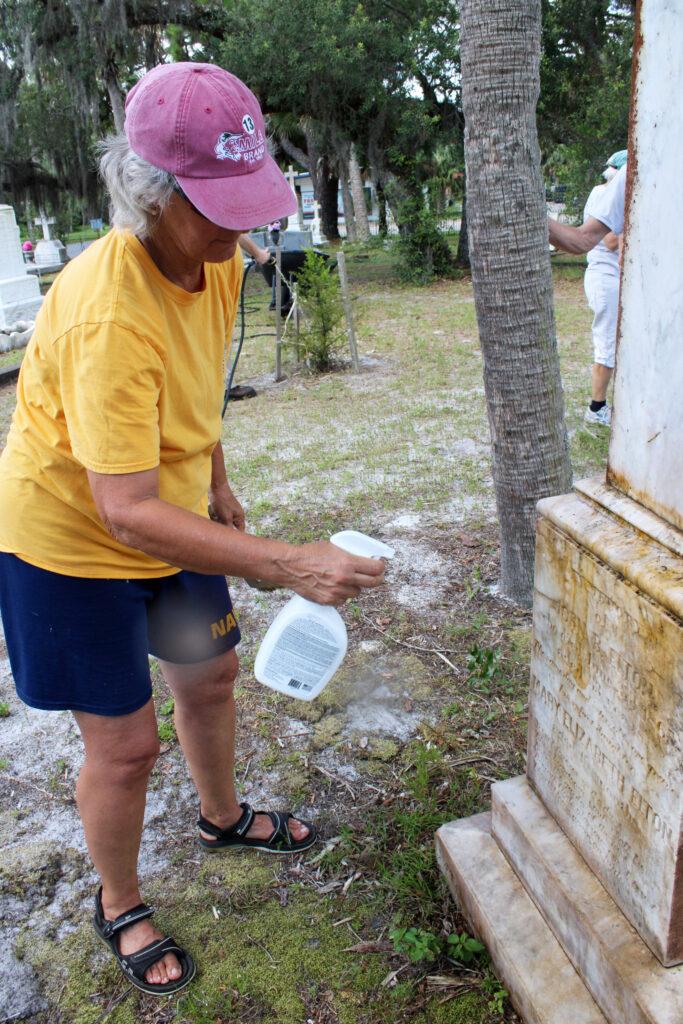 Among his premier accomplishments has been collaborating with the staff of Jamestown Rediscovery, in Virginia, to conserve The Knight's Tomb, which features possibly the oldest tombstones in America.
His work has been extensive and he evidenced his knowledge in a whirlwind tour of the cemetery, which dates back to 1830 and is considered among the Panhandle's finest assemblage of elegant and well-preserved 19th century gravesites.
Appell told of the properties of the original marble, which was over time eclipsed by the use of granite, and how steps can be taken to repair broken gravestones. He detailed the proper methods of using the most popular biological agent, D/2, for removing the stains caused by mold, algae, mildew, lichens and air pollutants.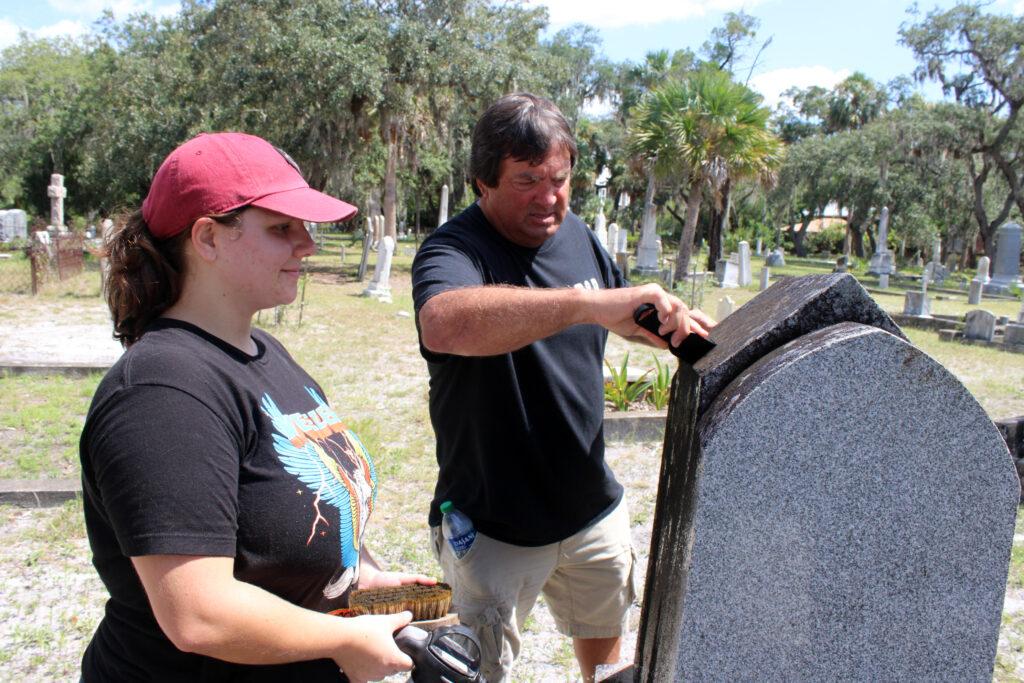 Unlike chemical agents whose acidic properties can seep into marble and do ongoing damage, and which can be detrimental to granite as well, although to a lesser degree, D/2 is a pH neutral, biodegradable solution that is effective on both of those materials, as well as limestone, brownstone, terra cotta, slate, travertine, concrete, brick, stucco, wood, canvas and aluminum.
He also had available a variety of scrapers brushes that use either Tampico, a natural fiber, or Tampafil, a synthetic bristle that dries more quickly and holds less moisture.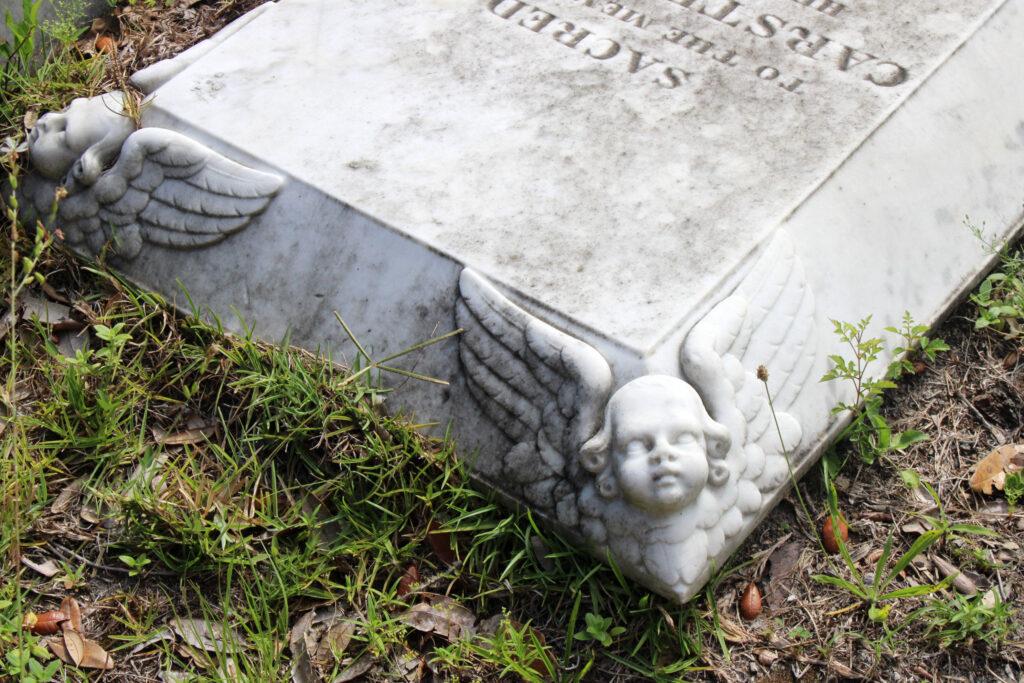 Appell also offered for sale sprayers, both handheld or with electrical pumps, that can be used to apply or rinse the D/2 or water.
To fix fractured headstones, Appell had a variety of clamps, pointer tools, shovels, hammers, chisels and trowels, as well as marble sand, lead wedge, monument setting compounds, pointing mortar and setting putty.