McLeod home to get new start
It was once the home of one of Apalachicola's most beloved women, and it will soon have a new life on the Hill.
The 1,100-square-foot home of the late Voncile McLeod, built in 1950 by her husband James Carol McLeod, was moved May 25 from where it sat at 10 Sixth Street to a vacant lot at 169 14th street.
The McLeod's son Don, who along with wife Ana is now building a home on the Sixth Street site, had considered tearing down the house, but decided instead to offer it to friends LaRaela and Glen Coxwell, provided that they would pay the not inconsiderable cost of moving it.
"If they couldn't find someone to move it, they would have to tear it down," said LaRaela Coxwell.
The couple turned to Ducky Johnson House Movers Inc., and right before Memorial Day, the move took place, with a few scary moments.
"The first one was a rather tense moment when a hydraulic line broke," said Coxwell. "It was repaired within about 20 minutes, and the second one was of a gentleman guiding the house through a hard right turn in front of the Gibson."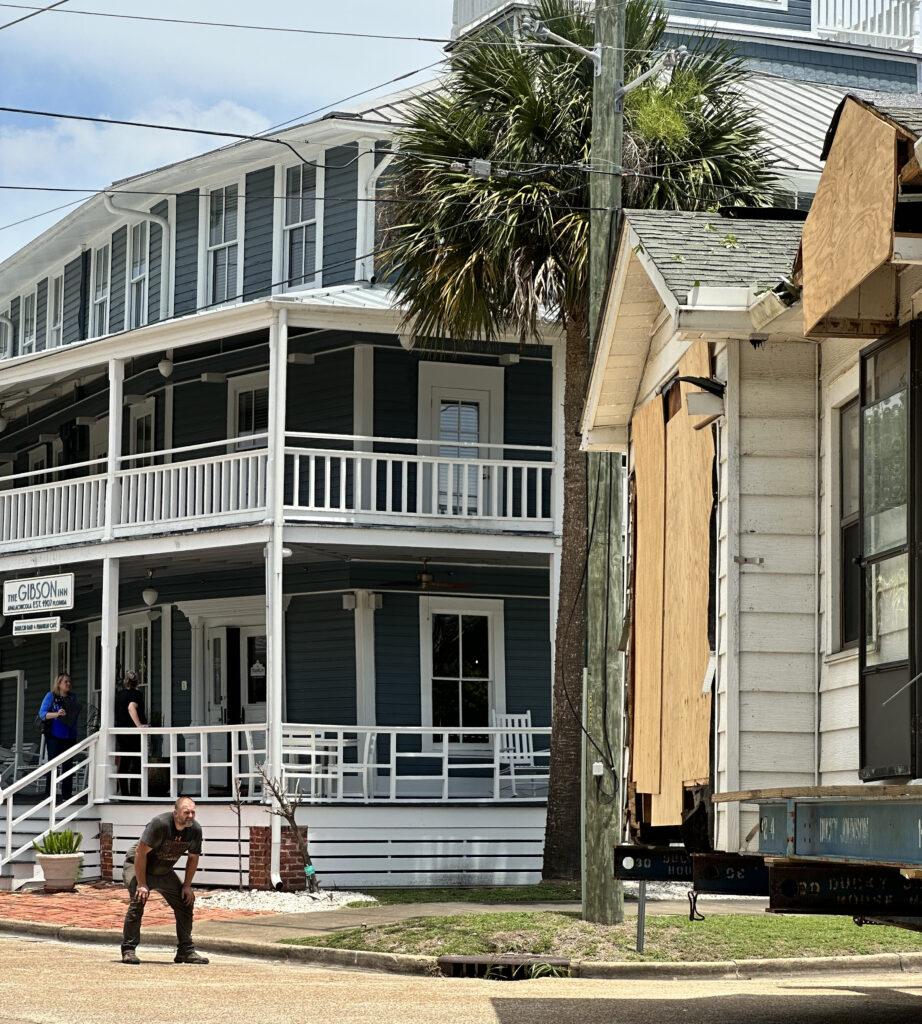 Coxwell and her mom were in a golf cart accompanying the move, sometimes running ahead and pulling garbage cans out of the way. "It sure was a lot of fun," she said.
Once in place, the condition of the nearly 75-year-old structure attested both to McLeod's original workmanship as well as Ducky Johnson's finesse.
"There was not one dropped crystal off the chandelier, not one cracked tile," Coxwell said. "There was a little bar of soap still sitting in the soap dish."
The movers had a lot of house to work with, as a preliminary investigation before the move revealed when the moving company foreman examined the underbelly of the structure.
"He said 'That house is rock solid'," Coxwell said. "They seldom see a house as well-cared for as that was."
McLeod, who passed away in 1978 at the age of 62, had built a masterfully solid two-bedroom one-bath home, complete with built-in cypress cabinets, closets and dressers, and red formica countertops and table in the kitchen that are in as good condition today as they were then.
The late Buck Siprell had helped maintain the home for Voncile McLeod with repairs over the past 50 years as well.
"They don't make them like that any more. It's such a lovely, lovely home," said Coxwell. "We plan to preserve as much of the original look as we can. It has real historical significance and we're trying to preserve a family's history."
Carol McLeod had worked as the ferryman before the bridges spanning the river and bay were put in, and son Don has given the Coxwell's a large life preserver that once was part of the ferry.
Voncile McLeod, a huge fan of the late singer Don Ho, had a picture collage of her meeting Ho in Hawaii, and that too will become a part of the restored home.
Plus, at a later date, the Coxwells will be moving a small green shed that McLeod had used for radio and small appliance repair, to the new site and then connect it by a covered porch to the house.
"It is absolutely charming, the coolest little shed," Coxwell said. "We love the family story and we're very happy to be able to do it. It all worked out."
Once the Coxwells have completely redone the plumbing and electrical work, added another bedroom and made it handicap-accessible, it will become a rental property, sometime by spring 2024.