Vernon edges Franklin County 24-20
The Franklin County Seahawks came into Friday night's home opener against Vernon with a healthy squad and a retooled offense.
As it turned out they were by no means a day late, as the changes helped them tally a lead going into the locker room at halftime.
But in the end, they were four points short, as a third quarter barrage by the Yellowjackets propelled them to a 24-20 victory.
"We had a horrifying second half, and a lot of it was self-inflicted, not taking care of the football," said coach John Cooper. "Taking care of the football gives you a chance to take winnable games."
A pair of fumbles and two interceptions had proved costly, including one pick-six in the fourth quarter that put Vernon up by 10, 24-14, with time ticking away.
The Seahawks put on a scoring drive after that that culminated in senior Ethan Kembro making a one-handed grab of a pass from senior Alex Sterling, and then waltzing in for the score.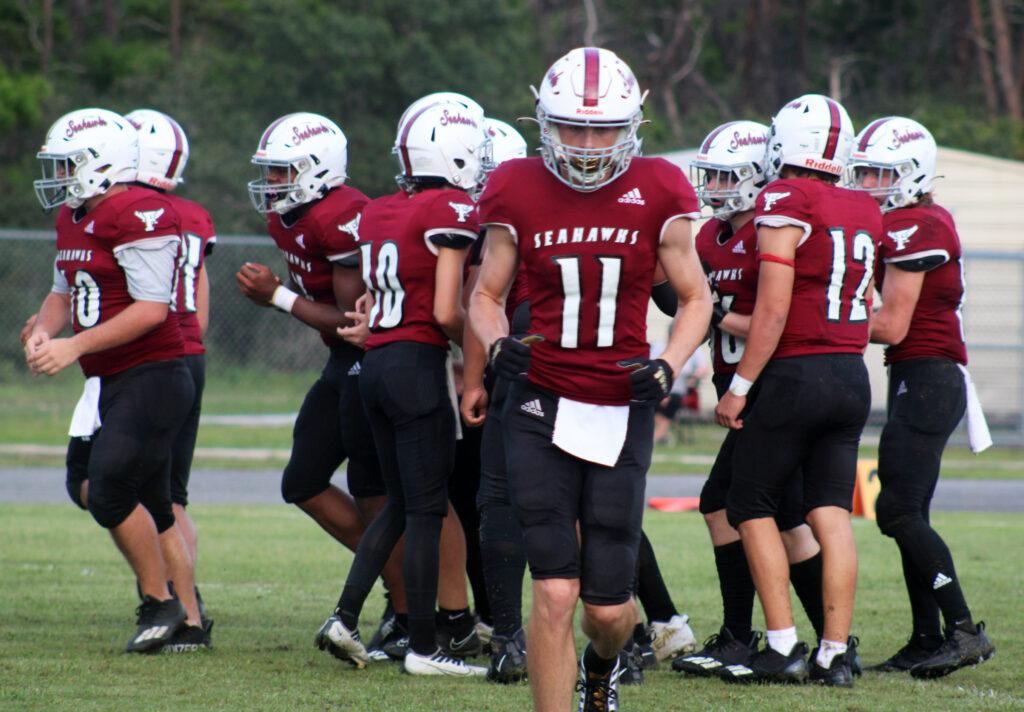 With under a minute on the clock, the Seahawks tried an onside kick that they appeared to have recovered, but the officials didn't see it that way.
"They said there was illegal touching, and they gave it to Vernon," said Cooper.
The Seahawks' game plan had proved successful in the first half, as freshman Sadiq Jones took snaps at quarterback.
"We wanted to diversify a little bit," said Cooper. "He made some plays on his feet and in the air he showed great flashes. We thought he did absolutely wonderful; there's going to be huge improvements."
Jones completed 5 of 11 throws, with one interception, and ran for 55 yards on 12 carries.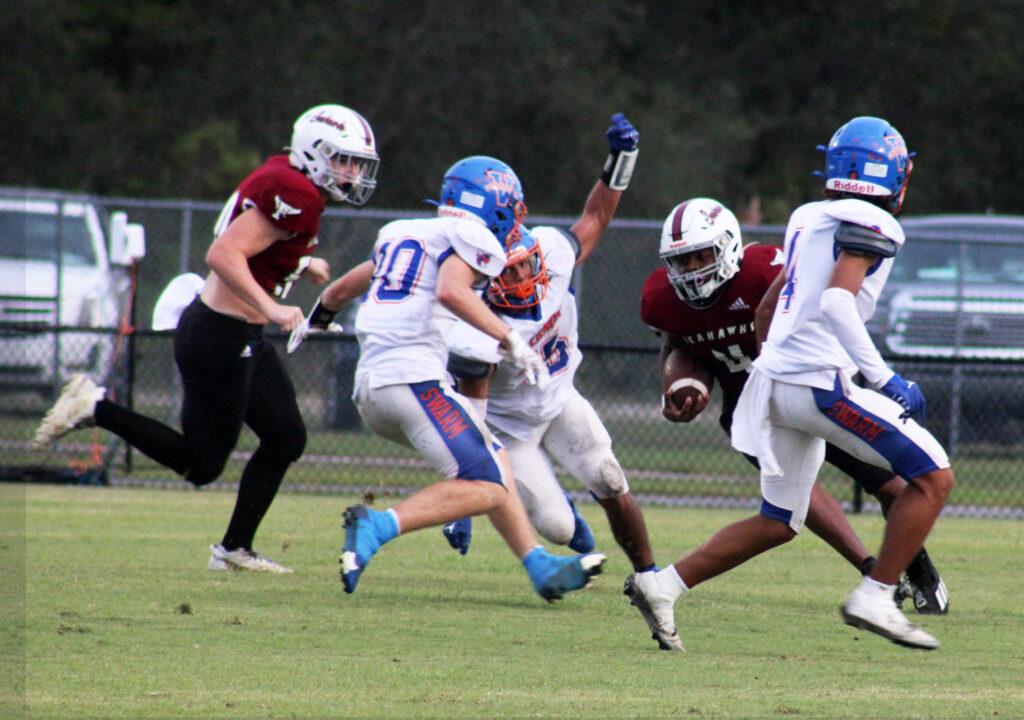 He scored eight of the team's 14 points in the first half. The first two were on a two-point conversion that he scored after senior Cody Abercrombie had barreled it in from a yard out early in the game. The score came after Vernon had botched a punt, giving the Seahawks excellent field position.
At the end of the second quarter. Jones scored a touchdown by dodging two rushing Vernon linemen, intent on a sack, and then zooming down the sidelines from about 25 yards out.
The Seahawks led 14-6 going into the locker room, after Vernon had scored a rushing touchdown late in the second quarter.
Vernon senior Krishod Peterson put together a dominating performance rushing, amassing 234 yards of turf on 26 carries and scoring two touchdowns. Senior quarterback Ryan Scott completed 5 of 11 passes, for 95 yards, and threw one touchdown and one interception.
In the third quarter, Vernon scored a rushing touchdown with about eight minutes left, bringing them within two, 14-12.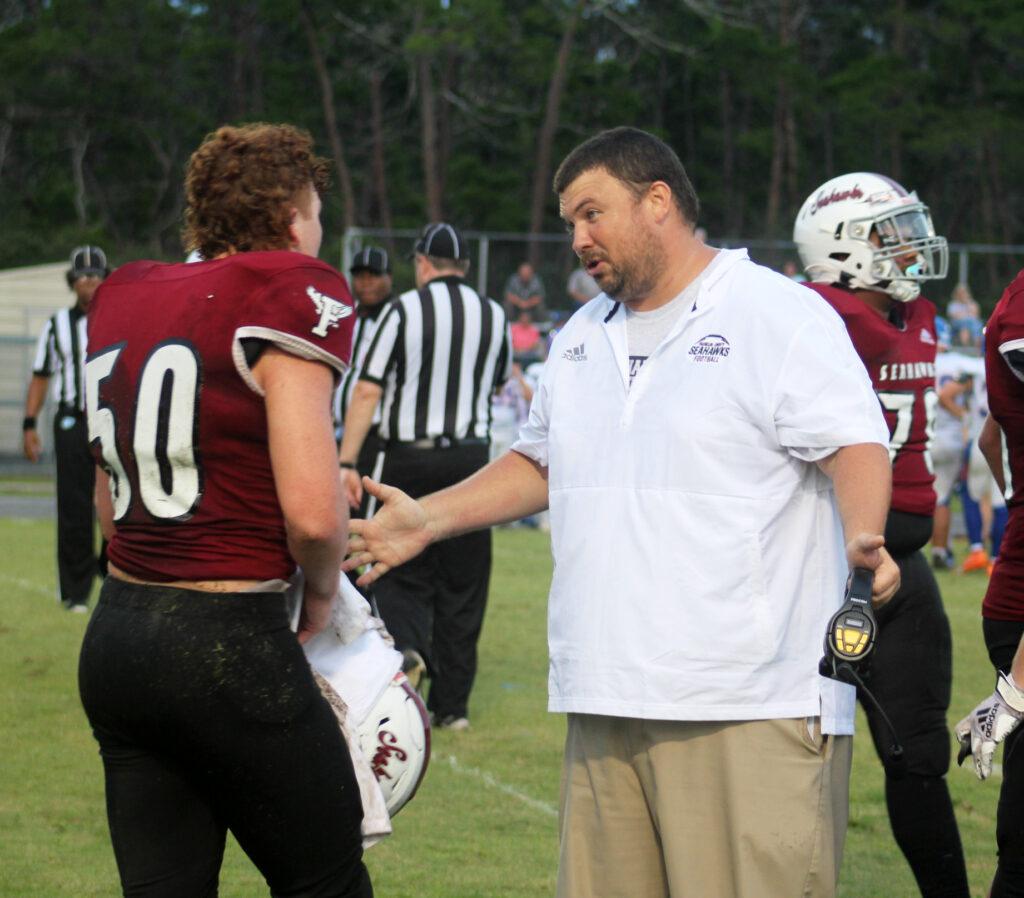 The two teams traded fumbles in the second half of the quarter, but Vernon capitalized on their recovery and rushed in for a second touchdown that put them ahead 18-14.
The Yellowjackets taking advantage of a Seahawk turnover at the end of the quarter put them ahead 24-14, setting the stage for Franklin County's scoring drive at the end of the game.
Sterling completed 3 of 6 passes for 53 yards and a touchdown, while sophomore Owen Juno completed 1 of 4 for 12 yards and one interception. The Seahawks completed 9 of 21 passes for 124 total yards.
Kembro caught 5 passes for 59 yards, while junior Ajaylen McNair snared one, a 38-yarder, and Abercrombie caught an eight-yard toss and senior Lonnie O'Neal a four-yard lob.
On the ground, junior Ajaylen McNair ran one for 12 yards and freshman Kyle Gilbert twice for a yard, as the backfield, together with Jones, amassed 83 yards on 19 carries.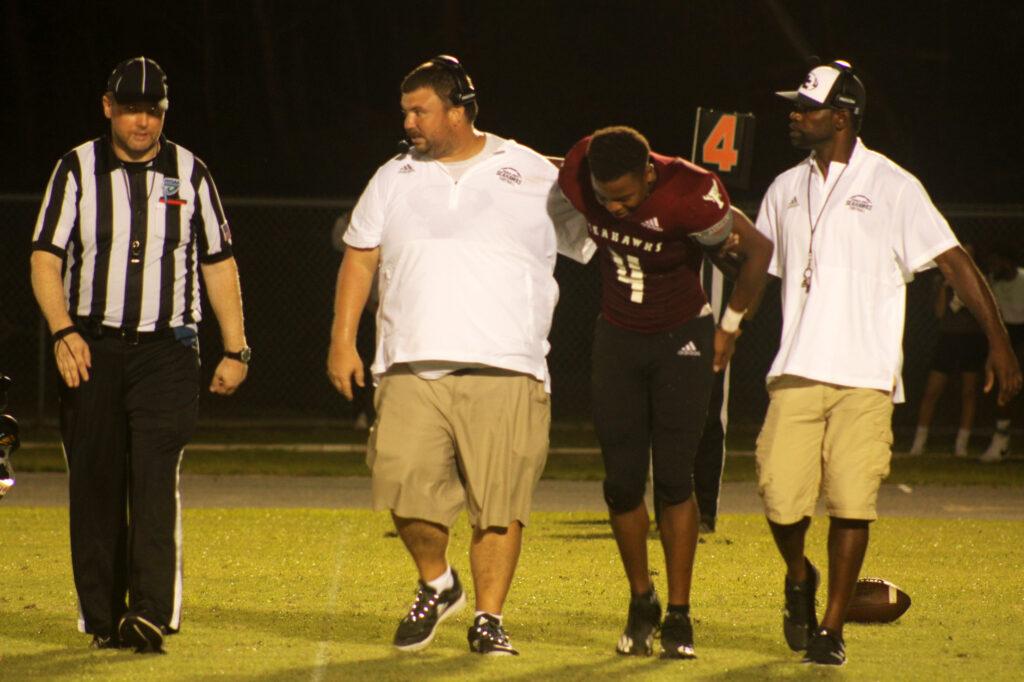 Cooper said he was pleased with the effort shown by McNair and senior Logan Bentley, as they helped put together buck sweeps that will in time pay off.
"Our kids went out there and they didn't see the same team they had seen last year," Cooper said. "They saw that was a different Vernon team.
"Our kids are very smart, very realistic," he said. "They don't believe in moral victories but they know they are getting better. They know we're pretty close to shifting the tides to where we need to be. We're going to get there.
"We'll go back to fundamentals, working our tackling circuit and thinking of creative ways to cover the gaps better," said Cooper.
On defense, sophomore Eric Smith was a dominant force, leading the team with seven solo tackles and four assists. Freshman Jeremiah Allen and sophomore Ja'Michael Miller each tallied three solos and four four assists, while Abercombie and Bentley had five tackles each.
On Friday, the Seahawks travel to Jay, a team that put the Seahawks on a running clock last year.
Cooper said he likes how the week began, with perfect attendance by both the middle and high school squads for a Labor Day practice.
"That says a lot," he said. "That's good culturally for the program."
New Mr. and Miss FCHS crowned

At a halftime ceremony Friday night, the torch was passed to a new Mr. and Miss Franklin County High School to represent the very best the student body has to offer.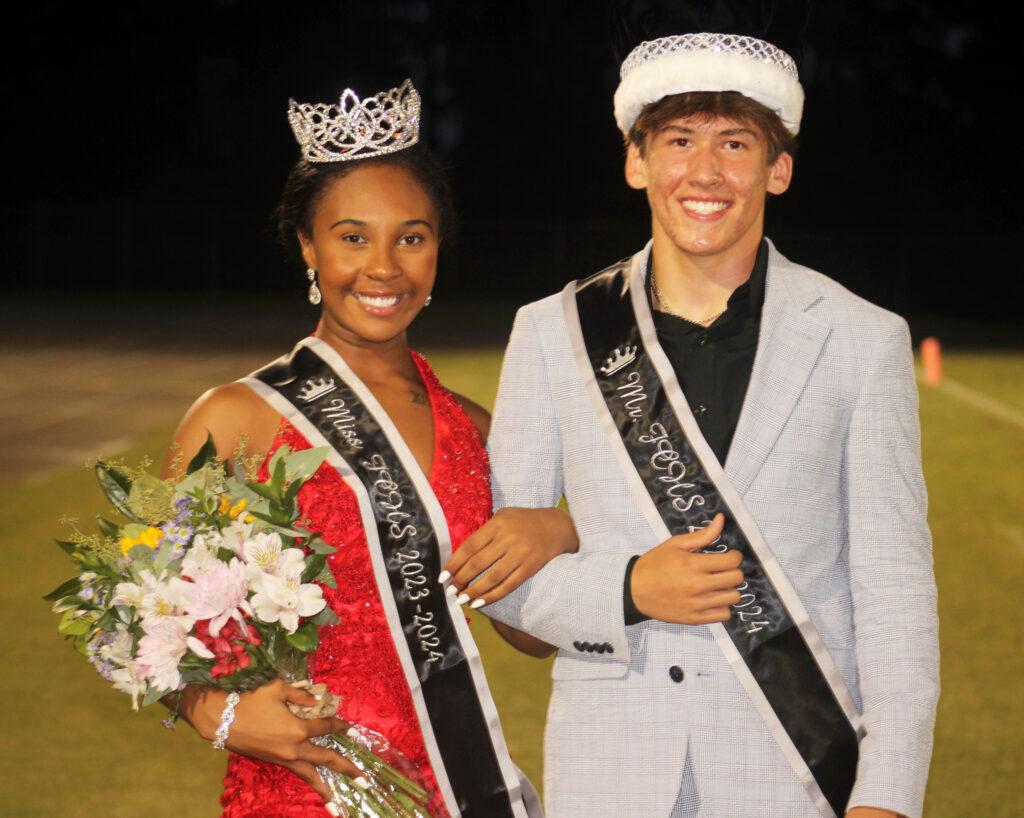 The class of 2023's reigning Mr. and Miss FCHS, Owen Poloronis and Skylar Johnson, were both on hand to do the honors by placing the tiara on the head of the Class of 2024's Lexci McNair and the crown atop the head of Will Luberto.
Both Poloronis and Johnson are now students at Gulf Coast State College, as she is pursuing a career as a dental hygienist and he a career as a physical therapist.
"To the upcoming Mr. and Miss FCHS, cherish every moment, strive to live every day to your full potential, and represent the school with all of the Seahawk pride you have to offer," they wrote.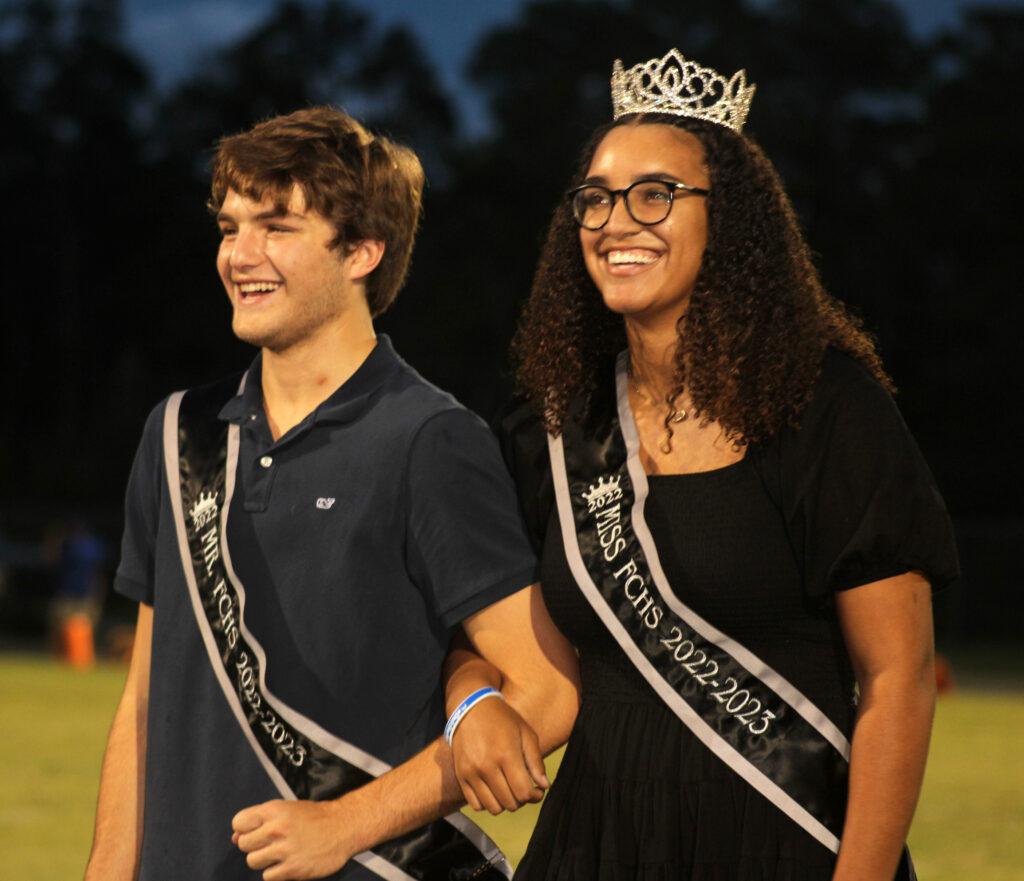 McNair and Luberto then strode down the 50-yard-line, she wearing a dazzling red gown and he a gray suit jacket over an open collar.
McNair, the daughter of Deiara Prince and Jordan McNair, has been a member of both the girls' volleyball and basketball teams throughout her high school career. A member of both the National Beta Club and National Honor Society, she is second vice president of the Student Government Association. She plans to earn a masters in business and finance, and become a real estate agent.
Luberto, son of Misty and Willie Luberto, is a member of the National Honor Society, parliamentarian of the Student Government Association and historian of the Class of 2024. He has been a member of both the boys soccer and baseball teams, and after graduation plans to pursue a business degree at Florida State University.
"It is an honor and a privilege to represent all of you," they wrote, offering thanks to the student body that chose them, and to the class sponsors, their teachers, parents and family and community members.
"To our underclassmen, we hope that you live each day to its fullest potential and realize you have the ability to accomplish anything you set your mind to. Work hard, strive for greatness and never lose your Seahawks spirit," they wrote.
To their fellow members of the senior class they wrote that they "are excited to embark on our last journey together as students at Franklin County High school. Remember this is our year, so let's make the best of it."