Taylor takes top prizes at Pork Off
For the 10th time in the 11-year history of the Pink Out, the county's premier fundraiser to fight breast cancer held in October, they gathered on Labor Day for the preliminary event.
The 10th annual Pork Off, held at Paddy's Raw Bar on St. George Island, was created to raise the funds needed to cover the cost of the Pink Out, to be held this year on Oct. 6.
All of the proceeds from the two events go to Franklin Needs, the non-profit created two decades ago to raise funds in the fight against breast cancer.
Out of the eight teams that entered the clear winner was Clint Taylor, of Bigfish SGI.
First he took home the Eggscellent Award for winning the deviled egg contest, a people's choice event that netted Franklin Needs $145.
Then he won the big prize,the rib contest, by netting 252 out of 280 possible points.
Richard Wade, kitchen manager at Harry A's. finished in second place, a mere three points behind, while Jay Humphries, a resident of St. George Island, was in third, with 241 points.
Also taking part in the contest were the teams of Rick Thaisen, Gina Trice, Bob Landiss and Jimmy Crenshaw, all of St. George Island.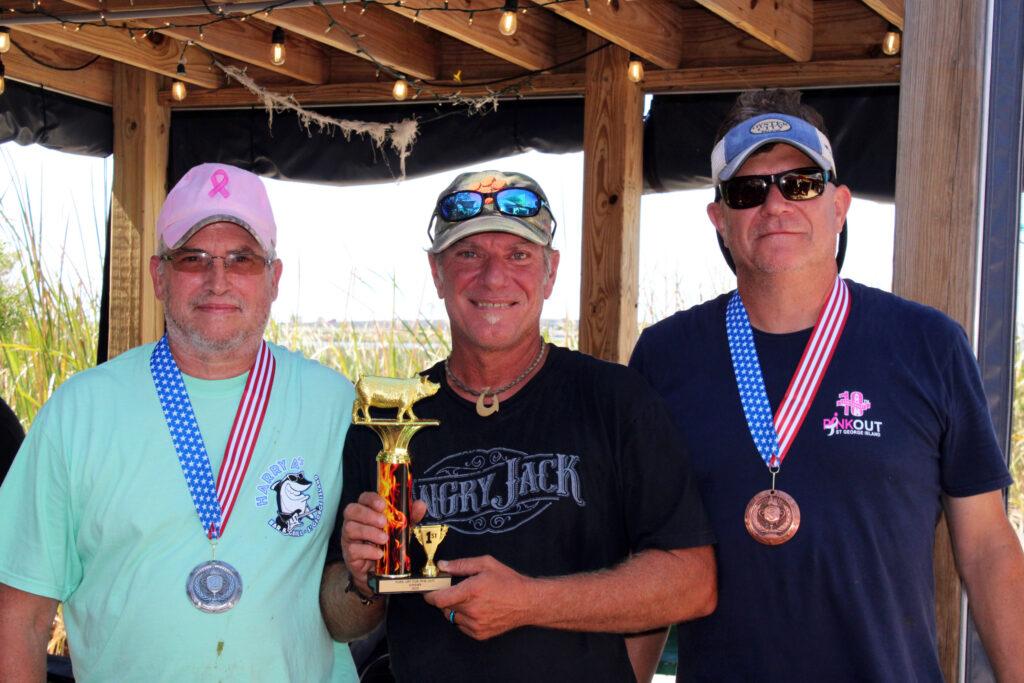 In the Brunswick stew contest, also a people's choice, Jessica Sparks took top prize after raising $256 for the cause.
Taylor, who took second place last year. said he began the morning by preparing two dozen breakfast biscuits for the volunteers and then set about cooking his ribs.
"That's the best I can make," he said. " I can't make it any better."
He said he smoked them for two-and-a-half hours at 180 degrees, then wrapped them for an hour, and then glazed them for the final touch.
"They came out perfect," Taylor said.
The Pork Off rules specified that all cooking had to be done on site, and no gas grills could be used.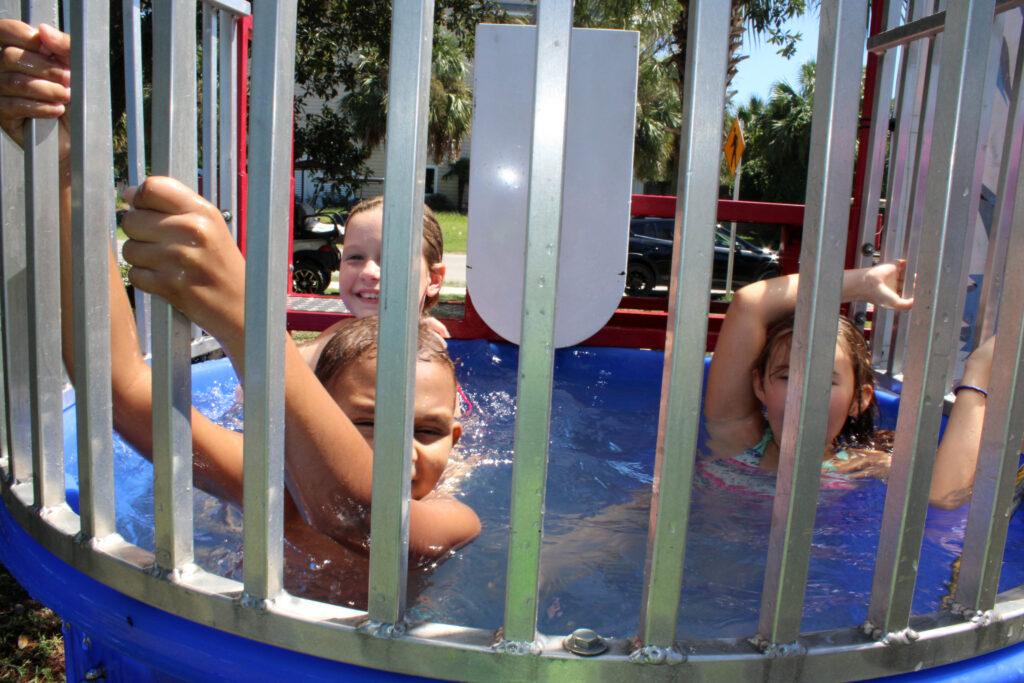 Crenshaw and Humphries had worked on also preparing ribs for the Pork Off to sell, as its chief fundraiser. Kara Landiss has contributed cole slaw, the beans came from the Beach Pit, Sparks made pasta salad and Christine Hall prepared potato salad.
The Eastpoint Beer Company donated two kegs of beer for the cause, and 9-year-olds Ella Donahoe and Charlotte Sparks sold lemonade.
Plus there was a dunk tank, where Pat Sparks, Elisabeth Thomas, Melvin Myers, David Klingberg and Jay Gilkerson all got wet in the effort to drown breast cancer.
Organizers said the event sold off 40 racks of ribs, and eight Boston butts, as everyone kept cool on a hot Labor Day.