Special needs youth on Forgotten Coast to get fishing adventure
Forty young people from around the Forgotten Coast, from age 6 to 18, whose special needs might otherwise impede their access to the joys of boating and fishing, will have that opportunity in early May.
Registration for the free C.A.S.T. (Catch A Special Thrill) for Kids Foundation event, set for Saturday, May 6 at the Lanark Boat Club just outside Carrabelle.
This event, a first for the Forgotten Coast, is one of 95 C.A.S.T. for Kids events around the country set for 2023. The foundation is in its 32nd year of celebrating children with special needs by providing free boating and fishing events for them to enjoy the outdoors.
Joe Simonds, co-founder and CEO of Salt Strong, a Tampa-based organization dedicated "to uniting friends and families through fishing, serving fishermen and honoring God and Jesus Christ in everything we do," is funding this local event.
Handling the entire event on the local level is retired Department of Children and Families staffer Traci Leavine, and her husband Chip, owner of FC Charters. The Crawfordville couple was approached by a regional representative of C.A.S.T. for Kids and asked if they would be willing to coordinate the event in Franklin County.
"We reached out to the Lanark Boat Club and asked if they would partner with us, and they were happy to," said Traci.
The event is open to all children, ages 6-18, no matter their disability. Participants must pre-register online at castforkids.org/event/kidsonthecoast, and space is limited to the first 40 children who register.
"There are questions like 'Do they use a wheelchair?' so we know what to prepare for," Traci said.
She said she and her husband have so far lined up 16 local fishing captains, many but not all Lanark Boat Club members, who are willing to donate their time to assist with the event.
In addition, Traci said, she has been working in Franklin County with ESE teachers to help in identifying their students interested in participating. In Gulf County, Vicki Abrams is taking the lead on recruiting participants.
At the event, which begins at 8:30 a.m., participants receive a free fishing pole, tackle box, event t-shirt, cap, and lunch. Members of the Lanark Village Volunteer Fire Department will help prepare breakfast.
A morning of fishing will be followed by a picnic lunch, cooked up by members of the Camp Gordon Johnston American Legion 82. An awards ceremony will follow, where each young person is given a personalized award plaque, featuring a photo of them and their captain.
Traci said experienced volunteer boaters will take the kids boating, with each child required to be accompanied on the boat by a parent or guardian on the boat. If boat space allows, additional siblings and family members may be able to join, she said, but only participants and one parent or guardian are guaranteed to go boating at the event.
There's also going to be activities on shore, where participants can take home items provided by donors to the event. Lanark Boat Club board member Teresa Bookwalter, a member of Lanark Village's Wandering Star quilters, has created a quilt that will be raffled off to one lucky family, with all participants automatically entered to win.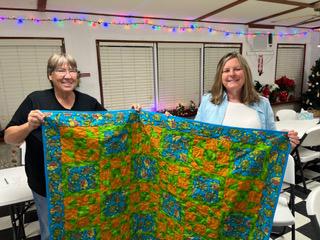 The Leavines' son Hunter, who hosts a podcast Captains Collective dedicated to fishing, will be doing a live broadcast out of a podcast trailer.
"It's all a grassroots effort," said Traci. "Our hope is it becomes an annual event, to celebrate our youth and get them exposure to the outdoors and not be limited by any disability."
To enable access to some special needs boaters who do not find workable accommodation on a typical charter boat, Traci said organizers have lined up six pontoon boats so far.
According to the website www.castforkids.org, the C.A.S.T. for Kids Foundation, a not-for-profit organization based in Salem, Oregon, "enriches the lives of children with special needs, supports their families, and strengthens communities through the sport of fishing. We empower families and communities to celebrate children with special needs, making these children feel valued and loved so they can overcome limitations and be successful. Through a joyful day of fishing, kids, their families, and community volunteers come together for an explosion of fun and inspiration."
For more information, including sponsorship opportunities, contact event coordinator Traci Leavine at [email protected].