Lady Seahawks fall to St. Joe, down Taylor County
After sustaining a midweek road loss to Port St. Joe, the Franklin County Lady Seahawks got back on track Friday night with a win at home over Taylor County.
The 6-4 loss to the Lady Tiger Sharks May 11 handed Franklin County its first loss in six games and their first District 4 loss.
With St. Joe head coach Lissa Walker watching the game on crutches from the dugout after being struck by a line drive during Monday afternoon's practice, the Tiger Sharks took a 2-0 lead in the first inning against Franklin County ace pitcher sophomore Sarah Ham.
With two outs and Addy Silcox standing on second base, Seahawk coach Scott Collins elected to intentionally walk Kali Austerman and face Brooklyn Bishop instead. Bishop answered with a smash that hit the base of the fence in left-center field to drive in both baserunners.
The St. Joe defense recorded a double play to snuff a potential Seahawk rally in the second inning.
Franklin took a 4-2 lead in their half of the third inning against Shark starting pitcher Christina Clayton.
With two on and one out, eighth grader Lilah Millender singled to drive in the first run, and then seventh grader Addison Mallon's fielder's choice tied the score.
The big blow came courtesy of sophomore Micahlyn O'Neal's two-out single, which sent two more runners scurrying home and gave the Seahawks a 4-2 lead.
After a hit batsman and a stolen base, Bishop replaced Clayton, and she induced a popup to end the inning.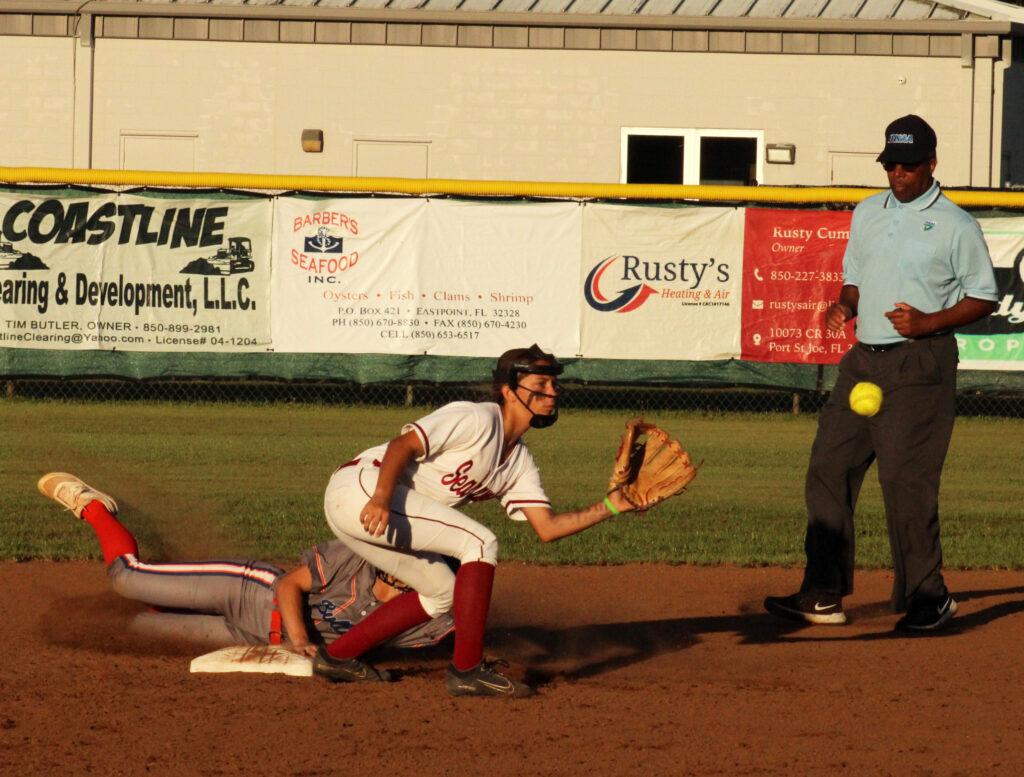 Making maximum use of the bunting game, St. Joe tied the score in the fourth inning.
The Shark defense pulled off a spectacular double play in the Seahawk fifth inning. After a leadoff walk, Ham hit a ball that went to the fence in right center field and appeared destined to be for extra bases.
However, with Ham running for second base, center fielder Addy Creekmore threw a bullet to second. Since the first runner had stopped there, Ham tried to return to first where Trinity Farmer tagged her out after a throw from Green.
Farmer, recently brought up from the JV team, immediately fired to Austerman at third to nip the runner from second and complete the second St. Joe double play of the night.
Although Franklin did put two more runners on in the inning, a popup ended the inning with no Seahawk scoring.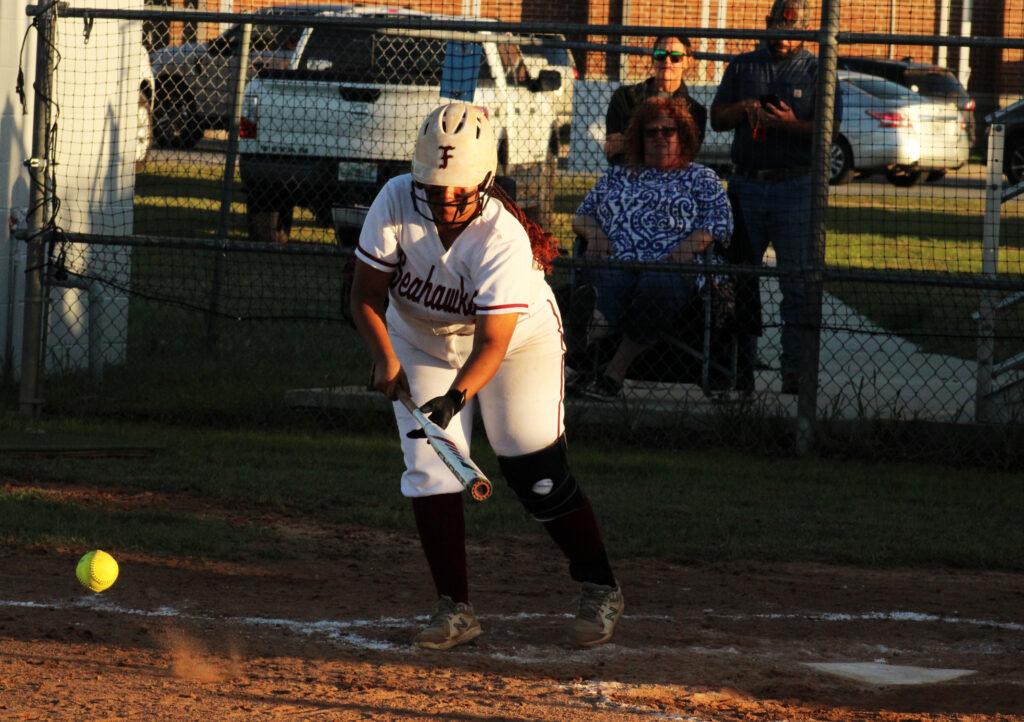 St. Joe put its final two runs on the board in their half of the fifth. With one out, Elli Newman hit a triple to right field and promptly trotted home on Austerman's hustle double. This time, the Seahawks intentionally walked Bishop, and Lauren Brant came on as a courtesy runner.
After a double steal and a walk to Clayton to load the bases, the Seahawks brought the infield in to prevent another bunt hit by Green.
With the infield drawn in, Green lofted a ball that hit the ground beyond the fielders so that the runners advanced and Austerman scored.
However, the field umpire chose to impose the infield fly rule even though no infielder was in a position to catch the ball, but the run still stood because runners can advance at their own peril.
Staked to a two-run lead, Bishop and the defense got to work. Although Franklin worked two walks in the sixth and got a base hit in the seventh, the Tiger Sharks prevailed with no more runs allowed.
After talking to his team after the game, Seahawk coach Scott Collins said "We made a few baserunning mistakes, (but) you've got to give (St. Joe) credit. They played one heck of a game."
"They used their speed on a wet field," he continued, "and their advantage is speed. They had some perfect bunts with runners on base and moved people. We'll hopefully learn from it, and get better.
On Friday night against Taylor County, the Lady Seahawks jumped out to a 4-0 lead after two innings, after a single by freshman Alexis Webb, helped by Bulldogs' errors, helped bring home three runs in the second.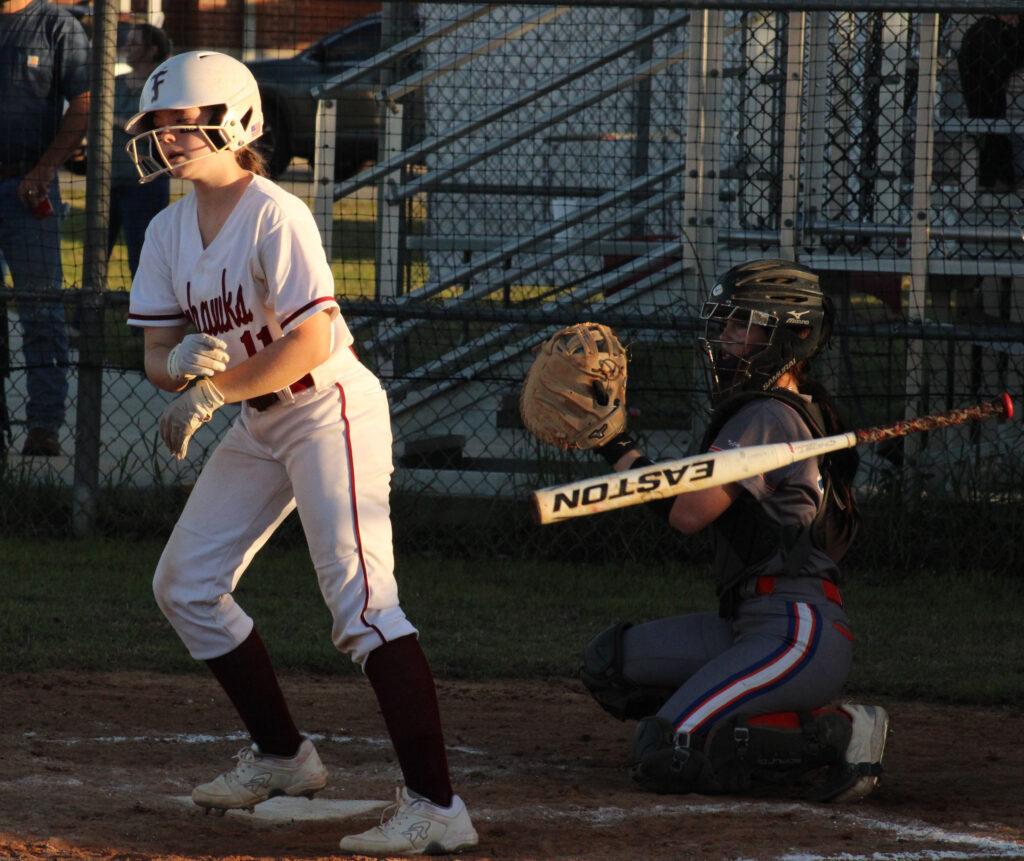 The Lady Bulldogs managed to knot the game at 4-all in the top of the fifth, but a three-run blast by junior Taylor Mallon in the bottom of the inning and a later solo shot by sophomore Sarah Ham put a permanent end to that stalemate.
As Mallon trotted past home plate, a couple of her teammates laid down in a mock faint in tribute. The umpire was having none of it, and warned Collins there would be consequences to that excessive celebration. Ham's home run, her seventh of the season, drew no such response.
Ham struck out 13 and walked just one in hurling the complete game for her 14th win of the season to just six losses. Plus she has an earned run average of 2.41, by far the best in her three seasons on the mound, and a good 1.50 better than last year's season.
The Lady Seahawks banged out seven hits, two by sophomore Ryan Brown, home runs by Taylor Mallon and Ham, and one by freshman Alexis Webb and sophomore Raegan Dempsey.
"This was a good bounce back win against an outstanding Taylor County team. It should give us some confidence going into a tough next week playing Wednesday at Wakulla and hosting Lincoln on Friday," said Collins.