'Nunsense' a welcome return of Panhandle musicals
"Give me a soul that knows not boredom, grumblings, sighs and laments, nor excess of stress, because of that obstructing thing called "I." Grant me, O Lord, a sense of good humor. Allow me the grace to be able to take a joke to discover in life a bit of joy, and to be able to share it with others." – St. Thomas More
You do not have to be Catholic to enjoy this weekend's performance of "Nunsense – The Mega-Musical."
What you do have to have is a sense of humor, and an appreciation for song and dance.
For the first since April 2010, when the Panhandle Players performed "Oklahoma," the local theater troupe is tackling a musical, something it has long wanted to do, but wasn't confident they had a director with the knowhow and experience to handle it.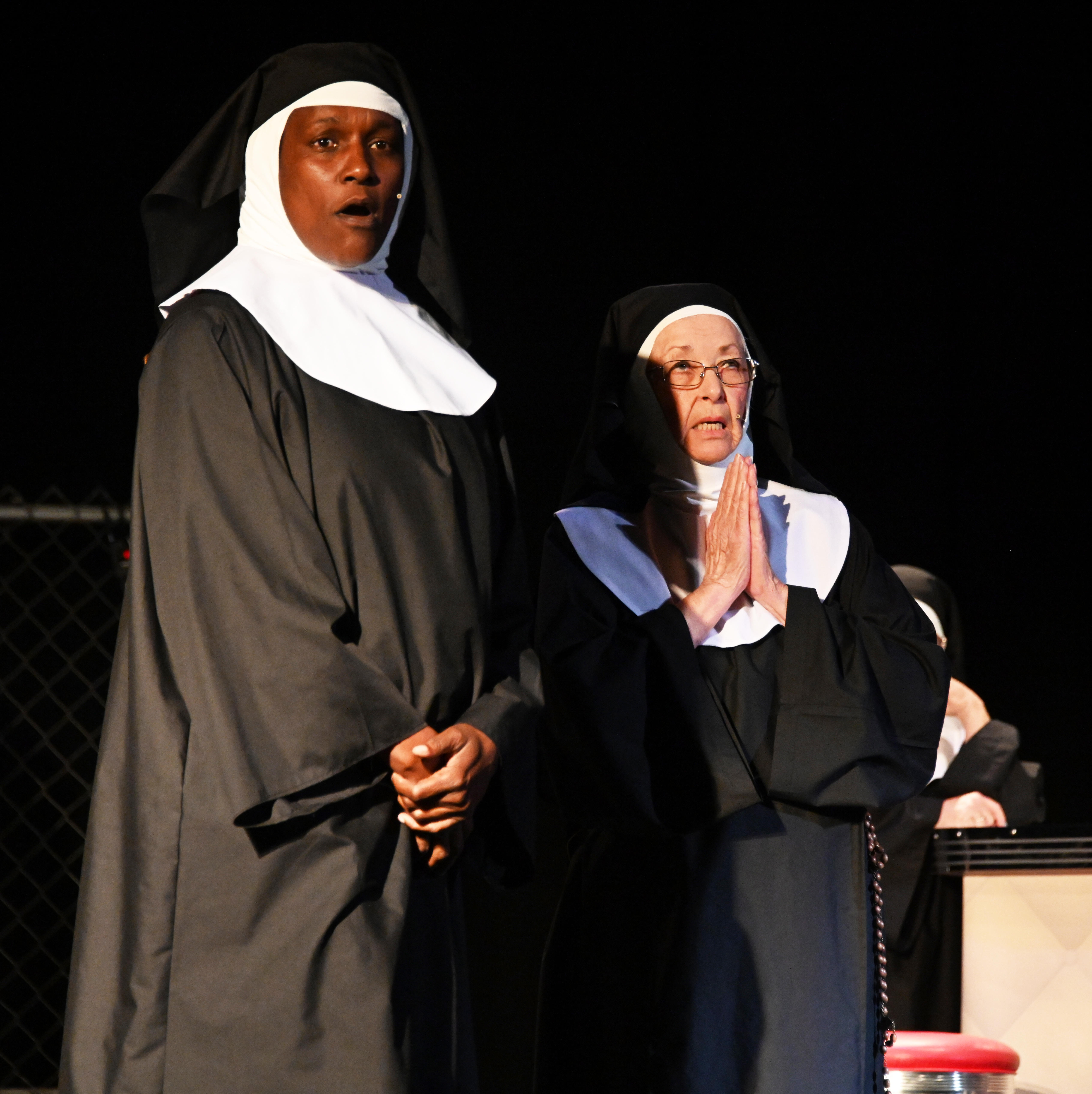 Then in 2020, along comes Nick Avossa and his wife Carol, who move to Apalachicola. A retired teacher, Nick had directed his school's award-winning theater program and worked with more than a dozen theater companies in most every role. Carol serves as her husband's able assistant, bringing years of experience as a visual director for drum corps, indoor color guards, and marching bands.
The next challenge was to line up the talent, in both singing and dancing, that could carry off this updated version of Dan Goggin's 1985 Off-Broadway smash hit. A hilarious spoof about the misadventures of five nuns trying to manage a fundraiser to provide a popular burial for members of the Little Sisters of Hoboken who passed away after eating vichyssoise prepared by one of the sisters.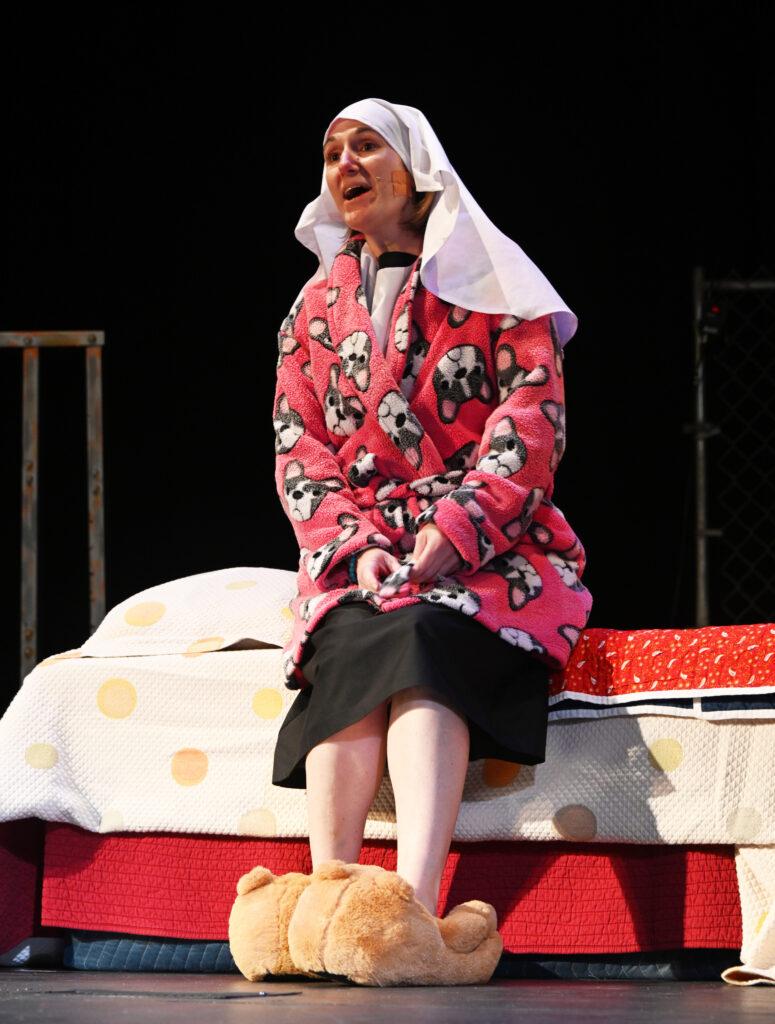 The nuns – ballet-loving Sister Leo (Debbie Olds), streetwise Sister Robert Anne (Faith Lynch), befuddled Sister Mary Amnesia (Becca Sapienza), the Mother Superior Sister Regina (Liz Sisung), and mistress of the novices Sister Mary Hubert (Carol Barfield) – stage a talent show in order to raise the money to bury their dearly departed.
Sapienza and Barfield are making their debut with the Panhandle Players, Olds is making only her second appearance, and Lynch and Sisung are veterans, and listening to this quintet deliver the musical goods makes for an impressive, irreverent, joy-filled evening of theatre.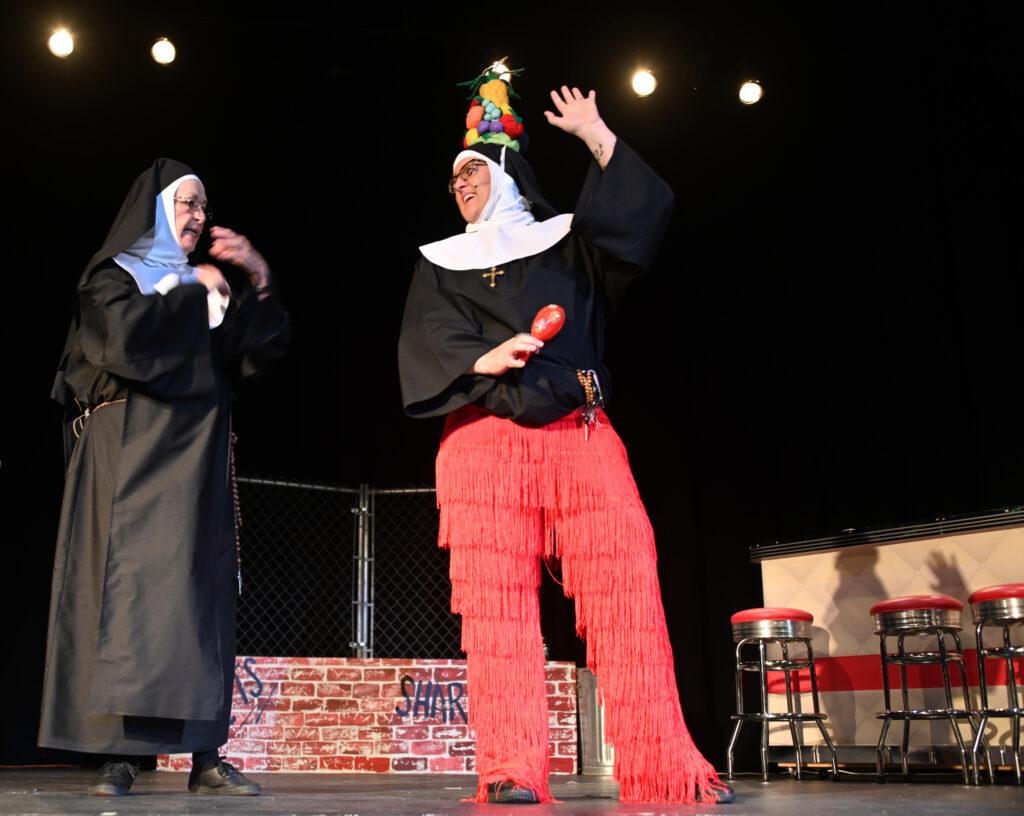 The supporting cast is equally strong in their roles, from the other four nuns, Sister Mary Brendan (Jo Branch), Sister Julia, Child of God (Royce Rolstad, III), Sister Luke (Diane Brewer) and Sister Mary Katherine (Kathy McKendree), and three male clerics Brother Timothy (Rob Pierce), Brother Wilhelm (Graham M. Dewsbury) and Father Virgil (David Stedman).
Together, the cast brings to the stage not only vibrant songsmithing, but energetic dancing, an aspect of theater that is a refreshing and very welcome addition to the Panhandle Players' repertoire.
It takes not only talent, which the cast has plenty of, but an intangible quality of energy and enthusiasm that makes you want to stand and cheer. This show has both, and it's well worth seeing, whatever your religion.
"Nunsense – The Mega-Musical" is at the Chapman Theatre in Apalachicola on Friday, April 21, and Saturday, April 22 at 7:30 p.m. and Sunday, April 3, at 3 p.m. Tickets are $25 and can be obtained at www.panhandleplayers.org.