County honors the sacrifice of Memorial Day
The meaning of Memorial Day is most often absorbed through the head, but sometimes it trickles into the heart.
In moving remarks Monday morning before a large gathering in Apalachicola's Veterans Memorial Plaza, standing before the Three Servicemen Statue Detail, County Commissioner Ottice Amison shared insight into what flows from the heart.
After thanking Al Mirabella, longtime commander of Willoughby Marks American Legion Post 106, for his leadership role, Amison recalled his service with the Army's 82nd Airborne Division, during which time he deployed to Israel and served in the Sinai as part of a multi-national force in place to ensure both sides complied with the Egyptian-Israeli Treaty of Peace.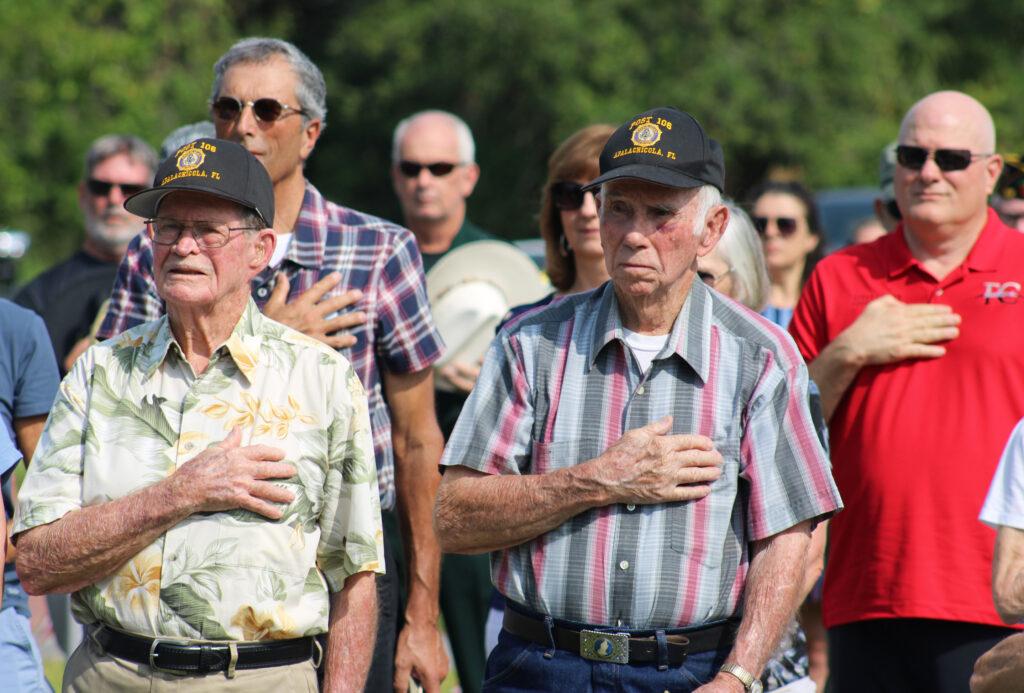 "I see a lot of people who did so much more than I did with their service. I'm proud of my service but it was nothing in comparison to some of the people I see in this crowd," he said. "This holiday is about those who didn't come home."
As a young untested member of the 82nd Airborne at Fort Bragg, Amison was to that elite fraternity regarded as a "cherry," just like a buddy of his who he looked up to, Paul Daniel Karpowich, who would in short order earn the rank of master sergeant.
"He was very athletic, anything you threw at him he could take it," said Amison.
The soldiers became friends. "I think we were the only two who got care packages," he said, recalling how his mom would send him a shrimp box full of summer sausage, pistachios and other treats, while Karpowich would always get "a pack of Camels and gummy bears."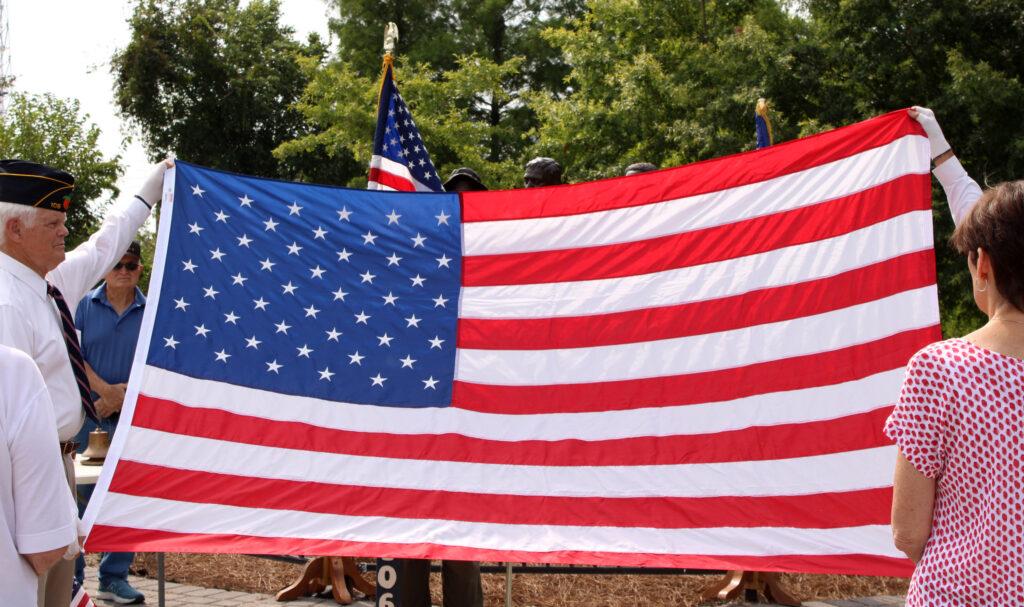 After both men completed their terms of service, Karpowich went home, completed college and became an architectural engineer, while Amison came back to Apalachicola to work in the seafood business.
Karpowich joined the reserves, and was deployed to Iraq in 2004, and Amison lost touch, during an era when Facebook and social media were yet to flourish.
"It was sporadic to keep up with buddies at that time," he said.
Amison had heard on the news about a suicide bomber who entered a chow hall in Mosul, and two months later, when talking to a mutual friend from his office, he found out Karpowich was in the hall, and broke down in tears.
"I went through the motions of Memorial Day (throughout my life) but it never hit me until that day. It had to hit home and it did in a hard way," Amison said. "It really resonates; it makes you understand what this special holiday is for."
Karpowich, born July 31, 1974 and killed Dec. 21, 2004, was just 30 years old when he died serving his country.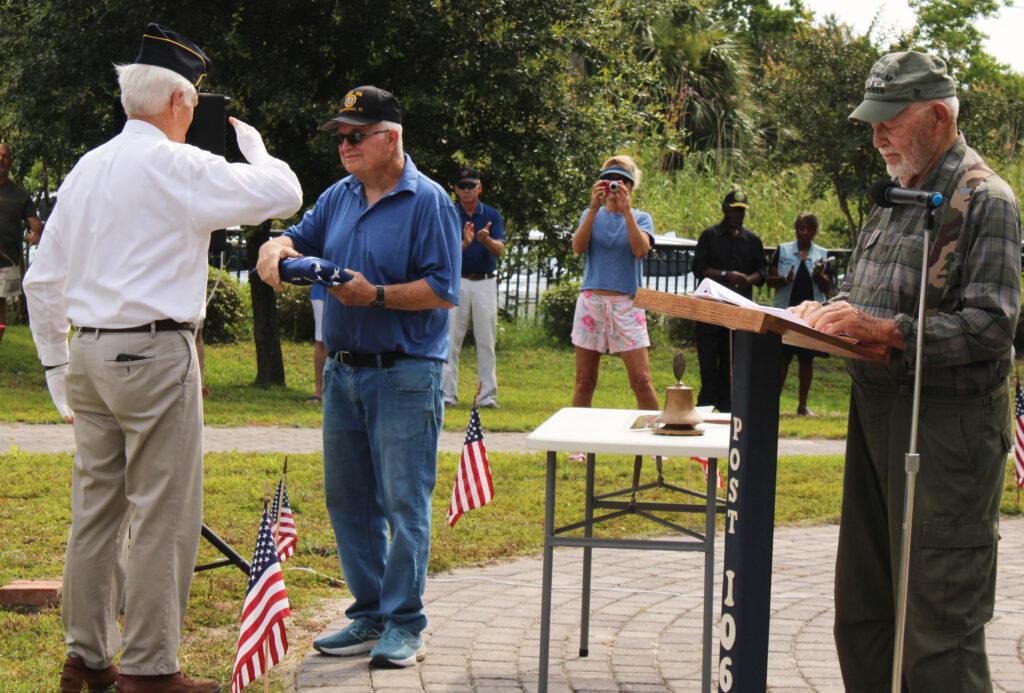 Amison touched on two other themes in his remarks, noting that Americans are losing perspective on what it means to live in this country when compared to the hardships of the Third World. He said he believes that, as in Israel, where all young people must serve in the armed forces, "we need to do what they're doing, everybody has to serve their country.
"If these folks would step up and serve their country, they would appreciate what we have here and not take it for granted," Amison said. "I think our average Americans are out of touch with that."
He also asked the audience to consider the troubling rate of veterans' suicides, especially in contrast with the comparatively low percentage of young men and women who enter the U.S. military.
"We have the highest percentage of suicide rate with our veterans, usually in the lower enlisted ranks," he said. "It's a hard transition back into the civilian world. And to be the smallest percentage of our population as far as service goes, that's incredibly sad."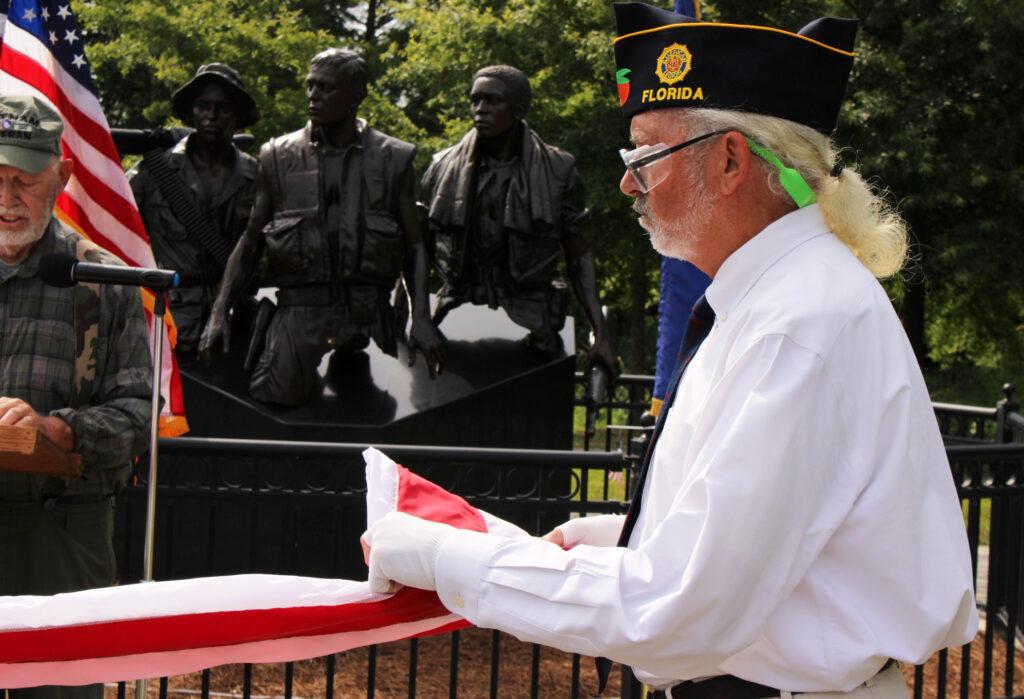 Amison encouraged people to reach out if they know of a veteran in need. "Call someone, reach out and talk to somebody," he said. "It's something we don't really talk about. If you're having trouble, there are places you can call and get the help that you need."
After an opening prayer by Post Chaplain Charles Scott, one of the county's few surviving World War II veterans, and following Amison's remarks, Mirabella, who will be succeeded as post commander by Army veteran Mark Shields, introduced Joshua Greer, a member of the Franklin County High School Class of 2023, who received the post's ROTC scholarship. Greer is planning to attend college and join the Coast Guard.
The gathering heard brief remarks from Penny Nichols, who along with Lulu Wilson, spoke on behalf of the Franklin County Republican Women, and presented a patriotic banner of thanks to Mirabella.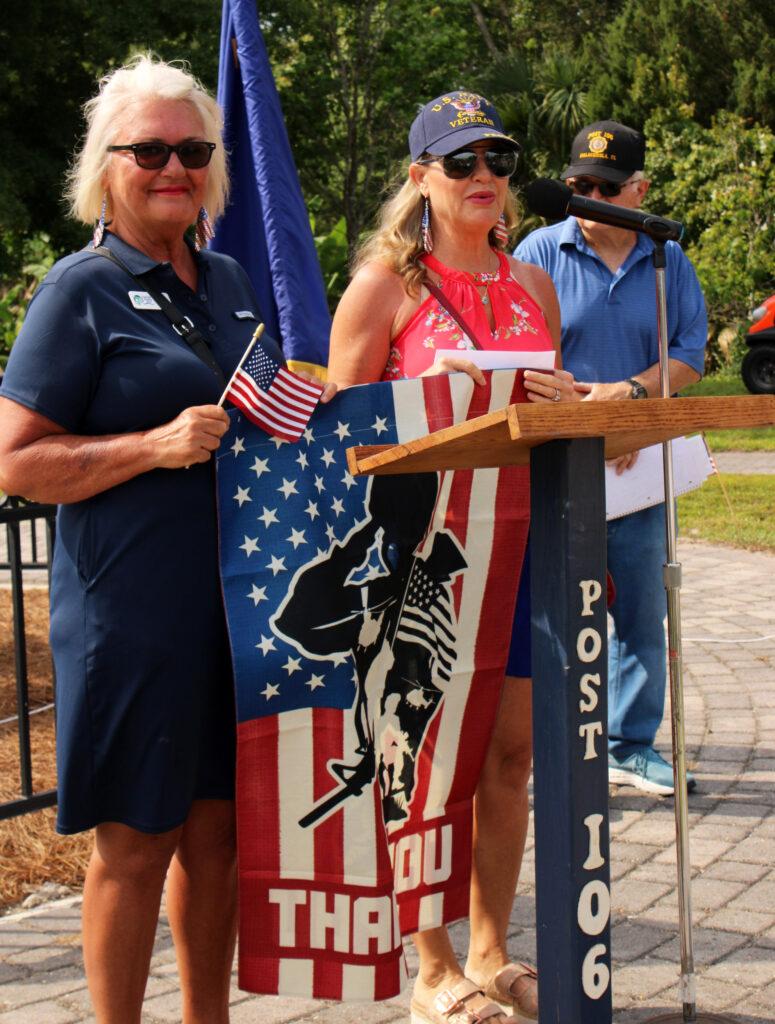 The audience sang the first verse of "God Bless America," as well as "God Bless the USA," after which former Post Commander Larry Hale recited the names of the veterans who had died over the past year, with Mirabella clanging a bell each time a name was read.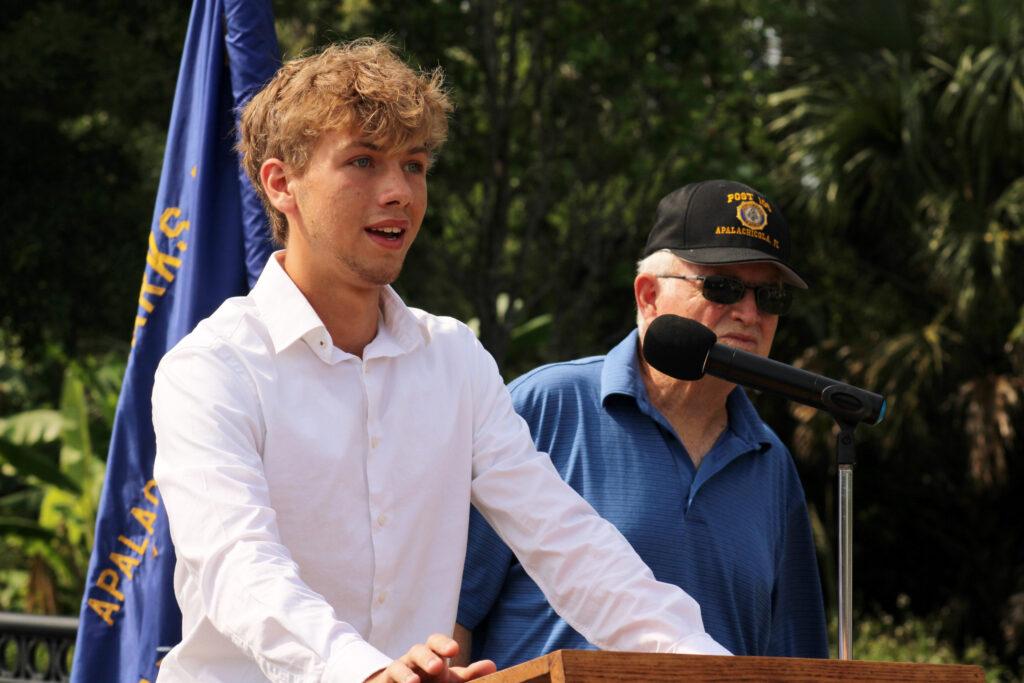 After the playing of Taps, Shields and former Navy pilot Gordon Hunter, the post's public affairs director, conducted the flag-folding ceremony, with Tom Stovall delivering the narrative. Hunter then presented the folded flag as a gift to Mirabella.
To learn more about the American Legion, or to become a member, reach out to Gordon Hunter at [email protected] or (404) 725-8156.