Cooper shooting for 'slobberknocker' football
Seahawks coach John Cooper is demanding a physical style of football from his players, and so far, during spring football, he's getting it.
"Ever since the first week of February, we've been working on a weight room culture that's been nonexistent," he said. "We're working on creating a physical ballclub, a physical brand that's been lacking here, by just refusing to let guys not fire off the ball, to have some slobberknocker football, old school football, that we think can bring success to the program."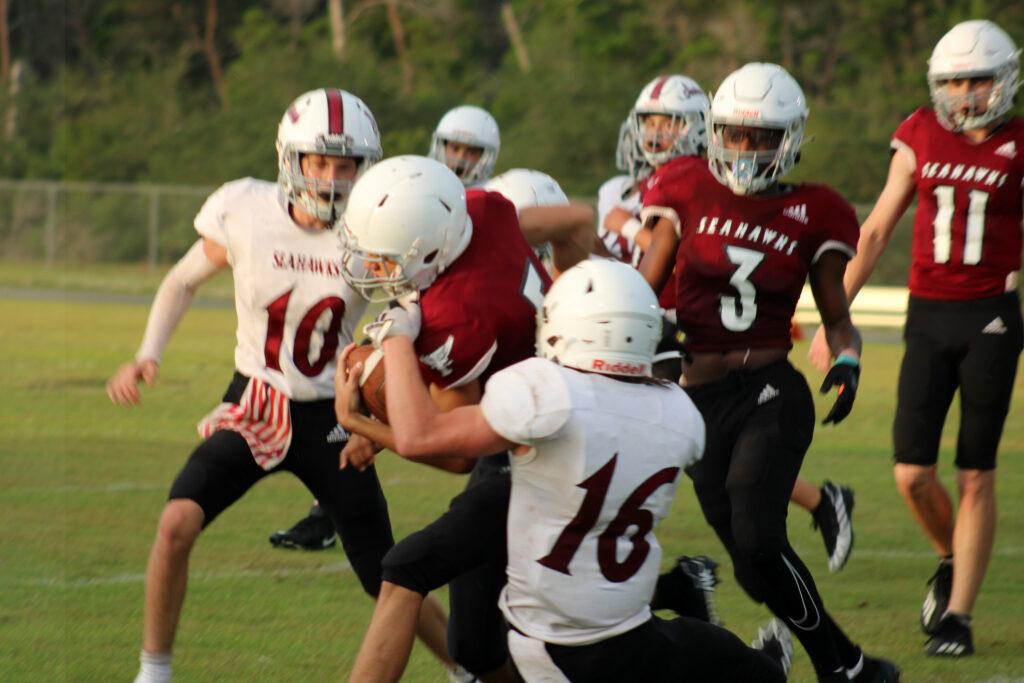 At last week's spring jamboree, the team dressed out about 30 kids, and held its own against both Freeport, a playoff team from last season, and Graceville, who they shut out.
In the half the Seahawks played against Freeport, the team lost 22-6, with one of the scores coming by a future Division I player with a pick-6, Against Graceville, Franklin County won 6-0.
"I'm proud of our defense," Cooper said. "We started settling in against Freeport moving the ball."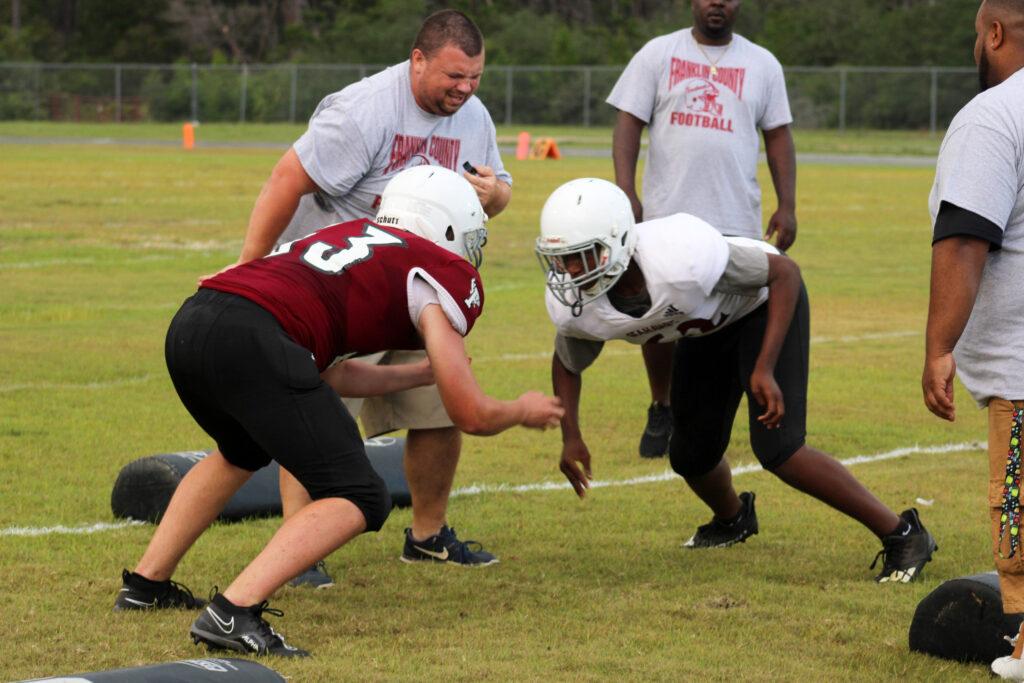 Against Graceville, the score came on a halfback pass from Garyson Millender to Ethan Kembro, within the 10-yard line with less than a minute left in the game.
While the starter positions are not yet set in stone, Cooper said he is looking forward to having Kembro, a wide receiver last year, take on a defensive end role together with Lonnie O'Neal. "He's going to be asked to do something different, that he hasn't done before," said the coach. "They're both very long and lengthy and we hope that helps with covering the outside with that length."
Cooper is eyeing a young team for the fall season. "We're pretty thin in the senior class but that's looking good futurewise," he said. "We have some good up-and-coming talent currently in the ninth and tenth grades. But our seniors, they have a lot of spunk to them."
The team will be playing Wewa twice this season, and in a change from years past, will be taking on Port. St. Joe.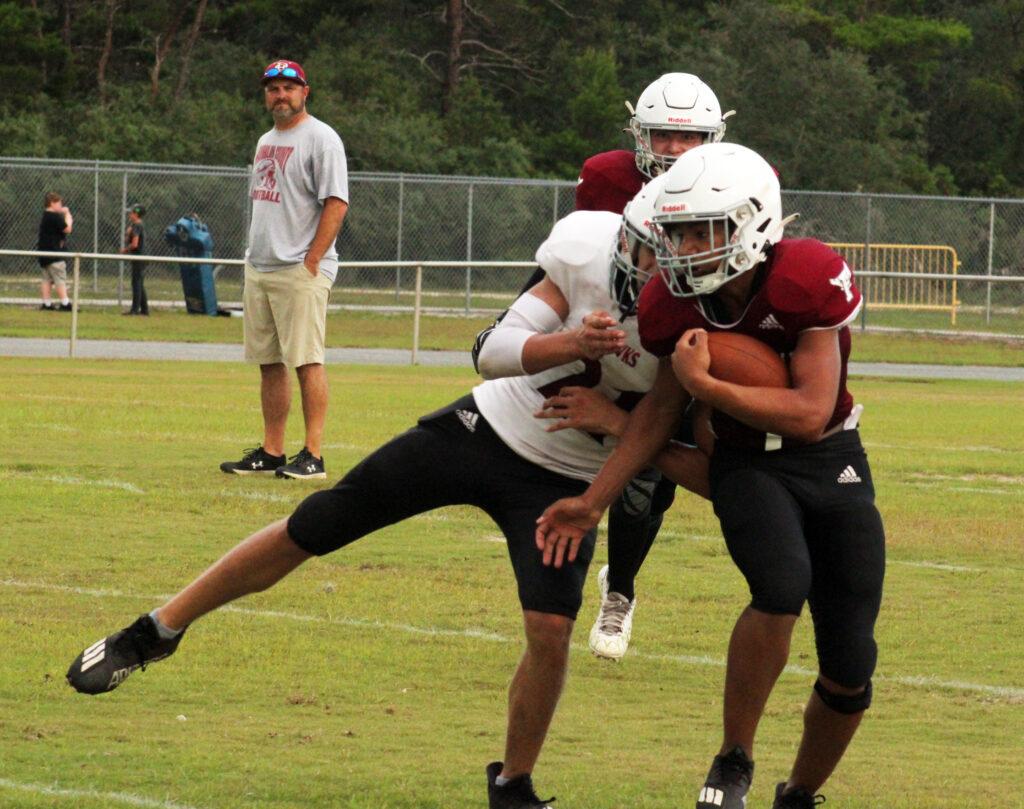 "If you're going to play a rival in every other sport, no matter what your history's been like, and no matter what lumps and bruises you may take, you have to teach your kids the right lessons off the field too," Cooper said. "You can't shy away from something that might be big and scary. And who knows? You might develop something big in the summer and come out with some haymakers."
The team works out Monday through Thursday June and July from 8: 30 to 10 a.m.
"We want to get it where we can work with their bosses, because the most popular time for kids to work is in the afternoon," Cooper said.
On June 24 a select handful of rising juniors and seniors with be traveling to Thomas University prospect camp, and they'll be playing 7 on 7s all summer.
Cooper has lined up a strong crew of assistants, led by defensive coordinator Jordan Brown, and offensive coordinator Brock Johnson.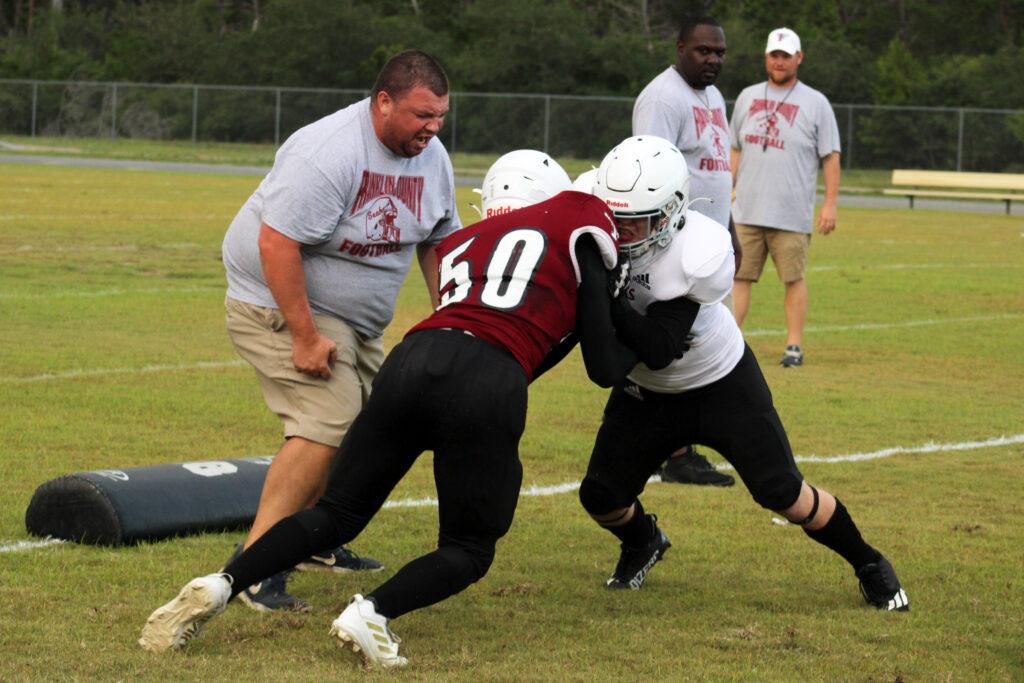 Eddie Money will be handling defensive tackles and Tydron Wynn will work as a recruiting coordinator, active on social media, sending out highlight tapes and keeping on top of test scores, to market players to college coaches.
Willie "Suge" McNair will be coaching defensive backs and wide receivers, while phys ed teacher Matthew Duggar will work with the offensive line and outside linebackers, and Ray Bailey with running backs.
If a student is interested in coming out in the summer, please get in contact with Cooper at 850-590-4806.
SEAHAWKS 2023 SCHEDULE
Friday, Aug. 25 @ North Bay Haven
Friday, Sept. 1 @ Vernon
Friday, Sept. 8 @ Jay
Friday, Sept. 15 vs. Liberty County
Friday, Sept. 22 vs. Rocky Bayou Christian
Friday, Sept. 29 @ Aucilla Christian
Friday, Oct. 6 @ Cottondale
Friday, Oct. 13 vs. Wewahitchka
Friday, Oct. 20 vs. Port St. Joe
Friday, Oct. 27 BYE WEEK
Friday, Nov. 3 @ Wewahitchka