Family Tradition rescues capsized boaters
Six people were rescued safely Sunday afternoon from Apalachicola Bay, thanks to the Good Samaritan effort of a party charter boat operating out of Apalachicola.
Capt. Leveral Raffield of the Family Tradition charter picked up the six-people, standing on the top of the submerged hull of their 24-foot center console Aquasport.
Senior Officer Travis Basford, public information officer for the FWC Division of Law Enforcement's Northwest Region, said that during the inclement weather, the boat had capsized approximately 20 miles offshore, and six people entered the water.
Both the Florida Fish and Wildlife Conservation Commission and U.S. Coast Guard responded, but it was Raffield's boat that was able to do the rescue.
"They were able to get the people out of the water, and brought them back to land," Basford said. " All people were accounted for. The accident is under investigation."
FWC officers interview the boat's captain once they were returned to shore at Scipio Creek Marina. The captain declined to comment on what had happened.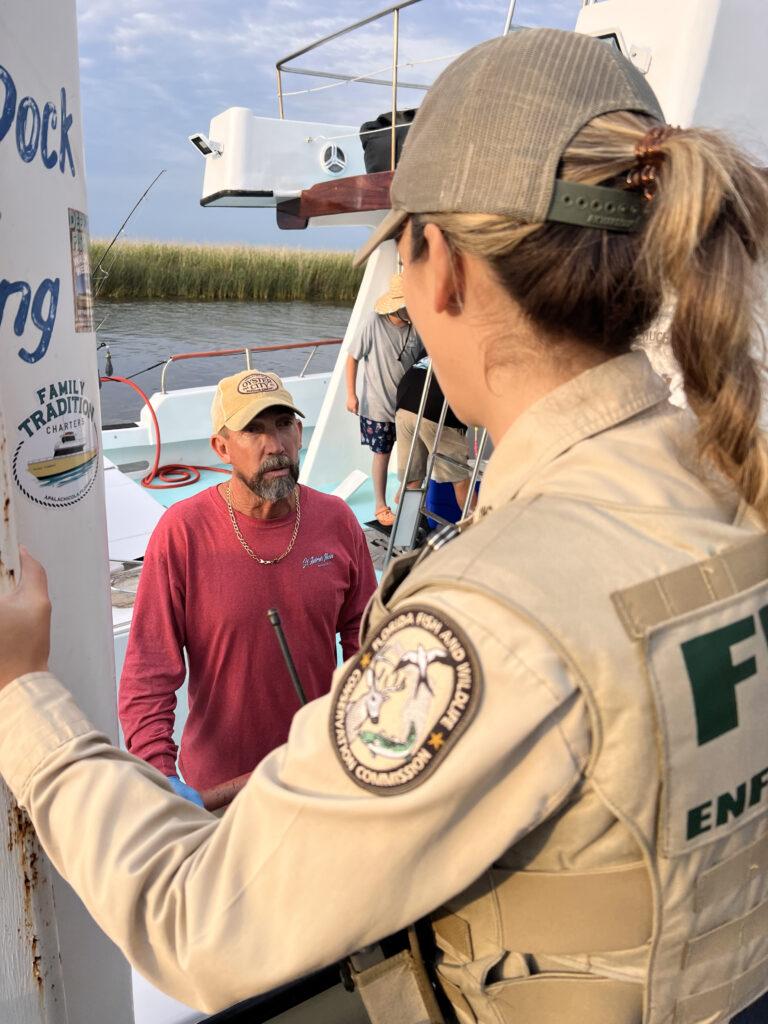 Raffield said there were 60 to 70 mph winds when he first learned of the distress. "It was just Godsent we landed up where they were at," he said. "I let him know we were six miles away and on route.
"I didn't want anyone to panic. I told them don't you all jump off the boat, you all stay on the boat," he said.
Raffield said the captain was well-prepared and was able to communicate with a handheld device and had been assisted by an EPIRB (Emergency Position Indicating Radio Beacon) device.
"We could see his flares when we got within three miles from him," said Raffield "He could hear us and we could hear him but the Coast Guard couldn't hear him because that handheld is really more for hand-to-hand contact.
"They were all on top of the boat whe we got there," he said. "And we just went over and got them one at a time off the boat. It was a good blessing, we got every one of them out safe. That's what it's all about."
Raffield, who worked as a commercial fisherman 20 years ago, selling his catch to Water Street Seafood, most recently operated his large charter boat out of Panama City,
But after his wife perished in a car accident, he decided to relocate the recreational fishing operation to Apalachicola, a place he and his wife loved.