Panhandle Players open transformative season

The Panhandle Players may produce plays but they are not playing around, with last week's four-day run of "Rivers Edge" vivid proof of that.
I'll get to the play in a few paragraphs, but first, picture the whole of the Chapman Auditorium space transformed, both permanently with the recent removal of the wooden Chapman Elementary School seats and the painting of the walls a light peach color, as well as transitorily, with changes specific to this show and the shows to come until the new plush seats are put in sometime by year's end.
For the season's opening show, a melodrama both folksy and flinty, authored by St. George Island resident Rob Pierce, tiny lights glowed above the audiences' heads, setting a chummy mood reminiscent of a summer evening garden party. The audience sat on foldable chairs around rectangular special occasion tables, covered in checkered tablecloths. The audiences sold out, in part because only 120 patrons could be seated, about half the capacity of theater seating.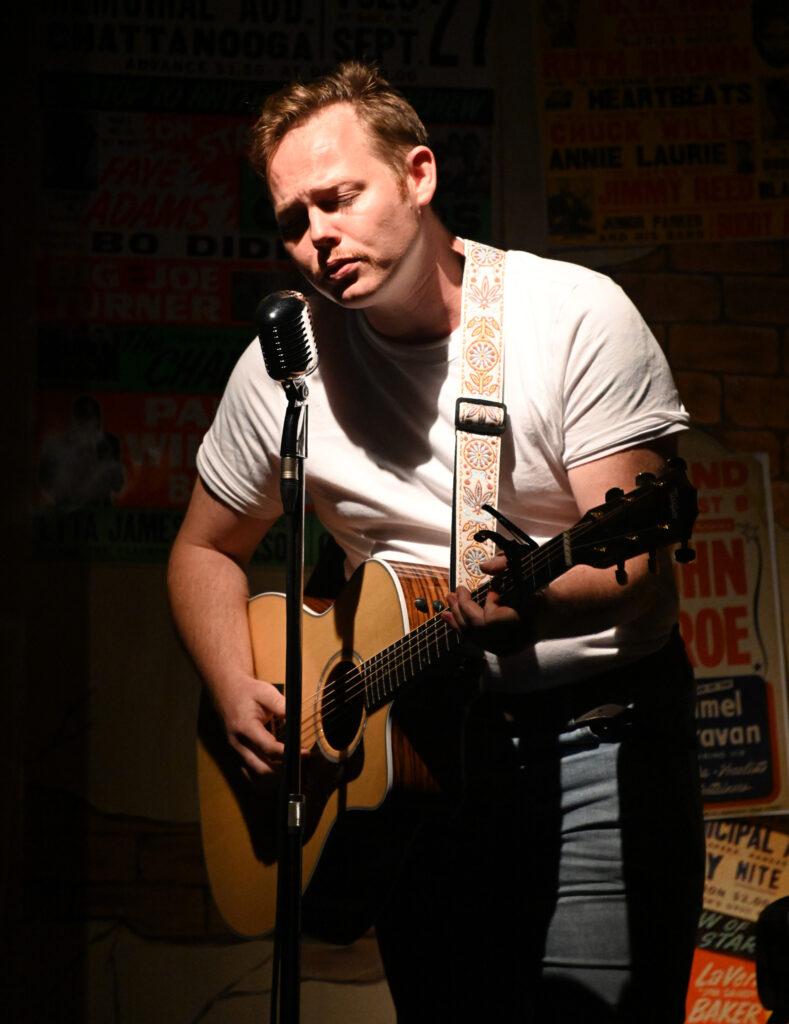 Director Nick Avossa and his many ingenious and talented set people staged the new work so that the scenes reached out into the audience just so far as to not intrude. The only walk through the guests' tables was done by musician Tommy Cooper to open the show. He would later mount the small bar stage and perform songs written by Pierce to accentuate the show's plaintive country flavor. Becca Sapienza and Faith Lynch sang traditional numbers as well, as did Jerry Hurley.
Assistant Director Mishelle McPherson put her creativity to work on the set, plastered with imaginary music posters of what might have been on the walls of the "River's Edge," a Franklin County bar newly owned in 1951 by a pair of transplants from Tulsa, Oklahoma, Ray Simmons (Thomas Becknell) and wife Irene (Jo Branch).
In his brief opening appearance, Becknell made the most of capturing the exasperation often found when newfound entrepreneurs take on risks at a time in their lives they can only bear so much upheaval. Ray disappears early in the show, germinating the mystery, and the bar is left to Irene to navigate through murky waters.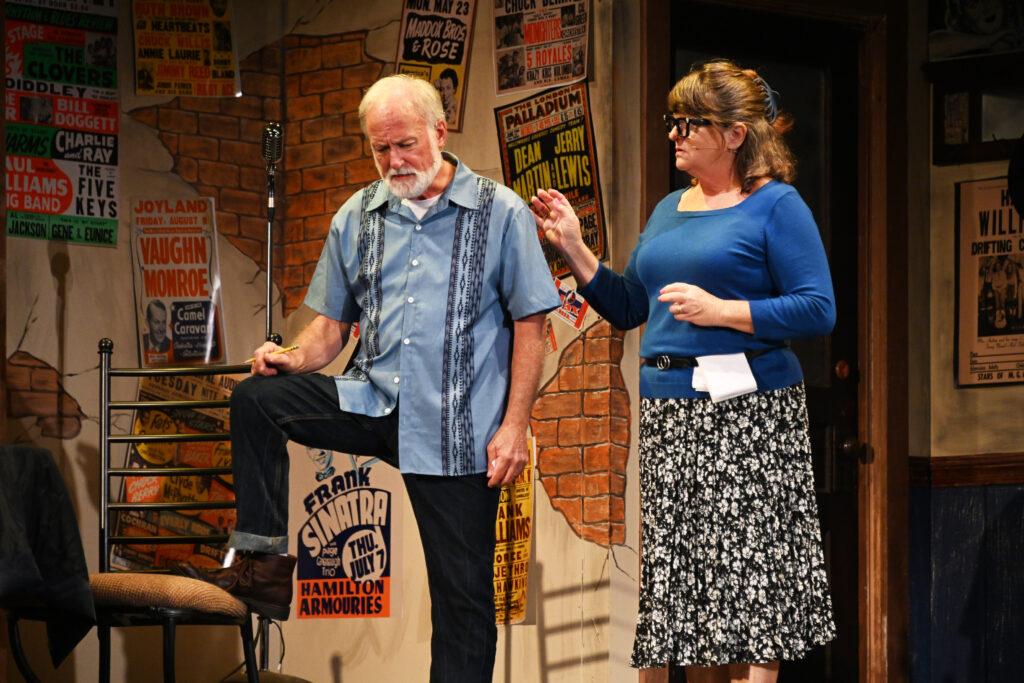 With a carefree, gushing manner that masks her inner resolve and tender concern (she was a World War II nurse after all), Branch brought to life the shakiness, and the surefootedness that widows must draw on. In a show with its fair share of inebriated antics, she gets the nod for the best drunken moment, brought to captivating life in a lengthy scene where she spills her heart.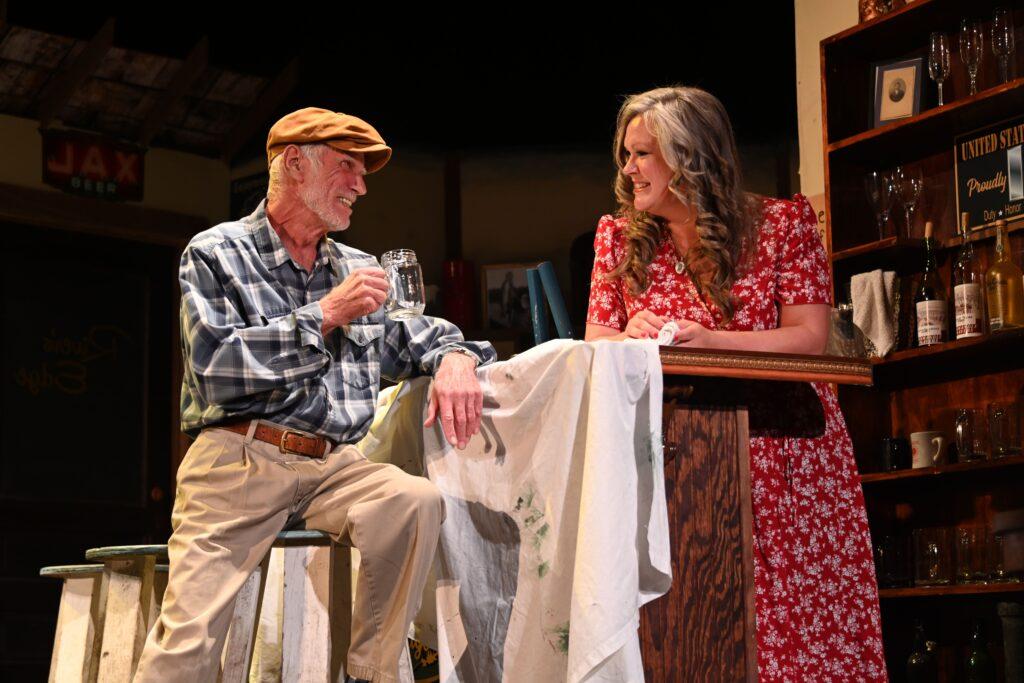 As the Old Man, Jerry Hurley was the type of drunk on the other end of the bar who doesn't have much to say, but when he does it's hilarious. And in between them is Johnny Mason (Bob Inguagiato), who stays away from accentuating the inebriation and instead brings out the pathos found in the loneliness that many a barfly seeks to lessen through a tavern's sociability.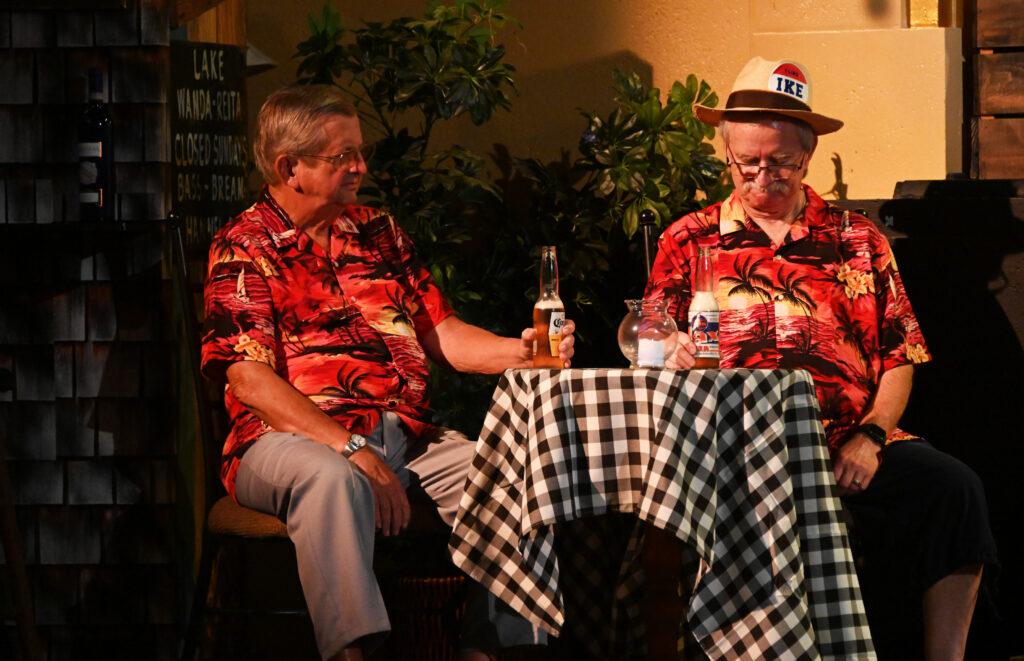 The heavy of the show, Chapman Thomas, was scary to behold in the performance by David Stedman. His oily self-importance dripped from him like a leaky faucet of falsity, until it exploded in one of the best scenes of the show, when he dresses down his equally sinister henchman, Pete Freemont (Eric Olsen). With his hair "fried, dyed and laid to the side," reminiscent of 1950's Black hair styles, Olsen employed his imposing physical presence to ominous use as he seethed with resentment and frustration.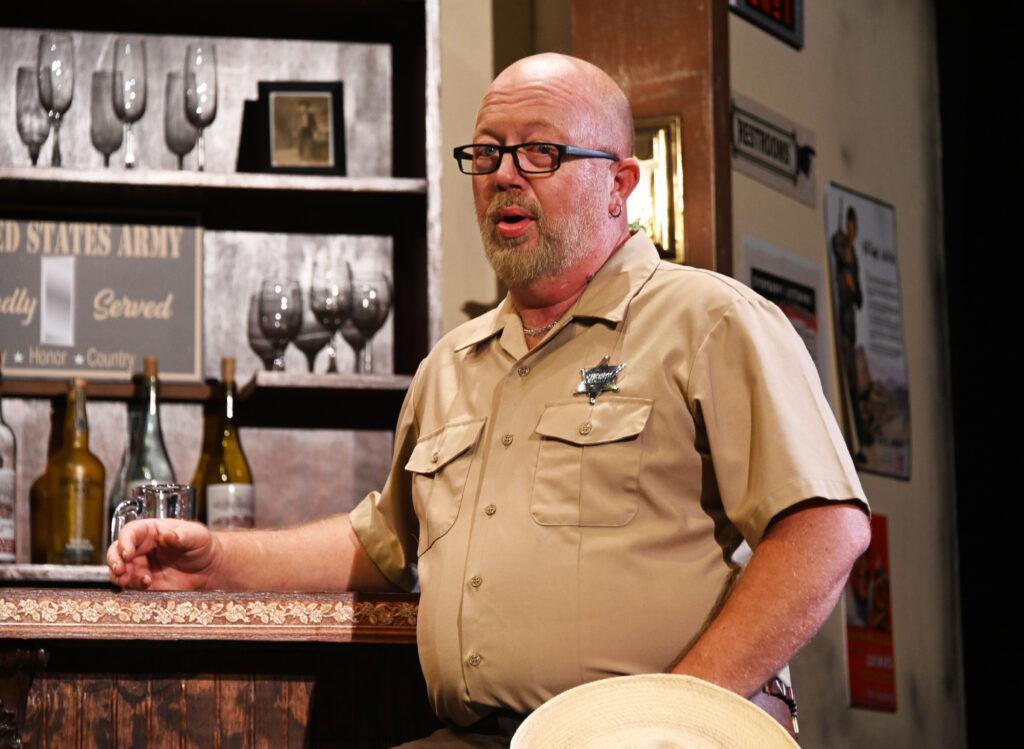 Sheriff Reynolds (Steven Allen) helps the exposition along without spoiling it by bumbling, with Allen shocked, surprised and somber throughout.
Avossa and company created one of the most entertaining Panhandle Players shows in terms of its dramatic sound and lighting effects, ranging from a lone AM radio whose broadcasts mark the passage of time, to a hurricane scene that gripped the audience. That success was key to bringing Pierce's brisk pacing to life as part of a story that touches on several aspects of small town lives.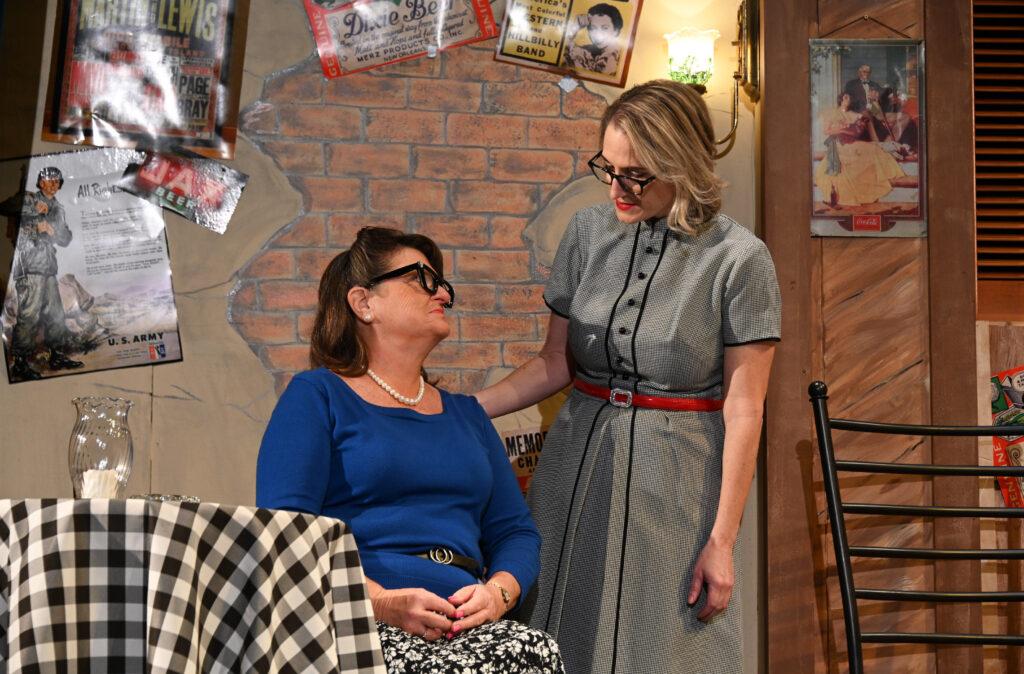 As a teacher who we learn had a humiliating moment that cost her her career in education, Debra Olds was masterfully understated as Molly Traverston, while Helen Spohrer, as the busybody Dorothy Wagner, was a nice contrast as a yackety-yack yente.
In his first large role with the troupe, longtime volunteer Tim Phillips has plenty to be proud of, as he brought to life the despair of Ricky Maines, a troubled Korean War vet who eventually reaches his breaking point in the show's climax.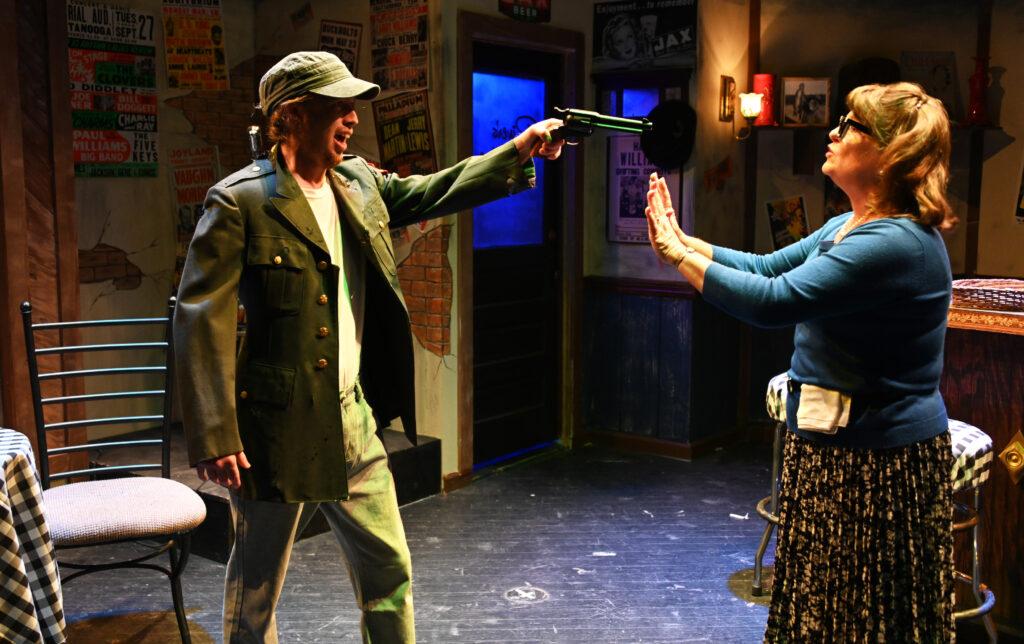 As the earnest bartender Norma Lyon, LoriAnna Tate was successful at grounding the play in real-life, as she struggled to balance her financial challenges with her loyalty to her friends at "River's Edge."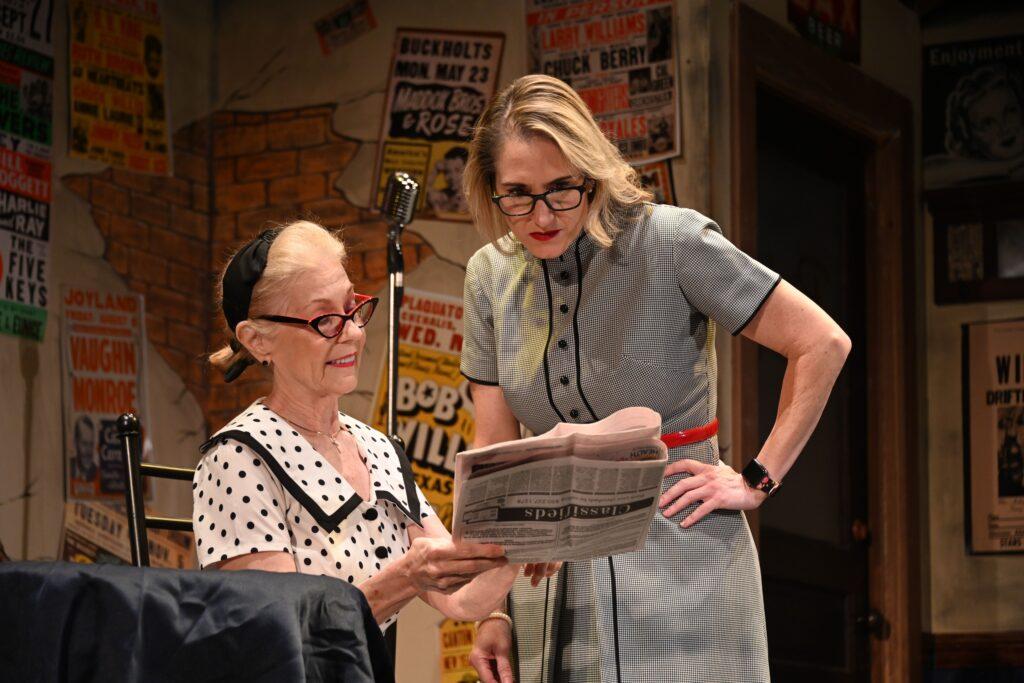 In the future, as Panhandle Players continues to evolve with creative energy in staging its locally written scripts, it is hoped the issues Pierce's play touched on would be even more fully explored. With this opening play, the playwright and all who brought his work to life succeeded marvelously in creating an enjoyable and very entertaining evening of theater, precisely what he intended.