Seahawk runners head to regionals
The Franklin County High School varsity track team will be sending its largest number of district standouts ever to regionals, as a dozen runners head to the University of North Florida's Hodges Stadium Saturday.
Leading the regional qualifiers will be eighth grader Addyson Paul, who ran a 14:28.34 in the 3,200 meters to take first at the Class 1A District 2 meet in Port St. Joe April 25.
Sophomore Josiah Friddle ran a 11:20.81 in the 3,200 meters to take second place and advance to regionals, while eighth grader Nathaniel Cabrera advanced by virtue of his running a 2:14.78 in the 800 meters to advance with a third place finish.
Both 4 x 800 meter teams advanced, with the boys team of Friddle, freshman Troy Mackenzie, Cabrera and senior Josh Greer finishing second, with a time of 9:40.55. Sophomore Dex Teat is the alternate and will be running at regionals.
The girls team of seventh grader Baileigh Dasher, Paul, seventh grader Peyton Wood, and seventh grader Bella Polous finished third with a time of 12:51.71.
The girls 4 by 400 meter team also advanced, with eighth grader Kate Ward, sixth grader Amelia Wolferseder, eighth grader Ryleigh Hollenbeck, and seventh grader Kenslie Harris running a time of 5:12.13 to finish in fourth place.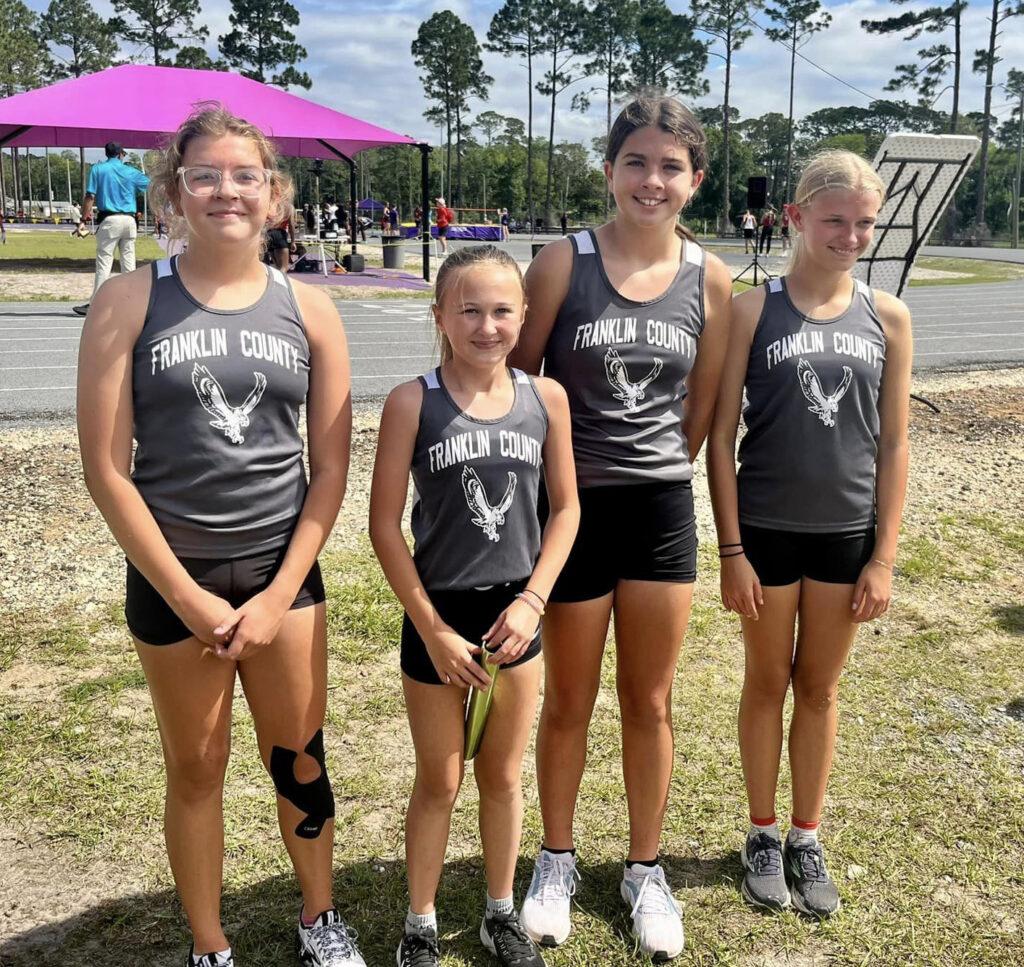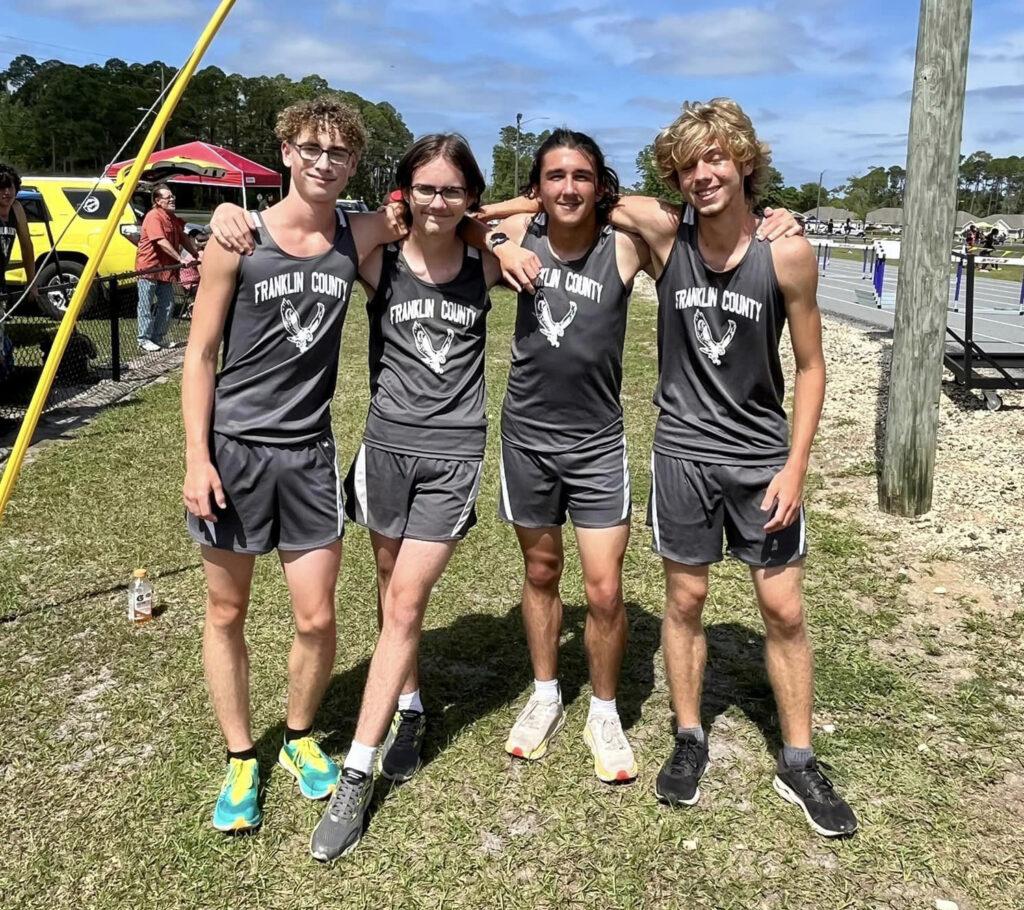 The following are the complete results from the district meet:
GIRLS
100 METER: 8th) Sixth grader Amelia Wolferseder 14.44
200 METER: 6th) Wolferseder, 30.22
400 METER: 5th) Seventh grader Kenslie Harris 1:14.07
800 METER: 5th) Seventh grader Baileigh Dasher, 3:13.91
3200 METER: 1st) Paul, 14:28.34; 5th) Seventh grader Isabella Polous 15:21.90
4X400 METER RELAY: 4th) FCHS 5:12.13
4X800 METER RELAY: 3rd) FCHS 12:51.71
DISCUS: 11th) Sixth grader Madison Petty, 15.08m: 14th) Sixth grader Zoe Everett, 13.45m; 15th) Eighth grader Sheyanne Russell, 13.24m
SHOT PUT: 5th) Petty, 7.11m; 14th) Sixth grader Makenley O'Neal, 5.05m; 15th) Everett, 4.3m
BOYS
200 METER: 9th) Eighth grader Kyle Gilbert 27.71
400 METER: 6th) Sophomore Dexton Teat, 58.87; 15th) freshman Troy Mckenzie, 1:08.53 20th) Eighth grader John Shiver
800 METER: 3rd) Eighth grader Nathaniel Cabrera, 2:14.78; 5th) Senior Josh Greer 2:20.18
1600 METER: 12th) Sixth grader Easton Johnson, 7:14.38
3200 METER: 2nd) Sophomore Joshua Friddle, 11:20.81
4X800 METER RELAY: 2nd) FCHS 9:40.55
SHOT PUT: 10th) Seventh grader Lucas Downing, 7.77m
DISCUS: 9th) Downing 17.84m
JAVELIN: 5th) Gilbert 29.89m; 8th) Greer 26.69m; 9th) Downing 25.02m
SHOT PUT: 10th) Downing, 7.77m
In other track results, Friddle ran the 400–meter dash April 5 in Crawfordville at Wakulla High School, and posted a time of 1:01.26 to finish fifth.
At an April 4 meet in Port St. Joe, eighth grader Kyle Gilbert threw the javelin 34.82 meters and finished second. "He qualified for the middle school state meet and set a new school record with that throw!" said coach Anna Bull.
Other results from the Port St. Joe meet were as follows:
GIRLS
100 METER: 10th) Wolferseder, 14.74
200 METER: 7th) Senior Mahayley Shuler, 32.74; 9th) Wolferseder, 33.64 10th) Harris 34.14
400 METER: 4th) Harris 1:13.14; 10th) Hollenbeck 1:19.34
800 METER: 1st) Paul 3:14.50; 2nd) Polous 3:19.00; 3rd) Dasher, 3:26.10
1600 METER: 2nd) Paul 6:58.50; 3rd) Polous, 7:04.30
LONG JUMP: 6th) Hollenbeck, 3.62m; 7th) Wolferseder 3.43m; 9th) Harris, 3.17m
DISCUS: 6th) Petty 16.71m
SHOT PUT: 3rd) Petty 7.01m
BOYS
200 METER: 2nd) Teat 27.04; 5th) Friddle 27.54; 7th) Gilbert 29.44; 9th) Junior Bentley Braswell 30.94
400 METER: 2nd) Teat 57.24; 3rd) Friddle 59.74; 9th) Mckenzie 1:05.64; 15th) Gilbert 1:06.54: 17th) Braswell 1:08.94; 23rd) Shiver 1:20.84: 25th) Freshman Seth Thomas 1:23.14; 28th) Sophomore Jayden Gray 1:29.64
800 METER: 1st) Greer 2:23.50; 3rd) Friddle 2:37.60; 12th) Mckenzie 2:57.00; 13th) Teat 3:03.20; 14th) Shiver 3:04.00: 16th) Thomas 3:20.30
1600 METER: 2nd) Friddle 5:18.60
LONG JUMP: 4th) Teat 5.11m; 5th) Greer 5m; 6th) Gilbert 4.92m
DISCUS: 4th) Downing 21.23m
JAVELIN: 2nd) Gilbert 34.82m; 5th) Greer 26.44m; 6th) Downing 24.69m
SHOT PUT: 4th) Downing 8.15m