Far flung fish bounce on the beach
It looked pretty darn good for Bennett Rash going into the toss-off round of the 31st annual Mullet Toss on St. George Island Saturday.
The Franklin County native had thrown for 121 feet in the adult round, five feet better than the two other qualifiers, Florida State University student Julian Guerra and Kolton Lawson.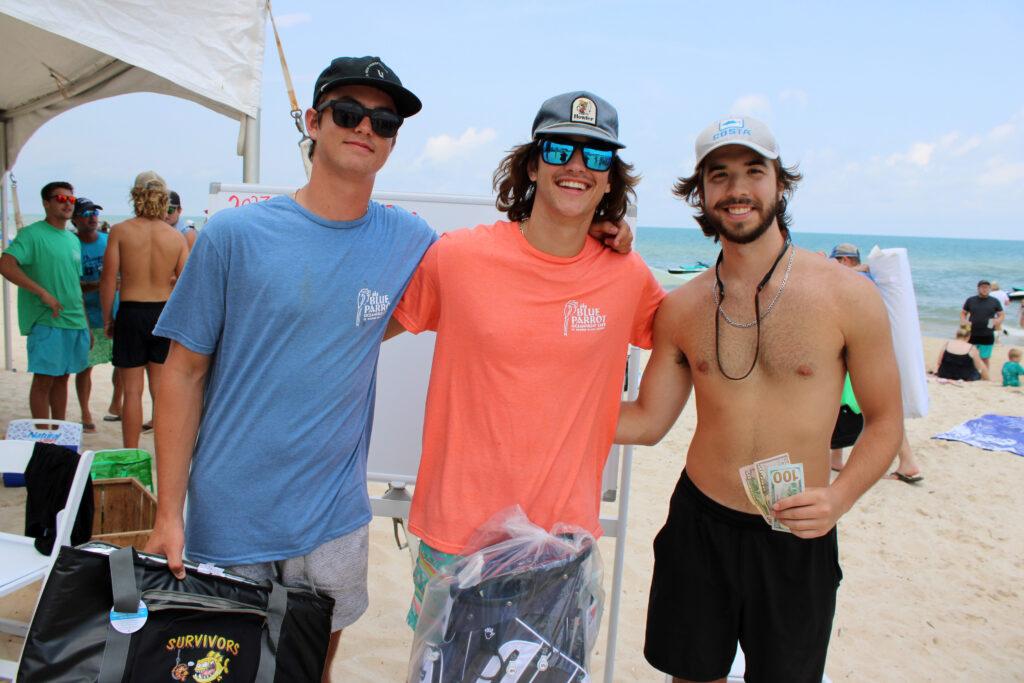 So then it all came down to a single throw in the deciding toss-off round, and Guerra's hurl went for 105 feet, making him the man to beat when Rash stepped up for the final throw of the afternoon, before an enormous crowd of onlookers who had assembled on the beach in front of the Blue Parrot Oceanfront Cafe.
Kids as young as 18 months, all the way up to adults on their post-retirement vacations had been throwing the mullet all day long, all as both an annual tradition dating back to the mid-1990s as well as a fundraiser for Franklin's Promise.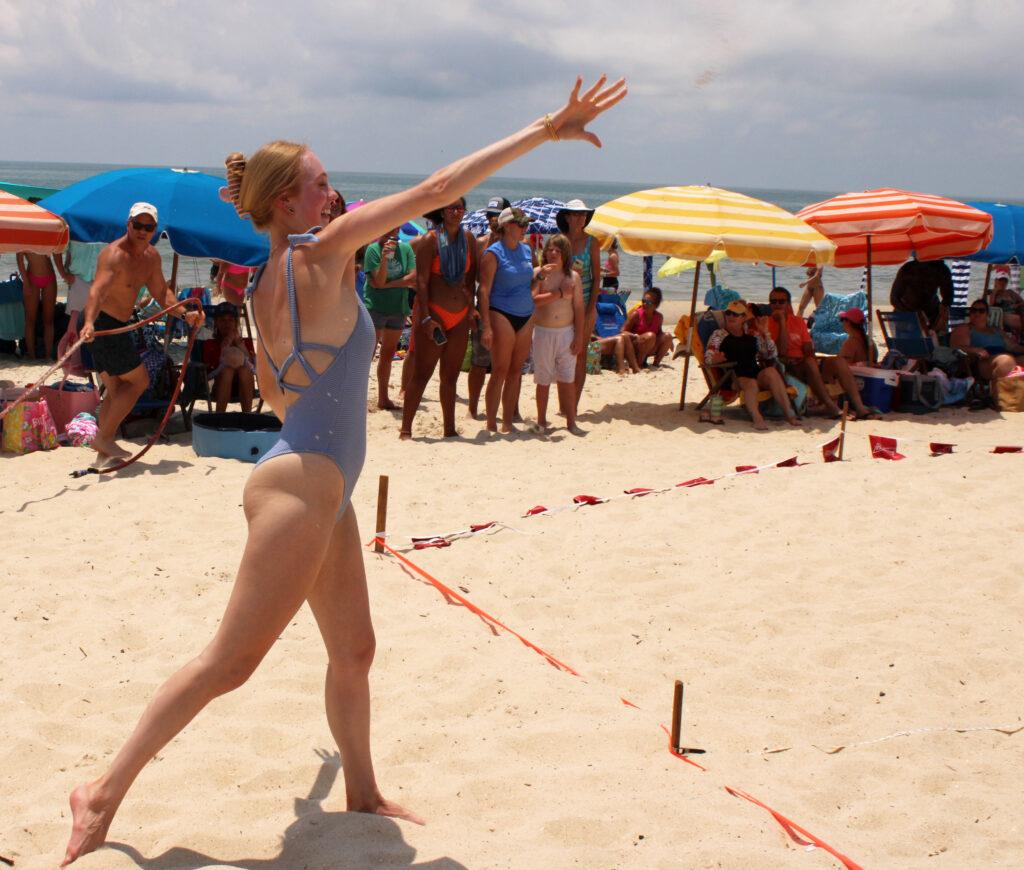 Rash had not had to face the pitching arms of some of the past greats, the Stan Grants and the Hunter Bartleys and the Robert Wilhoits, or even Chip Sanders, a seven-time champion who decided he'd watch from the sidelines as he surveyed the action from amongst the crowd before heading back to his jet ski riding.
Sanders had been great in his day, shorter than the huge guys like Bartley who cast a big shadow on the sands of St. George Island, but with every bit the throwing arm.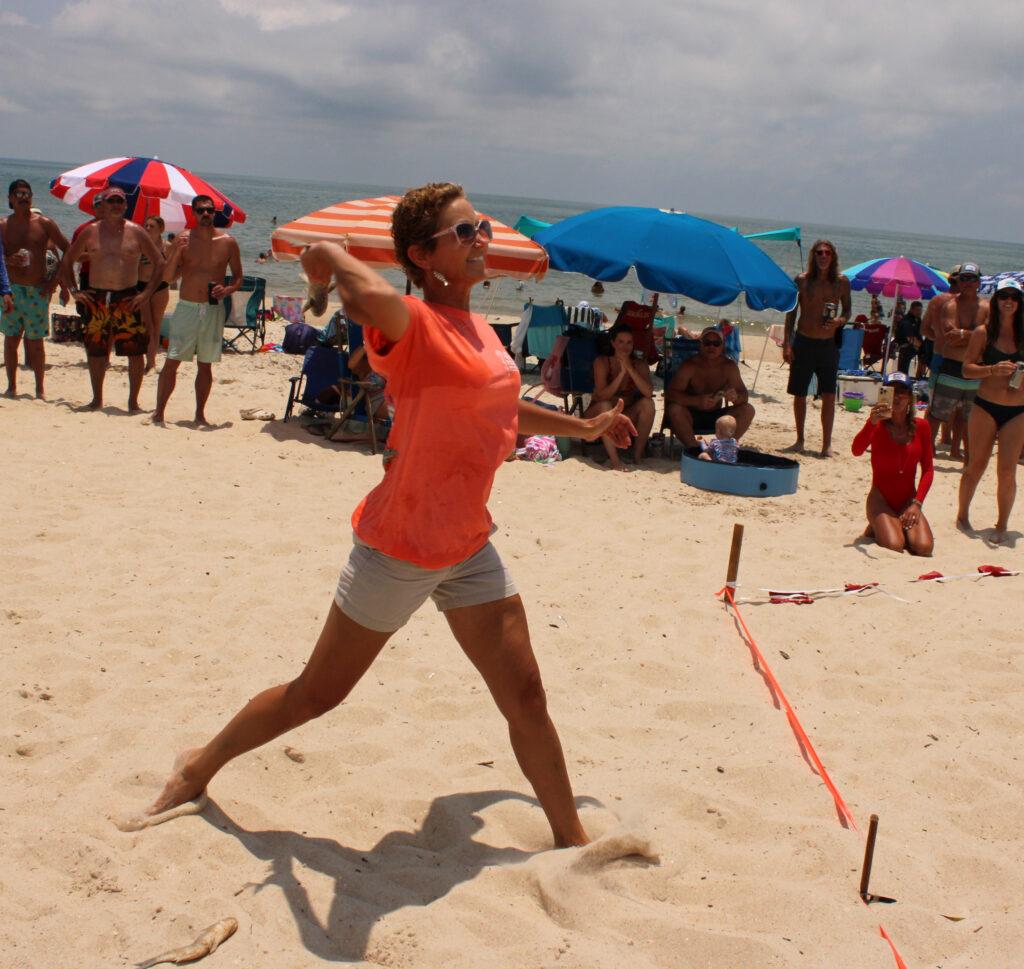 "Don't let the bigger guys intimidate you," he offered as advice before reminiscing of his glory days, which would no doubt qualify him for the Mullet Toss Hall of Fame, if there were such a thing.
"I feel like I've moved on," Sanders said. "I'm out here showing these kids some respect. You can't be greedy on the field."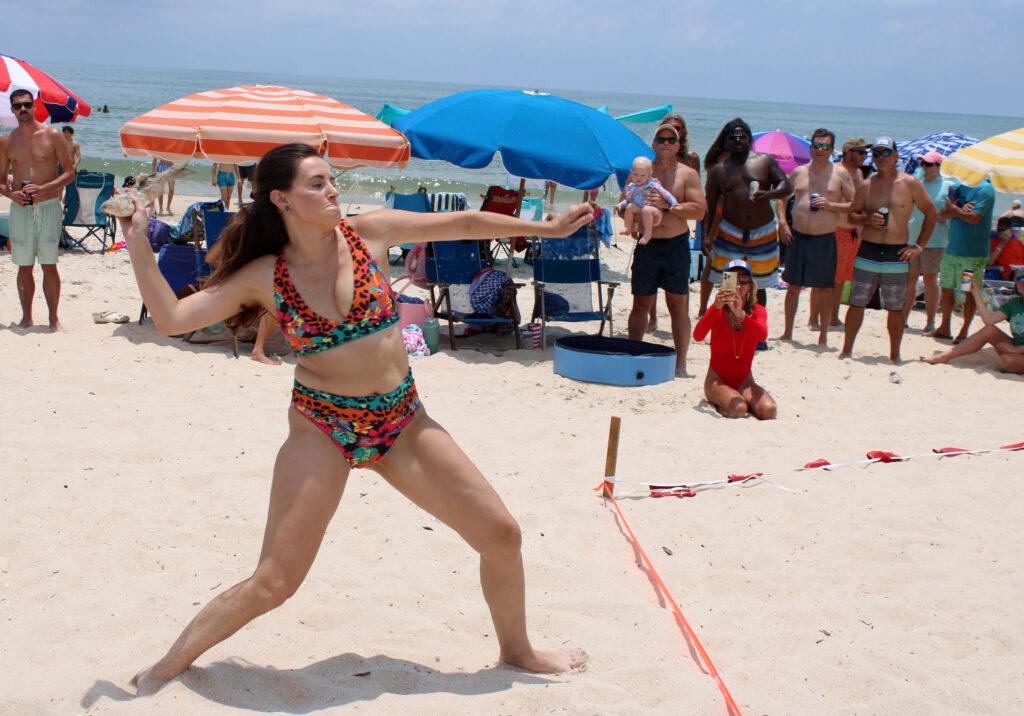 The crowd was hushed as Rash, son of Blue Parrot owner Steve Rash, was handed a mullet by co-owner George Joanos.
He dipped it in sand, and then hurled it a distance that looked like he'd have the distance to take the win from Guerra.
But he didn't. Instead, at the last second, the mullet hooked towards the beach and landed out of bounds, handing the win, and $200 cash, to Guerra, who will know how to spend it wisely as he is studying business at FSU.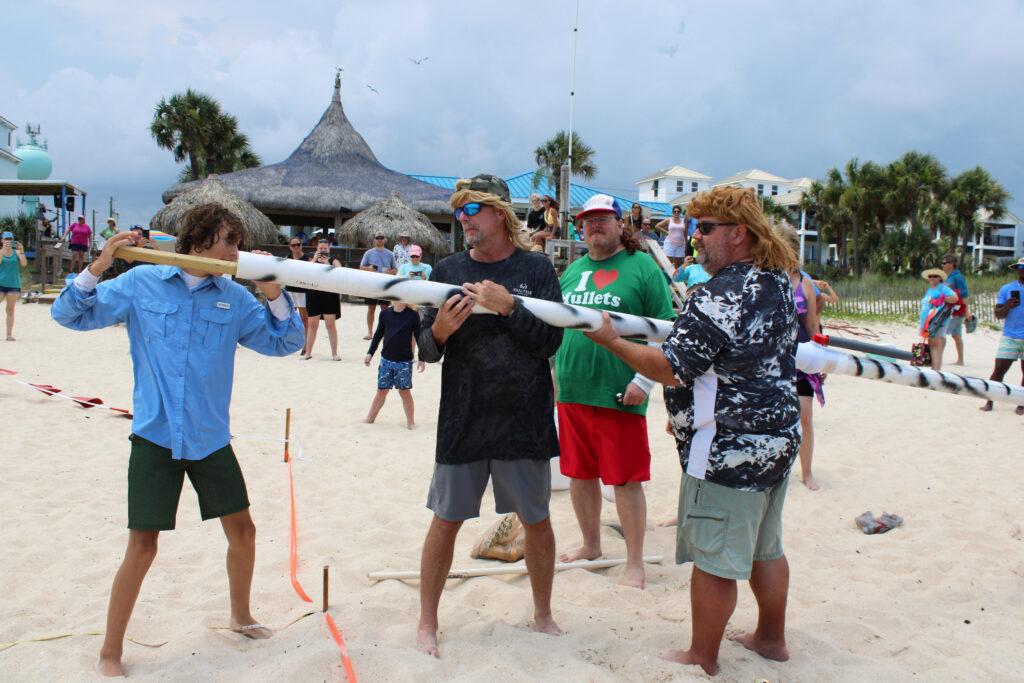 Rash's action wasn't the only excitement of the day, as longtime woman's champion, Loismay Provenzano Collier, trailing by five feet to Kylee Hutto, from Madison, who had thrown for 82 feet, stepped up for her second throw.
This time, Collier would unleash a monster toss, for 85 feet and the $200 cash prize, which she and her husband would no doubt spend on their 18-month-old daughter Rosie.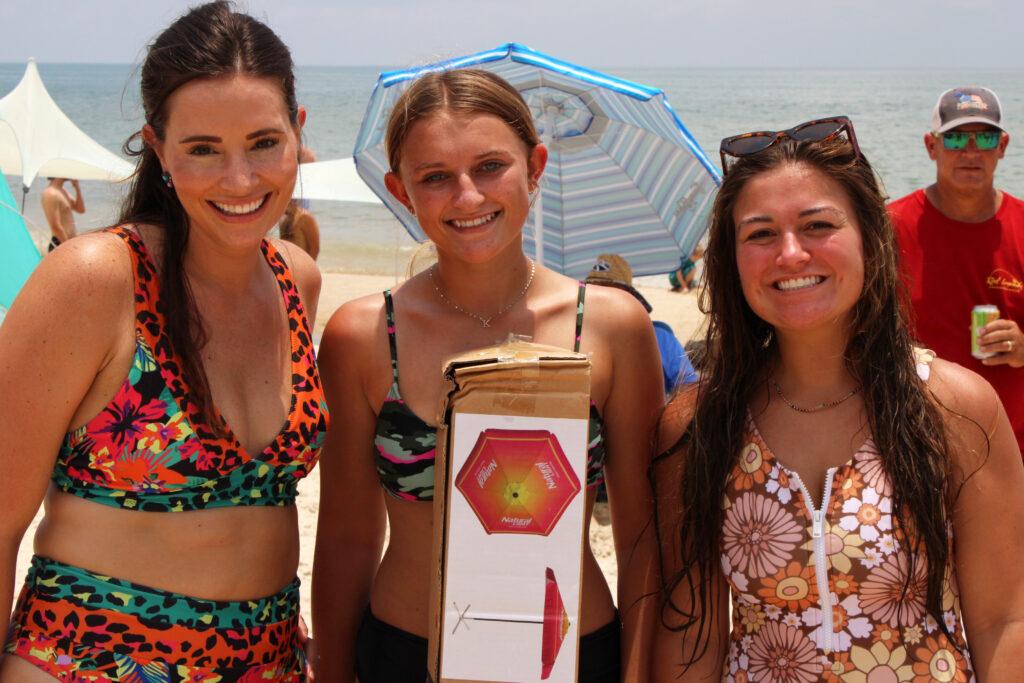 Rosie had taken part in the kids 10-and-under division, where winners got a fishing pole and tackle box. She didn't pitch the fish very far but mom is determined.
"I'm going to keep her going all year," said Collier. She's going to learn to throw."
Former Seahawks volleyball coach Jessica Stewart, who handled the assignment nearly two decades ago when she worked at the Apalachicola National Estuarine Research Reserve, also has kids now with strong pitching arms.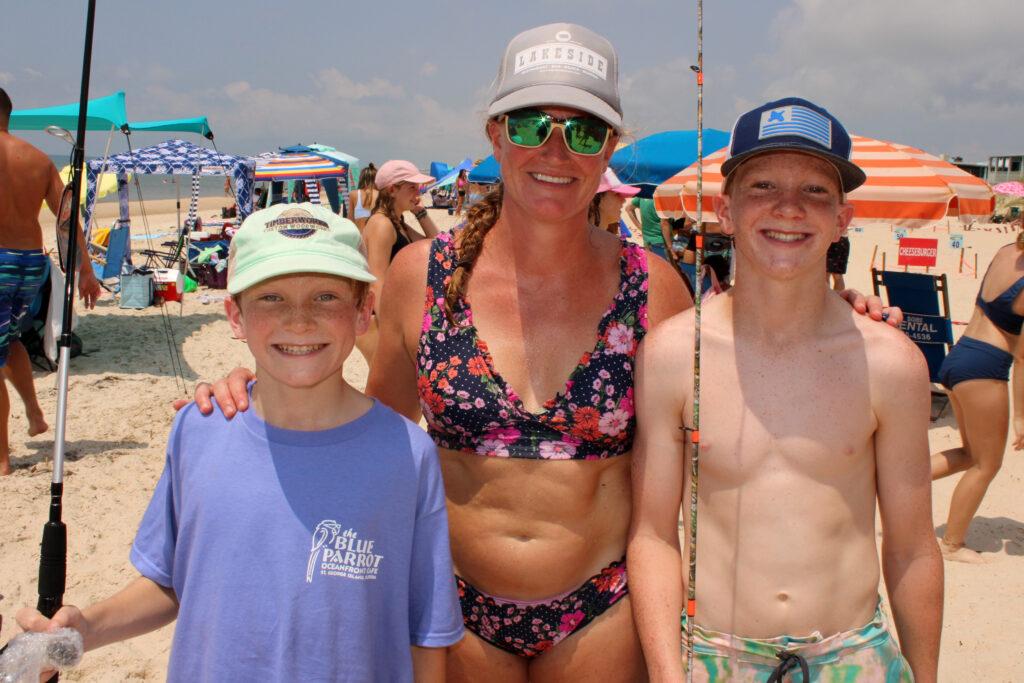 Her fifth-grader son Bridger Avant had fired the mullet 70 feet to take the top prize in the youngest division, and her 13-year-old son David had thrown it 92 feet 6 inches to take home victory in the 11-14 year old division.
"I play a lot of football," he said.
But the day's longest throw was actually accomplished not in the adult divisions, but in the 14-17 year old division when Davis Ledford, from the Atlanta area, threw a mind boggling 139 feet, to best Ethan Putz's 114 feet and Clayton Martina's 107 feet 6 inches.
Ledford had a history with the toss, as he had won the 10 and under division nine years earlier. His prize this year was a bicycle.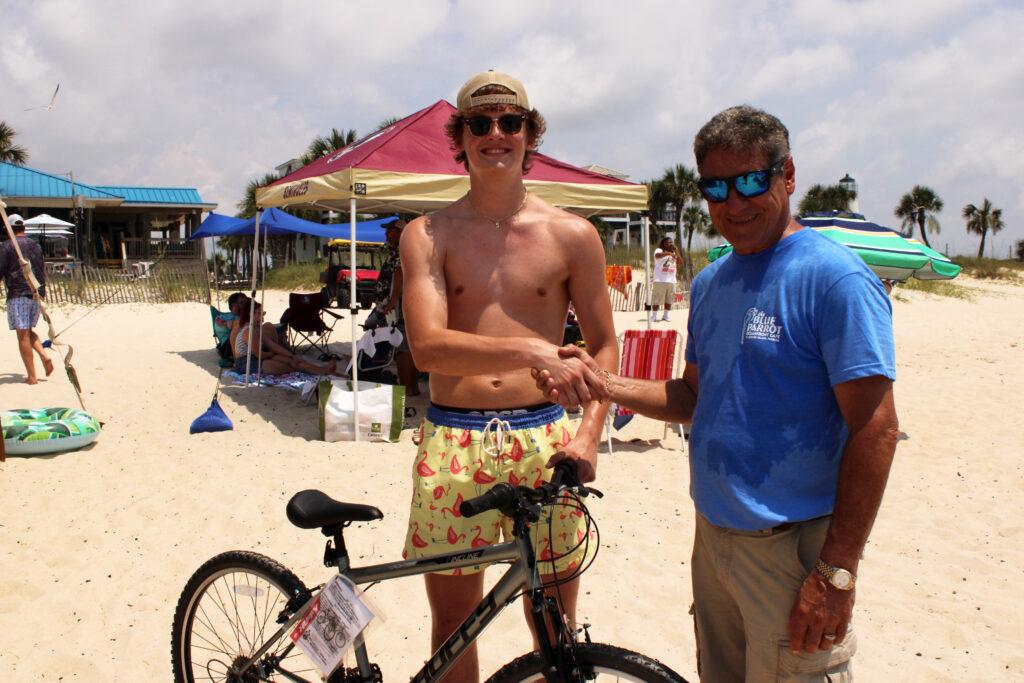 The event is a tradition not only for locals but for those who visit the island or who have a home here.
Patty Seescholtz, from Georgetown, Ohio, whose family had bought a East Gorrie Drive lot on the island for $2,500 in 1958 and then built on it in 2018, was on hand with her children and grandchildren, who all took part in the mullet toss.